5 Best Affordable Smart TV in Bangladesh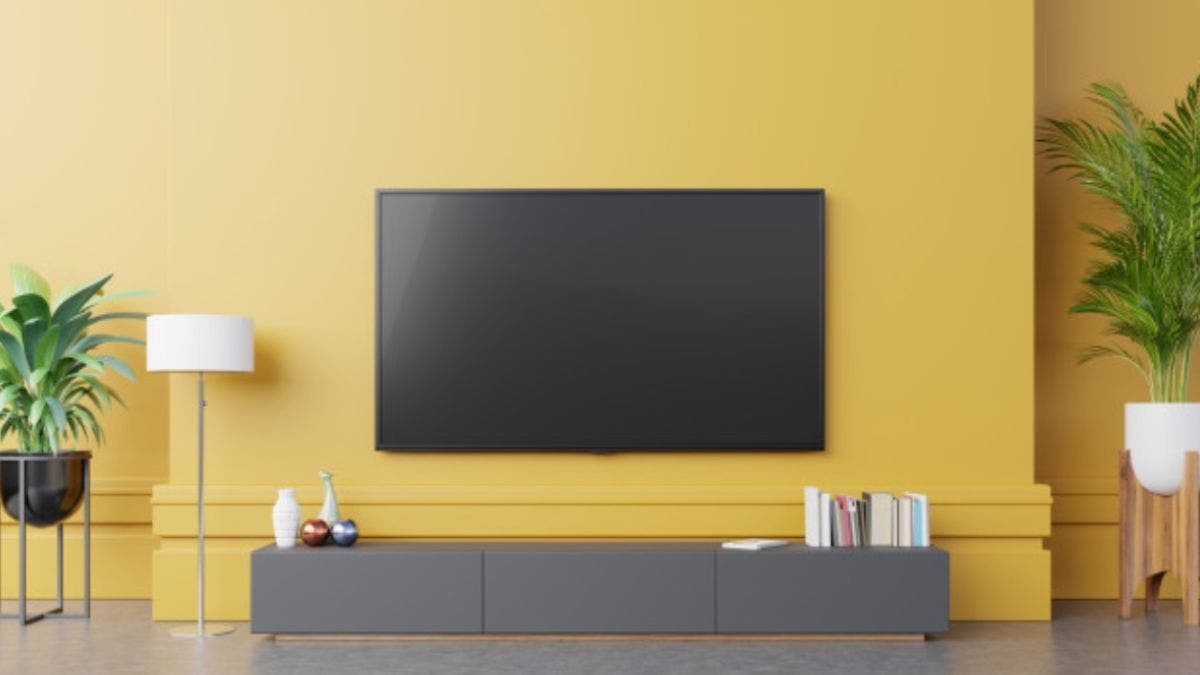 Purchasing a new TV might be challenging; when there are many different brands and options available in the market. Even it can be challenging to find the best smart TV brands with the features you need. Some TV brands are familiar, but it doesn't mean all their TVs are good. Smart TV has brought some great features like video streaming and browsing.
Besides, you can also enjoy Prime Video, YouTube, Netflix, HQ audio, Dolby Vision HDR, etc. with built-in WiFi features. But for a better experience, you must select the perfect one.
Don't worry; we will clarify the ins and outs of Bangladesh's five best affordable smart TV and TV brands. We have unbiasedly tested and compared all the features and models to provide you with the best affordable smart TV. House of Butterfly offers best smart TV with the best and justified price according to the brand value, feature, usability and outlook. Samsung, LG, Toshiba, Hisense, and Eco+ are included in the list of top 5 best smart TV in terms of brand value, price and features. Among all models of those brands, the top five affordable smarts TV are our talk of the topics.
But first, we will learn about the brands and then specific affordable smart TV models in terms of brand value, features and price.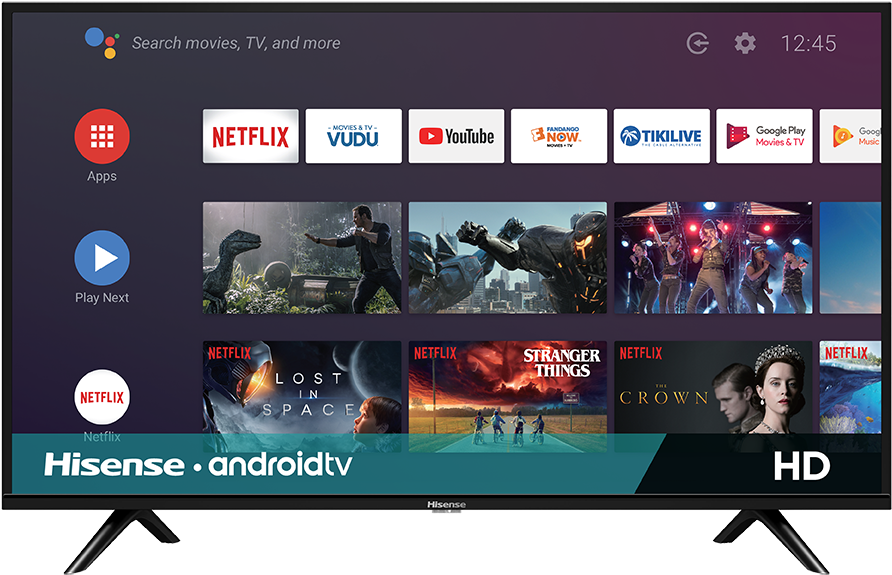 Hisense has been one of the most rapidly growing and affordable TV brands in recent years. Though they are budget TV manufacturers, their best models directly compete with the high-end TVs of other brands.
Hisense TV has high contrast, impressive brightness, a multi-color gamut, and extraordinary image quality. They also added modern technology like HDMI 2.1 bandwidth and the latest gaming features. They are the best affordable TV brand in our judgment. Hisense manufactures up to 4k resolution displays. Hisense Smart TV Price in Bangladesh ranges from 26,500 to above.
Hisense smart TVs support AndroidTV and Roku platforms, allowing internet access to Prime Video, Hulu, and Netflix. They support file sharing between your mobile device and TV via Bluetooth technology. Size and specification don't matter much in Hisense smart TV selection; there always remain some extraordinary features with the Hisense deals.
Some Hisense affordable smart TV models are:
Hisense 40-Inch Smart TV
Hisense has a broad smart TV lineup. Hisense 40-inch Class H4 Series Smart TV is our list's best affordable smart TV. It is a full HD TV which has some amazing features:
-Full HD display with 1080 pixel resolution

-LED Type Display

-The TV has a 60 HZ refresh rate

-It has a variety of display sizes of 32, 40, and 43 inches

-Hisense 40-inch Class H4 Series Smart TV supports Alexa, which means you can control the TV by voice command

-Motion Enhancement Technology(MET) with 120 Motion Rate
It supports different internet services, which conveniently allows watching videos and live shows online.

Its Roku remote application supports controlling the TV using your mobile application.

Wall mount compatibility

Standard measurement ( 35.60 x 3.19 x 20.40) inches with an average weight of 12.8 lbs.
Hisense 40-Inch Smart Android TV
The Hisense 40-Inch 40H5500F Class H55 Series Smart Android TV is another affordable android smart Tv by Hisense. It has a high refresh rate and a bright display resolution with 40 inches display. The outstanding features of these TV are:
-Built-in Chromecast, Parental control, Noise reduction, Netflix, Hulu, Google TV, google assistant, and Amazon Instant Video.

-Backlighting LCD technology

-Full HD display with 1080 pixel resolution.

-60 Hertz refresh rate, which is excellent for all TV functions

-Fast-paced sports and games support

-120 motion rate with high image processing capability, which removes motion blur.

-7W inbuilt powerful speakers for an immersive multimedia experience

-Voice-enabled remote control via voice command.

-2 HDMI ports, 2 USB 2.0 ports, and one Ethernet port.

-(35.59 x 20.40 x 3.20) inches dimension with 12.8 lbs average weight.

-VESA(100x200) wall mount support.
LG Smart TV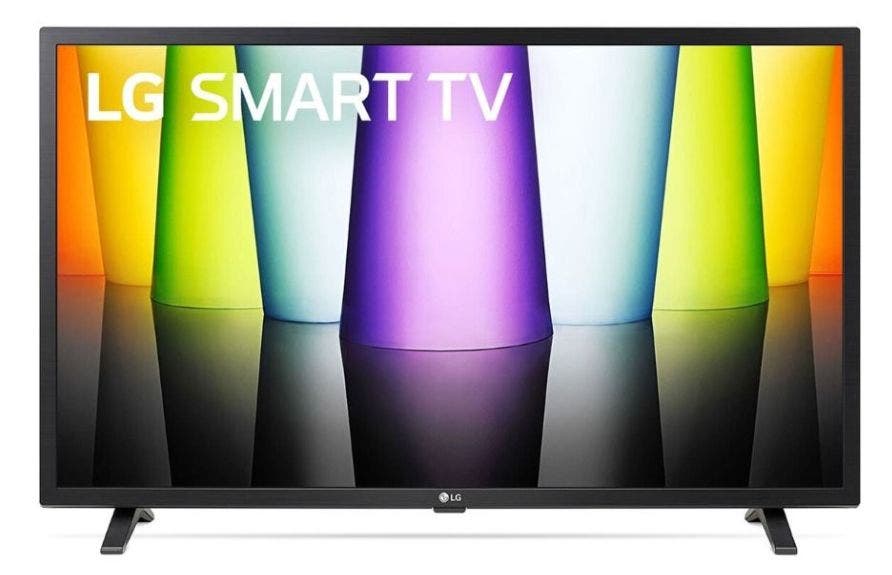 LG is one of the biggest TV manufacturers worldwide. They're the company that manufactures both LED-backlit and OLED TVs. The LG OLED TVs offer the best performance and value compared to other smart TV brands. It has amazing features with fantastic image quality.LG TVs have a built-in webOS smart interface with a wide range of streaming applications.
It has a unique remote-control facility with a point-and-press feature called Magic Remote. The Magic Remote option makes navigation easy through the menus. LG also has market-leading gaming features. So overall, it is one of our best affordable smart TV brands in Bangladesh. LG Smart TV Price in Bangladesh starts from around 30000 BDT.
The best affordable LG TVs on our list:
The LG UQ8000 model is our list's most affordable LG smart TV. It has a smart interface and magic remote options for smooth navigation. It has a wide range of sizes from 43" to 86". Some features of this model vary with the size of the television. Let's see the common features of the LG UQ8000 smart TV:

-4K Ultra HD display resolution

-Direct backlight

-60 Hz refresh rate

-a5 Gen 5 AI picture processor

-Web OS operating system with

Netflix, Youtube TV, Prime Video, Disney+, Hulu, Apple TV, Peacock, CBS All Access, Spotify, iHeartRadio, and more content partners.

-20W high-power speaker system

-Bluetooth, WiFi, HDMI, USB, and Ethernet connectivity.
LG OLED C1 Series is the most affordable and worth of price mid-sized TV of our selection. It has fantastic image quality and an excellent viewing experience. It has an outstanding contrast ratio and a color gamut that ensures an awesome movie and game experience. The LG OLED C1 Series TV features:

-OLED display technology.

-Great aesthetic and aggressive designs.

-High picture quality and accurate color balance.

-Low input lag and fast performance.

-Multiple internet support services include Netflix, Hulu, Vidu, Prime Video, and Youtube.

-4K resolution

-120 Hz refresh rate

-Filmmaker Mode, HLG, Dolby Vision, HDR 10, Magic Explorer.

-Bluetooth, Wifi, HDMI, and USB connectivity technology.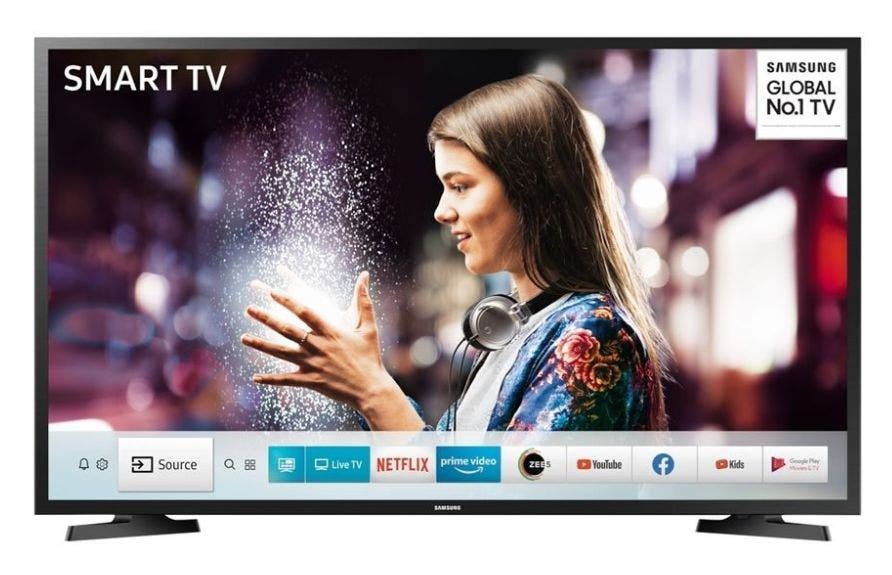 The South Korean electronics brand Samsung is the leading smart TV manufacturer worldwide. Samsung Smart TV Price In Bangladesh ranges from Tk 25,500 to above. Samsung TVs are very adaptable and excellent in picture quality.
But they are not muchly affordable like the LG and Hisense, So we kept it in the third of our list. But the price justyfy its brand value, feature and quality. Samsung TVs have a patented Tizen smart OS interface, streaming apps, HDMI 2.1 capacity, etc.
The best affordable and budget-friendly Samsung TV on our list is Samsung AU8000. Though Samsung is not well enough for a budget television, this model offers a fine performance at a low price.
It has a wide range of sizes from 43" to 85." All of these sizes perform like the 65-inch model we found. It performs well enough in a dark room due to its high contrast ratio. The features of the Samsung AU8000 model are:
-High-level contrast ratio

-The great reflection handling capability

-Outside game mode and low input lag

-VA, Edge LED, 3840 x 2160 pixels display

-178 ° / 178 ° Viewing angles (H/V)

-300 cd/m² brightness

-3800: 1, Static contrast.

-50 Hz / 60 Hz refresh rate

-ATSC, Clear QAM, TV tuner: Analog (NTSC/PAL/SECAM).

-Cores: 4

-Wifi 5, full web browser, apps, Bixby, Google assistant, Alexa.

-Two USBs, three HDMI, and ethernet connectors.

-Dolby 20W 2CH speaker
The Samsung Q80/Q80B QLED is one of the best mid-range Samsung smart TV. If you don't like breaking the bank but want to enjoy the best picture, the Samsung Q80/Q80B QLED is for you.
It has maximum brightness with SDR and fine reflection handling capability. It also has great gaming features and console gamers options. The important features of the Samsung Q80/Q80B QLED model are:
-QLED display technology

-4K screen resolution

-120 Hz refresh rate

-Built-In Speaker, Flat, Ambient Light Sensor, Browser, DLNA, Voice Assistant

-Netflix, Youtube, Apple TV, Hulu, HBOMax, Disney+, etc.

-USB, HDMI technology

-Dolby atmos object tracking sound system

-4K upscaling Quantum processor

-Multiple voice assistants Etc
Toshiba Smart TV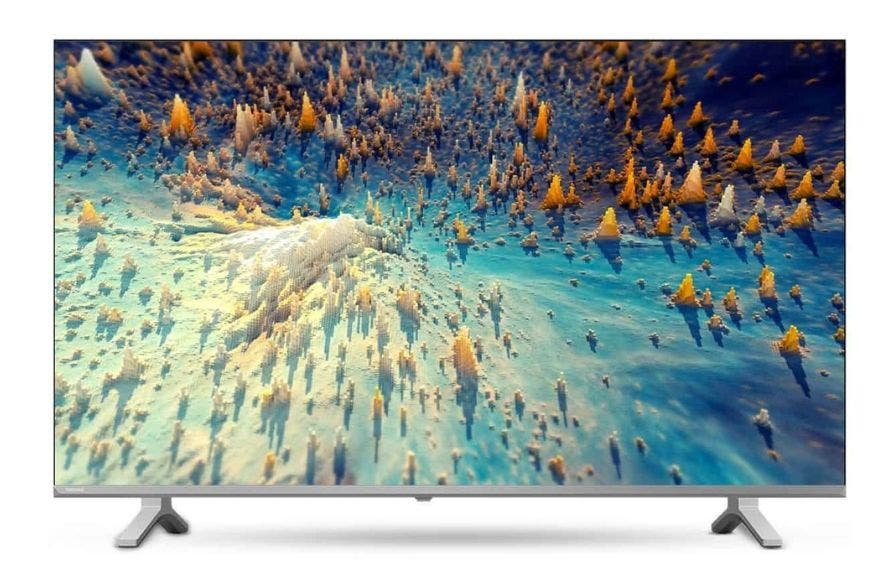 Toshiba Corporation is the largest manufacturer of Japanese electric, electronic, industrial, and consumer products. Toshiba is one of the top LCD and semiconductor TV manufacturers. Toshiba has many options for smart TVs; you can choose according to your budget from them.
Their TVs are high in quality and have quality assurance. Toshiba Smart TV Price in Bangladesh ranges from 23000 to above.
32" Smart Toshiba TV
Compared with the 32-inch smart TV price in Bangladesh, The 32" Class LED HD Smart Fire Toshiba TV is one of the best. It has a high picture quality and the best performance. It has high brightness and superior color contrast quality. The features of the TV are:
-High-quality HD smart TV with impressive picture quality.

-Voice control and Amazon Alexa support options.

-4K Ultra HD display

-Anti-glare screen with motion enhancer

-4000 streaming channels with Netflix and Hulu.

-HDMI and USB ports to connect with other devices like laptops, mobile phones, blu ray players, etc.

-Hassle-free WiFi

-Amazon fires Android OS.
43-inch Smart FHD Toshiba TV
The Toshiba V35 Series TV is the latest technology budget smart TV. It will give you a next-level watching experience. You can find anything by your voice only. It has many streaming channels and applications.
LED Full HD 43-inch Smart Fire Toshiba TV Features:
-43" HD display

-Advanced micro-dimming technology for high-quality brightness, color, and contrast ratio.

-DTS Virtual and Fire TV

-Enhanced picture quality

-Supports Netflix, YouTube, Prime Video, Hulu, HBO NOW, and more. It also supports live news and sports from CNN, NBC, CBS, ESPN, and more with PlayStation Vue.

-Full Array LED backlight

-Updated HDR10 and Dolby Vision HDR
eco+ Smart TV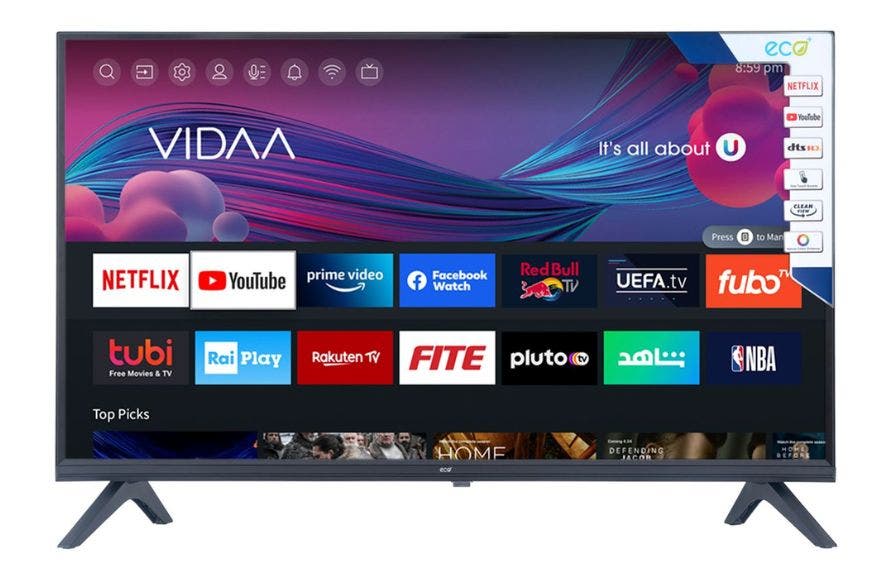 Excellent quality, slice-edge technology, and swish design have made eco+ one of the most affordable smart TV in Bangladesh. The eco+ Smart TV Price in Bangladesh ranges from 26000 to above. They have some amazing features and gorgeous looks.
eco+ FHD Smart TV
The eco+ FHD Smart TV is a great budget TV. It has some amazing features that are better than other affordable smart TV models. The eco+ FHD Smart TV Price in Bangladesh is around 40 thousand.
Features of eco+ FHD Smart TV:
-43 Inch Backlight source

Smart TV

-It has Dolby Audio sound quality

-Built In WI-FI

-Any view Cast and Screen Share

-Full Web Browser, Facebook, Youtube, etc.

-USB and HDMI 2.0 s port

-Automatic volume level (AVL) control

-Audio enhancement

-Child lock and program lock
FAQs
What is a smart TV?
The TVs that support smart features like video streaming, web browsing, voice control, NetFlix, and Amazon without any additional equipment is known as smart TV. The Tv connects to the internet with its built-in Wifi system.
What is the difference between a smart TV and regular TV?
Smart TVs have built-in internet connection capability and other smart features like gaming and video streaming. On the other hand, a regular TV only supports video streaming by the selected TV channel.
Do all smart TVs include Alexa and Google?
No, Alexa and Google support options rely on the TV model. Some TVs support Alexa, some support Google, and some are both Alexa and Google.
How much do smart TVs cost?
Smart TVs have a wide range of models concerning the price depending on the size and technology. The smart TV price in Bangladesh starts from around 25000 BDT.
Do you need the internet for smart TV?
Sometimes. You can use the smart TV features except the browsing and live streaming without an internet connection.
What is the advantage of a smart TV?
There are many different advantages of a smart TV. Some advantages are:
-Endless entertainment

-Different video applications

-Internet browsing

-Easy setup options etc.
How do I know if my TV is a smart TV?
You can easily test If your TV is smart by pressing the Menu or home button. Suppose you find several square shapes showing ads for different TV shows or apps logos, such as Netflix and; congratulations! Your TV is a smart TV.
Conclusion
Smart TV, also known as CTV (connected TV), is the latest entertaining electronic device. House of butterfly always tries to offer customers the best TV Price in Bangladesh. The above-mentioned affordable brands and TV models are available in the butterfly houses.
Our efforts were to assist you in finding a budget-friendly smart TV in Bangladesh. We hope you got the article helpful and enjoyed reading it. If you have any more queries, just leave a comment in the comment section, and we will answer all the queries.