Everything you Need to know about Single Door Refrigerator
Refrigeration is an essential part of our life both in the commercial setting and in households. Modern life cannot be imagined without the use of refrigerators. It is not only useful to store perishables and cooked items for a longer time but also increases the shelf life of multiple products that need to be stored in cold temperatures, for future market demands.
---
An extensive variation of refrigerators is available in the market specifically catering to a vast array of consumer needs. Depending on cooling technology, storage space, build, and material, refrigerating appliances differ widely. One such sort is the single-door refrigerator.
This design is pretty self-explanatory from the name itself, as it contains a single storage compartment closed by a single door. Single Door Refrigerators are usually smaller in size with an approximate capacity of between 165 liters and 280 liters. These refrigerators are more suitable for use by a single person, up to a small family of two people. Unmarried people and newly married couples are ideally more inclined towards purchasing from this range.
Owing to the limited size of the refrigerators they have a smaller number of shelves. Unlike other models of refrigerators, be it double door, side-by-side, etc., single door refrigerators have a single cooling system. This leads to the lack of a separate no-frost compartment. Most of these refrigerators have a manual defrosting system, which can be used when deemed necessary by the consumer. They are the most economical option if you are running on a tight budget.
Is Single Door Refrigerator a Good Fit?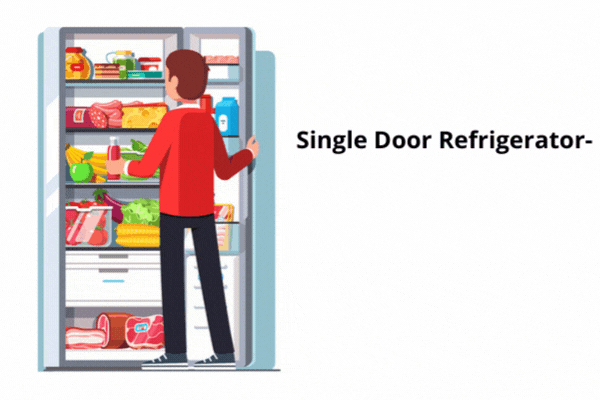 After realizing the need to purchase a refrigerator, and identifying the proper place to install it, the next step is to choose which sort of refrigerator to go for. The type of door installed can be a defining characteristic in this case. Single door refrigerators are an excellent option for consumers, but it is also important for them to know if this fridge is indeed the right fit for them or not. We will be better able to distinguish how single-door refrigerators are different if we compare them with the most commonly used double-door refrigerators.
---
Distinction from Double Door Refrigerators
Clearly, the most basic difference between the two lies within the name. One has a single outer door, while the other has two doors leading to each of the fridges and the freezer. However, within the single outer door, the single-door refrigerators could also have multiple compartments. As opposed to the previously stated capacity, the double-door refrigerators have sizes ranging from 235 liters to 495 liters, accommodating refrigeration for a family of up to 5 members. The single-door refrigerators have a small freezer compartment as well in comparison to the usual larger one found in the others. They also are quite simple in design and technology and last modern features.
In order to better analyze if single-door refrigerators would be the best fit for you, let us also list down some of their advantages and disadvantages.
---
Advantages of Single Door Refrigerators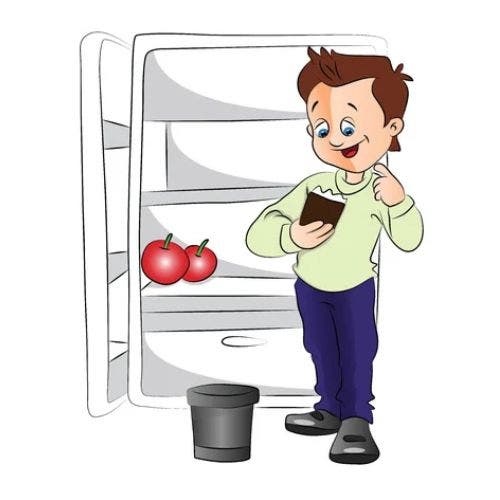 Some of the basic advantages of single-door refrigerators are listed as follows.
-They have a smaller size for smaller families or personal requirements.

-These refrigerators fit into small or compact places, e.g. smaller flats and studio apartments covering less floor space.

-They are extremely energy-efficient, since they are smaller in size, and their cooling system also uses minimal energy (around 30% to 40% less power usage).

-Single door refrigerators are extremely wallet-friendly. Due to their small storage capacity, they come in minimalistic size and design, reducing overall manufacturing cost, and come in a lower price tag.

-The use of direct cooling technology is one of the most energy-efficient techniques.
---
Disadvantages of Single Door Refrigerators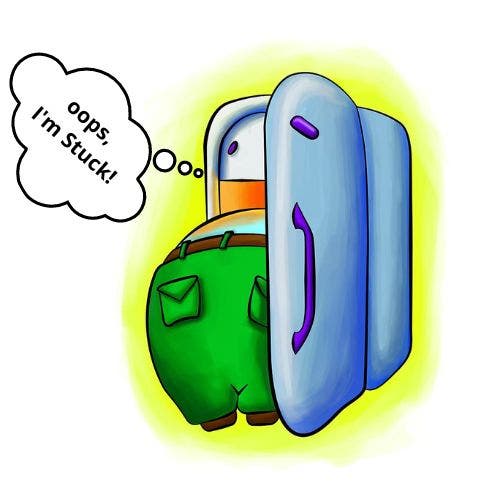 Let us now take a look at some of the drawbacks that might be found in single-door refrigerators.
-The usual capacity of these fridges is smaller. Hence, even if the outer door technology is preferred by a client, he/she cannot find these appliances in a larger size in the market. While Double door comes in two varieties- Top Mount refrigerator and Bottom Mount refrigerator, and provides multiple sizes to choose from.
-They do not have a frost-free compartment, and the ice needs to be cleaned manually. However, some new models have brought in better technologies to clean the frost. People start to prefer No Frost Refrigerators for easy cleaning.
---
LG Upright Refrigerator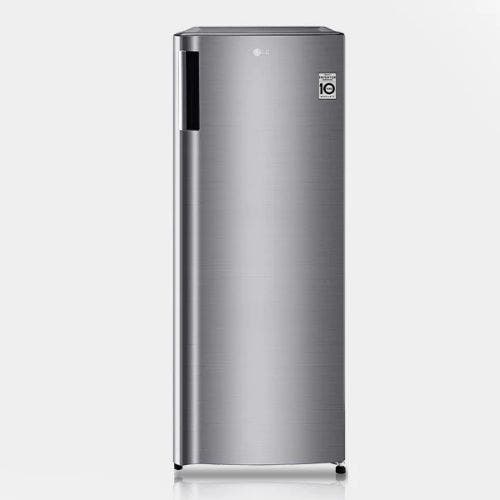 Now we have seen both the perks and downside of owning a single-door refrigerator. But what if there are some ways to overcome these drawbacks? LG brings its upright refrigerator with the sleekest and ultramodern design, using some new technologies, making it easier for consumers to use and maintain a single-door refrigerator. This fridge with a gross storage of 171 liters (Net storage of 165 liters) comes in attractive platinum silver color, available in the Butterfly group. Some of its features are listed below.
Fast Cooling/Ice Making: The direct cooling and single compartment technology make the cooling process 40% faster. This results in quick cooling of the products stored inside, as the ice-making procedure is also quickened.
Better Energy Consumption: The use of an inverter compressor ensures efficient use of energy. Here minimal energy is used in the compressor, and continually processed. Moreover, the smaller and compact size also reduces overall energy consumption.
Smart Storage: With 6 shelves, 4 baskets, and 1 drawer this fridge has an effective storage facility, so that the limited space be used in the optimum format. There is also a fruits and vegetable box, that helps to store such perishables at the optimum temperature. Moist balance technology has also been used in the compartments to maintain the appropriate humidity.
Better Energy Consumption: The use of an inverter compressor ensures efficient use of energy. Here minimal energy is used in the compressor, and continually processed. Moreover, the smaller and compact size also reduces overall energy consumption.
---
Now if you are single, have a small family, or just need a refrigerator that could store your weeks' worth of groceries fresh, single-door refrigerators would definitely be a great fit for you.