Hisense TV - Television with Excellence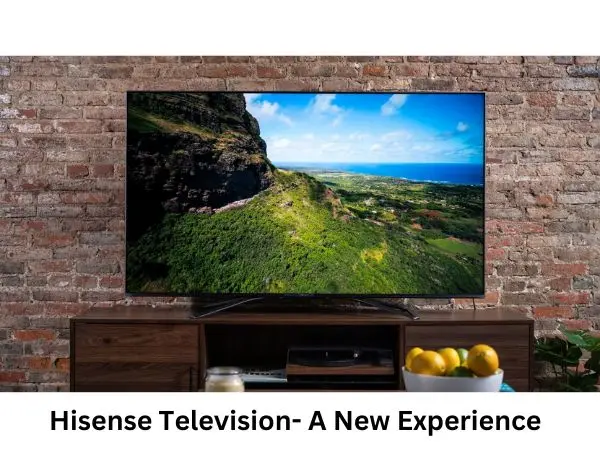 It's hard to imagine modern life without television. After a stressful day, television helps us relax on the couch with Netflix. A good TV is an absolute must to spend our evening with family or friends.
Due to high demand, the television market is extremely competitive. Only a few TV brands get to stay on top because of their continuous inventions and alluring features. Hisense is one such name that will always appear when looking for a TV in the market. Hisense is one of the biggest TV and electronics manufacturers worldwide. It started in China and then it spread all over the world. Today, browsing the TV market is almost impossible without seeing the Hisense brand. Hisense TVs come with a lot of features and are available in many budget ranges. That's why we've discussed some of the important features of Hisense TVs. We have also talked about different Hisense TV models in all budget ranges. House of Butterfly offers the best Hisense television price in Bangladesh.
6 Excellent Features In Hisense TVs That You Should Know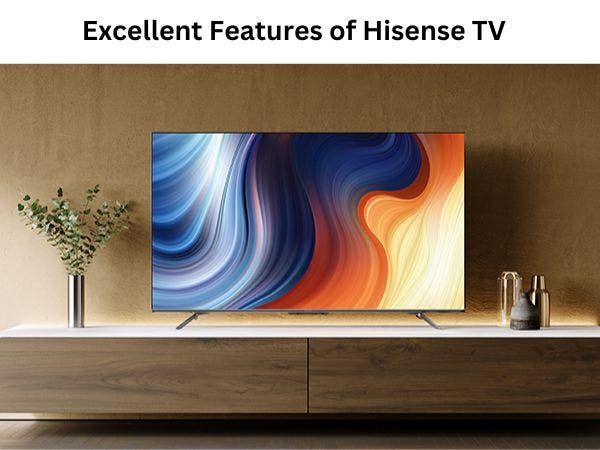 There are multiple things to consider when buying a television. Trying to go over the features all at once can be a little too much, even for the experts. But once you start to learn about them, it gets easier.
Hisense TVs offer some of the best features that are available in the current market. For your convenience, we have picked and discussed their features one by one!
Stay with us till the end if you want to know more about Hisense Televisions and their features.
4K Resolution
The biggest factor when buying a TV is the screen resolution. The overall price of a TV depends heavily on it.
In today's market, the standard TV resolution is still FHD or 1080p. They are comparatively inexpensive and super easy to afford. They're also more available and can be found in physical or online stores.
But in the current year, FHD or 1080p resolution is considered outdated by many. Of course, there are homeowners under a strict budget who choose TVs with FHD resolution.
But not everyone wants the bare minimum because televisions are seen as investments. It's your primary source of entertainment after all.
If you want a better experience, you'll have to turn to 4K resolution. On top of that, 4K resolution is becoming the new standard due to increasing demand and mass production.
4K or UHD panels has 4 times more pixels than 1080p or FHD resolution. Because of that, pictures and videos are significantly detailed in the 4K resolution.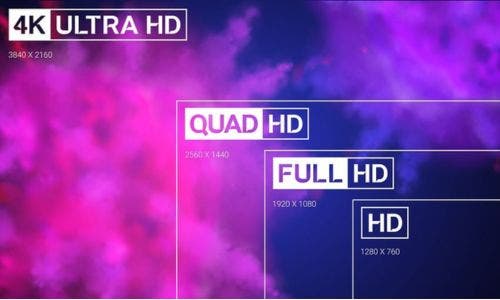 UHD or 4K resolution lets you enjoy movies, drama series, and sports in high quality. With Hisense's LED and mini-LED panel, 4K resolution elevates your viewing experience.
The only downside of the 4K TVs is their price point. They're comparatively expensive and not everyone can afford 4K TVs. But luckily, this is changing thanks to brands like Hisense.
Hisense TVs offer standard 4K TVs at a reasonable price point. There are standard Hisense 4K smart TVs that are very budget-friendly.
However, if you want the top-of-the-line 4K TVs, in that case, Hisense also got your back. Hisense's premium TVs offer high-quality IPS panels that heighten color density and provide superior black levels.
UHD AI Upscaler Technology
So far we have only discussed the 4K resolution and its benefits. If you're only watching 4K content then there's nothing to worry about.
Because the TV simply takes the 4K picture or video and displays it pixel by pixel matching with your TV. It's super easy and there's no issue at all. But the reality is not every picture or video has 4K native resolution.
For example, the local news channel or the sports channel will broadcast videos in 720p or 1080p resolution. This creates a problem as a 4K TV has way too many pixels compared to a 1080p or 720p TV.
That's when you need good UHD AI upscaling technology. Simply put, this AI technology takes a 1080p picture and upscales it to 4K. Thanks to this feature, your picture doesn't get bland as it restores clarity while enlarging the picture.
All the recent Hisense TVs come with Hisense UHD AI upscaler technology. This feature lets you watch virtually any content in 4K with better clarity.
Dolby Digital Audio
Picture clarity is an absolute must if you want to have a great viewing experience. But that's not everything. Alongside picture quality, you also need audio for immersion.
When it comes to audio, Dolby Digital is a very common name that is praised among TV experts. Dolby Digital is a family of audio compression codecs that enriches the audio quality.
To ensure the best experience, Hisense uses Dolby Digital audio technology on their TVs. Thanks to that, you can just open your television and get yourself immersed in your favorite cinema. Dolby audio achieves this immersion by using a cinematic surround audio experience. With Dolby providing high-quality audio, watching cinema or a TV series on a Hisense TV will be nothing like before.
Smooth Motion
Smooth motion technology is relatively new in the TV market. This is a feature implemented by most TV brands for watching fast-paced content like sports.
Movies or TV shows have 24 frames per second and that's the industry standard. But watching sports isn't the same as watching movies because there's a lot to catch in a short time.
That's where Hisense's smooth motion technology comes into play. It eliminates the motion blur effect which is beneficial for movies but harmful for sports.
The smooth motion technology also gets rid of the jerkiness effect which is created due to cameras moving at high speed. Simply put, this technology makes the motions smoother so that you can catch all the actions vividly.
Game Mode
Televisions are not just about watching sports or movies. Nowadays, they can be used as monitors. Simply plug in your Hisense TV with a console and you're all set!
To help you with games, Hisense has added a game mode. Enabling this mode helps you set the perfect setting for playing video games.
Thanks to this mode, you won't have to manually change the brightness and contrast settings. Simply select the game mode and it'll change everything in an instant.
Voice Command
After a busy day of work, you might not be in the mood for changing settings or picking movies with a remote. In such cases, you can utilize Hisense's voice command feature.
Hisense TVs come with a Google assistant and a voice-control feature. You can simply ask for a video to open and it'll find you the video from the internet. You can use it to change channels or volume levels.
Other than that, you can also alter the picture settings by giving a simple command. This allows you to have a very comfortable viewing experience.
Hisense TVs can also be used with Amazon Alexa as well. But in that case, you'll have to sync Amazon Alexa with your Hisense TV.
3 Reasons Why You Should Buy Hisense TV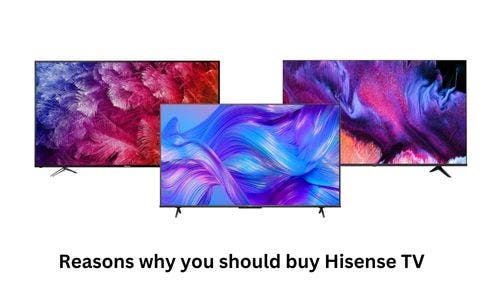 So far we have only discussed the features that you get with Hisense TVs. But the best Hisense TVs come with more benefits other than features. We have talked about them, in brief, to keep everything simplified for you.
Price Point
The price of a television is always the biggest concern when buying a TV. Finding a good TV within a reasonable price range can be a big challenge.
Luckily, Hisense offers you a great variety of TVs in every price range. This allows you to have multiple options when choosing a TV.
Hisense UHD TV price is also friendlier and more cost-effective than other brands. Overall, if you're looking for a great TV at a reasonable price, Hisense is the way to go!
Screen Size
Another reason why you should go for Hisense TVs is their variety in screen sizes. No matter what screen size you're looking for, Hisense has got your back.
Hisense offers 32 inches TVs in mostly FHD resolution. They're cheaper and more budget-friendly. House of butterfly provides the best Hisense TV 32-inch price in Bangladesh.
Hisense also has TVs in the 43-inch category. These are mostly 4K UHD TVs that are comparatively cheaper than other 4K TVs.
Then there are the premium 55, 65, and 75-inch options that you can go for. Hisense TVs in this screen range come with all of the recent features that provide an excellent viewing experience.
Model Variety
Hisense TV models come in a lot of varieties that give buyers multiple options to choose from. You can compare them with each other and see the differences in provided features.
Having multiple options in the same screen size is greatly beneficial as you can prioritize your preferred features.
3 Best Hisense TVs That You Can Buy From House of Butterfly
To help you even further, we have directly talked about the Hisense TV models that are available in the House of Butterfly shop. We have discussed the price range and what model you should go after.
If you're still in any dilemma, this will help you out a lot.
Model 1: Hisense 32 Inch HD Smart TV Series A4G
This is one of the cheapest Hisense TVs that you can buy from House of Butterfly. Hisense 32 Inch HD Smart TV Series A4G has access to google assistant and provides a wide viewing angle.
Here's what you need to know-
| | |
| --- | --- |
| Specs | Hisense HD Smart A4G |
| Resolution | 1366 x 768 |
| Screen Size | 32 Inch |
| Backlight | LED |
| Contrast Ratio | 3000:1 |
| Refresh Rate | 60Hz |
| Viewing Angle | 178 Degree |
| Google Assistant | Yes |
| Voice Command | Yes |
| Dolby Vision | No |
| Dolby Audio | Yes |
| HDR | HDR 10 |
This is a great 720p smart TV that has smart access and comes with voice control. It also has Bluetooth support and one-touch access.
Model 2: Hisense 43 Inch FHD Smart TV
If you want a higher resolution along with a bigger screen, this Hisense TV is a great option to pick. Hisense 43 Inch FHD Smart TV can be operated by your phone and you can also sync it with Amazon Alexa.
Here are some more specifications for you-
| | |
| --- | --- |
| Specs | Hisense HD Smart 43A6200F |
| Resolution | 1920 x 1080 |
| Screen Size | 43 Inch |
| Backlight | LED Matrix |
| Contrast Ratio | 1200:1 |
| Refresh Rate | 60 Hz |
| Viewing Angle | 178 Degree |
| Google Assistant | Yes |
| Voice Command | Yes |
| Dolby Vision | Yes |
| Dolby Audio | Yes |
| HDR | HDR 10 |
This FHD smart TV also has Dolby Vision and Dolby Audio support which will be greatly beneficial when watching cinema. The TV also comes with a surround sound system, further elevating the viewing experience.
Model 3: Hisense 43 Inch Smart UHD TV
Like the previous model, Hisense 43 Inch Smart UHD TV also has a 43-inch screen but it has a 4k resolution. Thanks to 4K UHD resolution, it provides excellent picture clarity and a superior contrast ratio.
We've made a small chart regarding the specifications-
| | |
| --- | --- |
| Specs | Hisense UHD 43A71F |
| Resolution | 3840 x 2160 |
| Screen Size | 43 Inch |
| Backlight | Direct LED |
| Contrast Ratio | 5000:1 |
| Refresh Rate | 60 Hz |
| Viewing Angle | 178 Degree |
| Google Assistant | Yes |
| Voice Command | Yes |
| UHD AI Upscaler | Yes |
| Dolby Vision | Yes |
| Dolby Audio | Yes |
| HDR | HDR 10 |
This Hisense 4K smart TV gives you access to Dolby Atmos which enhances the overall audio quality. Its black levels are also higher, making the dark scenes stand out more at night. This TV also has a one-click sports mode.
Model 4: Hisense 55 Inch 4K UHD Smart TV [A6 Series]
If you're in the market for a premium TV, you won't be disappointed with Hisense. Hisense 55 Inch 4K UHD Smart TV delivers an excellent viewing and audio experience while providing all the recent TV features simultaneously.
Here's all you need to know-
| | |
| --- | --- |
| Specs | Hisense UHD 55A6H |
| Resolution | 3840 x 2160 |
| Screen Size | 55 Inch |
| Backlight | LED |
| Contrast Ratio | 1,000,000:1 |
| Refresh Rate | 60 Hz |
| Viewing Angle | 178 Degree |
| Google Assistant | Yes |
| Voice Command | Yes |
| UHD AI Upscaler | 4K UHD Upscaling |
| Dolby Vision | Yes |
| Dolby Audio | Yes |
| HDR | HDR 10 |
Thanks to its high-quality panel and contrast ratio, Hisense UHD 55A6H delivers an immersive 4K experience. It also has Google Assistant and Amazon Alexa support along with a Sports Mode and a Game Mode.
This excellent Hisense TV can be found at the best price in Bangladesh via House of Butterfly.
FAQs
Question: Is Hisense owned by LG?
Answer: No, the Chinese brand Hisense isn't owned by the LG company. Rather, they're rivals who compete head-to-head in the electronics market.
Question: Do Hisense TVs last long?
Answer: Yes, Hisense TVs can last very long from 5 years to 10 years. The lifespan of the TV depends on the user. However, Hisense offers a 2-year service warranty and a 4-year panel warranty.
Conclusion
Hisense has maintained a big presence in the television market. Thanks to that, we have numerous options when purchasing a television. From House of Butterfly, You can get the best Hisense smart TV price in Bangladesh.