How to Pick the Perfect TV Size for Home and Office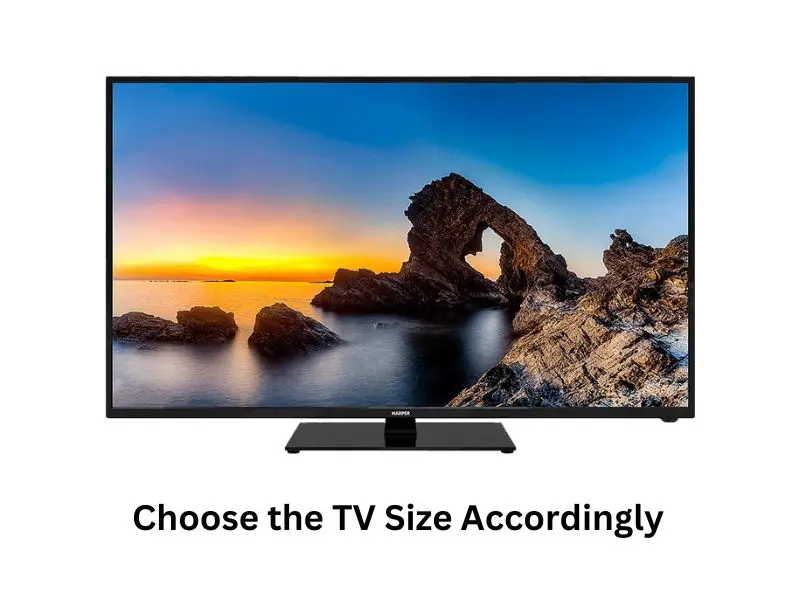 The television is not just an electronic device. It is one of the necessities nowadays. For home or office, it is widely used in a different perspective to fulfill the needs. It's like a support who accompanies all family members alone. But the perfect TV size selection is crucial to bring the best out of the purpose. If the size of the TV screen is not appropriate you may not be able to enjoy the purpose you have bought the TV for.
However, there is no one-word answer to the question of perfect TV size. You can look for the right screen-sized TV by analyzing similar(not identical) items from different companies, brands, and outlets. The analysis should be based on the distance between your TV screen and the seat.
Personal taste and comfort are also important in making the decision. You might be more comfortable with a smaller or larger size screen than what we suggest in these guidelines. You will get everything to select the best television concerning size in the article. Let's dive into it.
Buying Guide to Select a Perfect Television :
We have spent a lot of time analyzing and testing the perfect TV size for any space and budget. The TV buying guide will show you where to start the analysis and how to do it. We divided the TV buying guide into two parts, i.e., buying guide for home space and office use.
Common factors for buying a TV for any space:
The seven most important things to buy TVs are:
1. Buy the TV with HDR and 4K(aka Ultra HD): These are the most important factors for the picture quality of the TV.
2. The biggest is the better: No one ever said, " I wish to buy a small TV." A bigger TV with a 4K resolution is spectacular and jaw-dropping.
3. Upgrade the existing cable with HDMI: An HDMI cable can replicate every pixel of your TV resolution, so remember to get that.
4. Upgraded Sound System: Usually, the built-in sound of TV speakers could not be better (even that was better years ago). So using an external sound system is enjoyable.
5. Brand Choice: A trusted TV brand choice is important. The popular TV brands in Bangladesh are Samsung Television, LG Television, Hisense television, Toshiba television, eco+ Television, etc. LG, Sony, and Samsung are the best three.
6. Buy From Authorized Dealer: Always buy your new television from an authorized dealer and distributor to claim the manufacturer's warranty and support.
Best TV Buying Guide for Home Applications:
Some important things to consider while buying a television for your home space. Consider the following things to pick the perfect TV-
Display Type
Viewing angle, glare, and contrast are must-known factors for an ideal display. Some popular display types are:
1. LED Television
LED is the most standard TV display technology. To create high-quality LED TVs, edge-lit and backlit LEDs are utilized. These thin TVs are ideal for viewing in the daytime. LEDs are low-budget TV sets.
2. QLED Television
QLED stands for Quantum Dot LED; it uses quantum dots to create a high level of brightness and superior color. It is a vibrant color display TV with high-level picture quality.
3. OLED Television
Organic LED(OLED) TVs are slim compared to the best LED TVs with a good contrast ratio.
4. UHD Television
Ultra-high-definition television (UHDTV) is a digital television display that has a wide range of horizontal screen resolutions, 8000 pixels(I.e., 8K UHD) and 4000 pixels(I.e., 4K UHD).
Screen Size
There are many ranges of TVs concerning screen size. The right size selection is essential to get immersed watching experience. Here we accumulated some key factors you must know while buying a TV for your family.
Select an ideal space like a bedroom, living room, and a TV screen proximity. Compare TV stands and wall mounting options and find the right spot in the room.
Ideal TV Size Calculate Formula
Ideal TV screen size equals the distance between you and the TV screens divided by 1.6.
TV screen size= Distance from the TV to the viewer÷1.6
Refresh Rate
The refresh rate is refreshing the image on the screen per second. Select a high refresh rate TV for gaming and watching fast pace action.
Smart Television
Smart television is a TV set with an OS that can connect to the internet and supports internet browsing and video streaming. Smart TV selection depends on your uses and features at a specific price point.
Screen Resolution
It will help if you use a high-resolution TV to enjoy sharp and live images. Keep in mind that a higher resolution means a better viewing experience.
Connectivity
Most present TVs have built-in Wifi and ethernet facility to connect to the internet. Select your smart TV within 2.4 GHz to 5 GHz wifi support to get good results. Some important connectivity options are wifi, smart ports (USB, HDMI, 4K UHD, and 8K supported), and Bluetooth.
These are essential features you should consider while buying a TV for your home.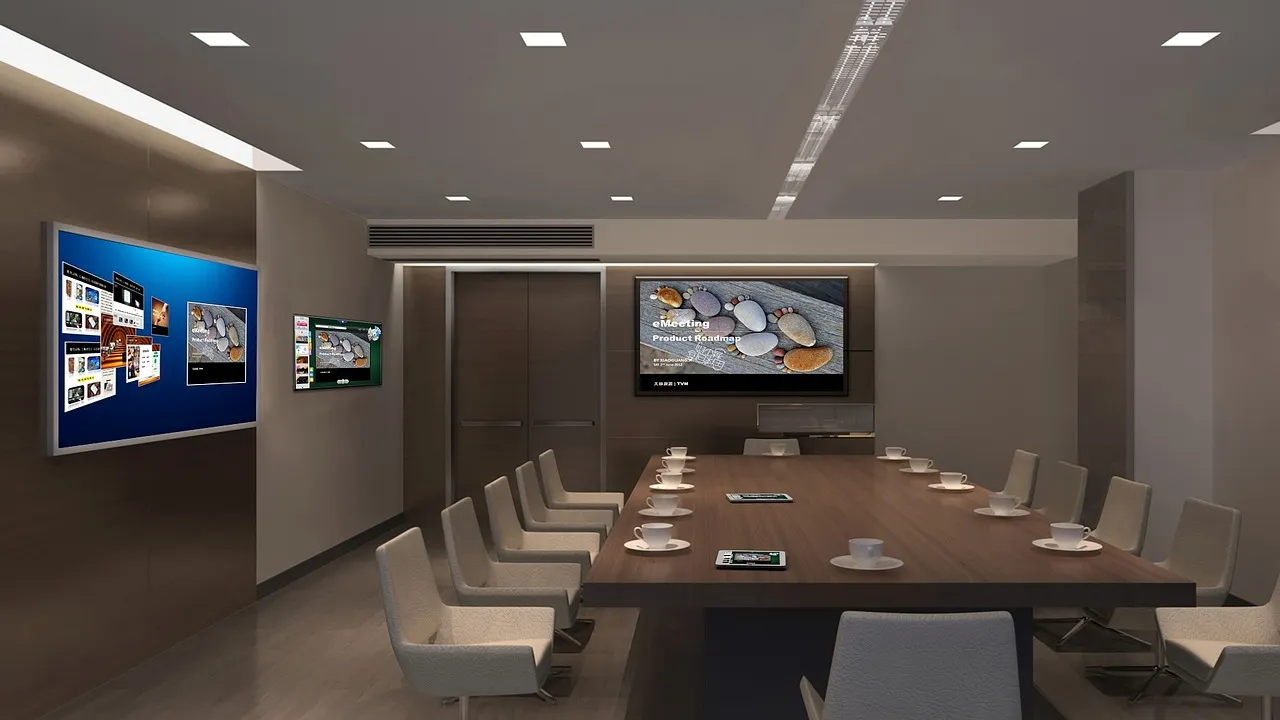 Best TV Buying Guide for Office Purposes
Consider the configuration below to select a TV for your office conference room.
Screen size and resolution:

Big screen doesn't ensure high resolutions. So you must carefully select a high-resolution TV with a big screen so everyone can see a good view.
Ports and Connectivity:

An office TV must be able to stream and play videos from various channels. So choose your conference TV with Wi-Fi, Bluetooth, and HDMI ports.
Sound System: An office TV should have a loudspeaker that creates clear and uncracked sounds. Try to have a TV that doesn't need an external speaker for the audio supplement.
Some suitable office conference televisions are Samsung QN90B QLED 55-inch Television, Samsung QN90B QLED 65-inch Television, Samsung QN90B QLED 75-inch Television, and Samsung QN90B QLED 85-inch Smart Television.
We found the Samsung QN90B QLED is the best TV as a monitor. It has a wide size range ( 43" to 85"), but 55" to 85" is the best for a monitor or office use. It offers an amazing desktop experience with HDMI 2.1, 4K resolution, and a 120HZ refresh rate. It also has a wide viewing angle and gray uniformity; therefore, the screen remains uniform when someone sits close to the monitor.
Why is TV a Required Appliance in Office Nowadays?
People may think having a TV in the office is not relevant but this is not the case. TV is widely used for presentation and all.
In modern days, TV can heighten your office environment and ease meetings. All type of presentation can be smoothly done with the quality TV. But the TV size is Important here. It can help your team feel connected with the outside world and with each other, which may result in more productivity. TV in a guest room could be a bonus when it needs to pull double duty.
The advantages of having a TV in an office are :
1. TV as an Informational Appliance:
TV has more versatile uses than just broadcasting and advertising. It can be used as a billboard or whiteboard. TV can also be used as a medium of internal communication and advertisement.
Besides, different departments and teams in an office can use the TV screen to showcase their improvement, celebrate hitting any target, and openly declare any function like anniversaries, birthdays, and for presentation purposes. Thus TV will add enthusiasm to your workplace.
2. As a Source Of Background Music:
Many people can not concentrate in complete silence. A TV can be a perfect source of soothing background noise. Playing with low and non-intrusive news, TV shows, and music can boost the employee's productivity.
3. As a Meeting Tool:
A TV can give a lively environment for any office meeting for PowerPoint presentations, document presentations, or demonstrating ideas.
One can connect his laptop and computer to the TV screen (remotely or with wires) to display his ideas to the team. Meeting with a TV as a monitor is better than sharing ideas individually.
You can also run virtual meetings on TV and watch your whole team working together from home.
What is Space and Distance Calculation for TV?
The method of finding the best viewing distance from the television to the viewer is the space and distance calculation. It is the key factor in getting a great viewing experience. The sitting distance depends on the TV size and screen type. For a traditional 1080-pixel HDTV, the TV size and distance ratio is about 1.5 to 2.5 times the screen's diagonal length.
So, the following is the space and distance calculation for different TV sizes:
-For a 40'' TV the sitting distance is between 5 to 8.5 ft away from the TV screen.
-For a 43'' TV– The sitting distance is between 5.5 to 9 ft away from the TV screen.
-For a 50'' TV– The sitting distance is between 6.5 and 10.5 ft from the TV screen.
-For a 55'' TV– The sitting distance is between 7 and 11.5 ft from the screen.
-For a 60'' TV– The sitting distance is between 7.5 and 12.5 ft from the screen.
-For a 65'' TV– The sitting distance is between 8 and 13.5 feet from the screen.
-For a 70'' TV– The sitting distance is between 9 and 14.5 ft from the TV screen.
-For a 75'' TV– The sitting distance is between 9.5 and 15.5 ft from the TV screen.
-For an 80'' TV–The sitting distance is between 10 and 16.5 ft from the TV screen.
-For an 85'' TV–The sitting distance is between 10.5 and 17.5 ft from the TV screen.
On the other hand, The standard TV watching distance for a 4K Ultra HD TV is between 1 to 1.5 times the screen's diagonal length. For example
-For a 40'' Television– Your sitting distance is between 3.5 to 5 ft from the TV screen.
FAQs
1. Why it's important to pick the right size television?
Right-sized TV selection is more important than a bigger screen. Because if the screen is excessively large and you sit close to it, you might suffer from eye problems like eye strain and pain.
Even if the size is bigger, you may only watch a part of the picture on your TV. So, only the right-size TV can provide the best TV-watching experience. Picking the right screen size for your TV is more important than being bigger.
2. Is a television an appliance?
TV is a class two appliance that has a plastic cover. Class two appliances are those that have two-layer insulations. The plastic connectors provide the basic insulation, and the plastic casing adds an extra layer.
3. Why are ads so much louder than the show?
Advertisements or ads are louder than TV shows due to the audience's attention. The multiband compression technique is used to make the advertisement louder. It splits audio sounds in different tones at a digitally allowed maximum limit. So the ad is always louder than the tv shows.
4. What is the average lifespan of a new TV?
The lifespan of a TV is between 4 to 10 years; in terms of hours, it is 40,000 to 1,00000 hours. It varies on the manufacturing, use, and maintenance of the television. You can increase the lifespan of your tv set by taking care properly.
5. Which is the best TV for gaming and sports?
You must purchase a TV with specific features, such as a high refresh rate, high color resolution, black-level specifications, etc., to play sports and video games. High resolution reduces the motion blur, and a big screen makes the game more enjoyable.
6. Is it worth investing in curved and OLED Television?
The OLED and curved TVs offer great contrast quality, better pictures, less energy consumption, and an immersive viewing taste. The downsides of the curved tv are the high price and specific viewing angle.
But the worth of your investment depends on the usage of your TV set. A bigger screened 4K TV is good enough to watch movies and TV shows. But for gaming, sports, and 4K HD movies, curved and OLED TV is a good choice. Follow the buying guide based on your budget to get the best one for your home and office.
7. When did TVs become common?
Television has become popular and the most dominating broadcasting medium, replacing the radio in the 1950s. The number of television users was 12 million in 1951 and just 6000 in 1946.
No home entertainment device like black and white television has quickly become popular.
8. What are the 5 advantages of television?
Television has some amazing advantages. The most important things about televisions are the educational benefits for children and adults, staying updated, getting cultured, crazy fandoms, family bondings, staying connected, boosting mental health, learning a language, releasing stress, etc.
9. When did color TVs become common?
Color televisions became common between 1960 and 1980 when broadcasting stations and networks upgraded to color transmission from black and white.
Conclusion
Selecting the perfect television can add extra value to your home and office. House of Butterfly offers the Best Television Price in Bangladesh. Suppose you are looking to purchase a new television in Bangladesh. Our sales team can help you to select the best model which will work excellently for you.
Hopefully, you enjoyed the article and found it helpful. If you have more questions on television size, resolution, sitting distance, and so on, leave us a comment in the comments section, or shoot a message.