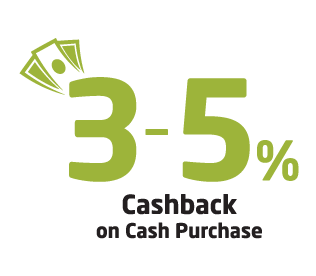 Buy products of LG or ECO+ worth 5,000 taka or more (including VAT) in cash from any Butterfly showroom and get cashback up to 3-5% through gift card. GP Star Customers will get an additional 5% discount on cash purchase.
Terms and Conditions:
-You can get the cashback offer through Gift Card if you buy LG or ECO+ products worth Tk. 5,000 or more (including VAT).
- Possible cashback on Gift Card for cash purchase will be 3-5%.
- GP Star customers will get an additional 5% discount on cash purchases
- Gift Card offer is only applicable for cash purchases.
- Cash payment can be made through Cash or Credit card.
- Kisti (Hire Purchase) or Bank EMI is not applicable.
This offer is only valid for Butterfly showrooms.
Please scan the QR Code provided by the showroom to enjoy this offer after purchasing the product in cash.
Following is the process to get gift card by scanning the QR code:
1. Scan the QR Code of "Butterfly Spring Offer"
2. After scanning, fill in all the information of the online form (Article Code, Showroom Code, any other offer combined, Captcha) on your mobile and click on "Verify Purchase" button.
3. An OTP will be sent to the showroom manager: An OTP or one-time password will be given to our showroom manager for verification. If you do not have OTP within the specified time, click on the resend option.
4. Take the OTP from the Showroom Manager and type in the OTP option of the form and submit within the specified time.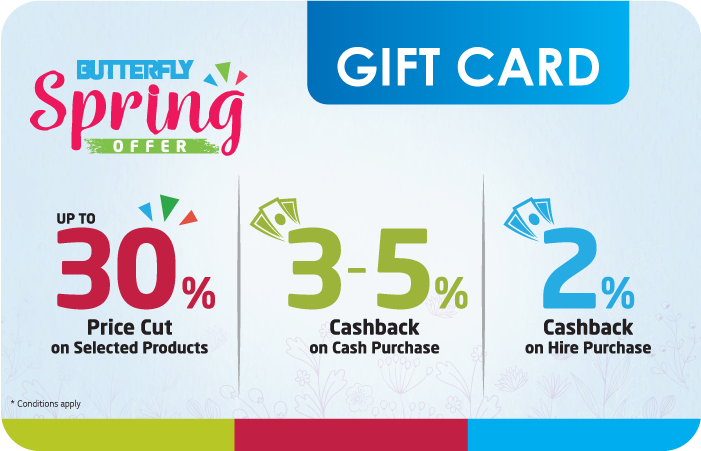 5. Select a gift card or click on re-generate. After regeneration select a card, then Submit.
6. After selecting and submitting the card, you will be informed of cashback via SMS and Showroom manager will also receive the code via SMS and Email.
7. Inform the showroom manager about the amount of cashback and gift code.
* Butterfly Marketing Limited reserves the right to change, extend or cancel the offer at any time.