LG Air Conditioner- The Best Experience Ever!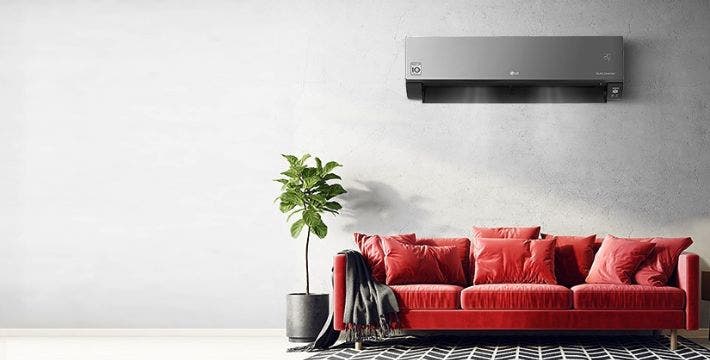 Summer is almost here and one of the most common purchases is going to be Air Conditioners. Lots of brands in the market are coming up with hot deals on air conditioners. However, trusting all of them is not a wise decision! So, on which brand should you have your bet?
I would say LG Air Conditioner. LG air conditioner is an excellent choice for those who want a reliable, energy-efficient, and powerful air conditioning system. With its various features, it provides a comfortable and healthy environment as well as saves you money on your energy bills. You've just got ideas on a small part of the main part. To help you in making the right purchase decision, I've prepared a complete guide on the performance of LG Air Conditioner this year. So, keep on reading till the end and make the decision today.
Before learning in detail about LG air conditioners let's learn about the brand LG!
LG is a South Korean multinational electronics company that produces a range of products including air conditioners. televisions, smartphones, home appliances, and more. Butterfly owns the exclusive distribution rights to market LG Products in Bangladesh since 1995.
LG is best known for its home appliances, particularly its refrigerators, washing machines, and air conditioners. These products are known for their high quality and innovative features such as smart technology, energy efficiency, and easy-to-use interfaces.
In addition to home appliances, LG also produces a range of electronics including televisions, audio equipment, and smartphones. LG's smartphones have received positive reviews for their design, display, and camera quality.
LG is known for its commitment to innovation and research and development. LG invests heavily in new technologies and has won numerous awards for its products. For example, LG's OLED TVs are widely regarded as some of the best on the market, thanks to their superior picture quality and performance.
LG is committed to corporate social responsibility. Besides, LG has implemented a number of initiatives to reduce its environmental impact. In 2019, the company has set a goal of reducing its greenhouse gas emissions by 50% by 2030.
To incorporate this LG has implemented a number of sustainable practices such as using recycled materials in its products and reducing energy usage in its manufacturing facilities.
Overall, LG is a well-respected brand that is known for its high-quality products, commitment to innovation, and dedication to corporate social responsibility. House of Butterfly Provides LG Home Appliances in its 240+ outlets.
Types of LG Air Conditioners
LG is one of the most popular brands offered by Butterfly. In this segment, you'll learn about LG air conditioners. Commonly, there are 2 different categories of all Air Conditioners of air conditioners that are well-known by general people - inverter air conditioners and non-inverter air conditioners.
besides these 2 categories, LG is offering a wide range of air conditioning units to suit various needs and preferences. Considering this aspect LG has mainly 5 types of air conditioners. Below I am mentioning the air conditioner types in proper detail.
Window Air Conditioners:

Let's start with window air conditioners.

Such air conditioners are ideal for cooling individual rooms or small spaces. LG window air conditioners come in various sizes and cooling capacities. It makes them suitable for different room sizes. They are easy to install and operate, and they come with features such as digital displays, remote controls, and programmable timers.

Portable Air Conditioners:

Next, another popular air conditioner is portable air conditioners. The air conditioners are versatile units that can be moved from one room to another. They do not require permanent installation, and they can be used in apartments, dorm rooms, or offices. LG portable air conditioners come with features such as oscillating air vents, programmable timers, and remote controls.

Wall-Mounted Air Conditioners:

These AC units are designed to be mounted on the wall, and they are ideal for cooling large rooms or open-plan living spaces. LG wall-mounted air conditioners come with features such as 4-way air deflection, auto-cleaning, and sleep mode.

Ducted Air Conditioners:

These units are designed to cool multiple rooms or an entire house. They are connected to a ducting system that distributes cool air throughout the house. LG ducted air conditioners come with features such as smart zoning, auto-restart, and Wi-Fi control.

Ceiling Cassette Air Conditioners:

Finally, the ceiling cassette air conditioners. These air conditioner units are installed in the ceiling and are ideal for cooling commercial spaces such as offices, shops, and restaurants. They are discreet and do not take up valuable floor space. LG ceiling cassette air conditioners come with features such as multiple air vents, quiet operation, and a slim design.
Below, I'll be discussing the features of the LG Air Conditioner.
Features of LG Air Conditioners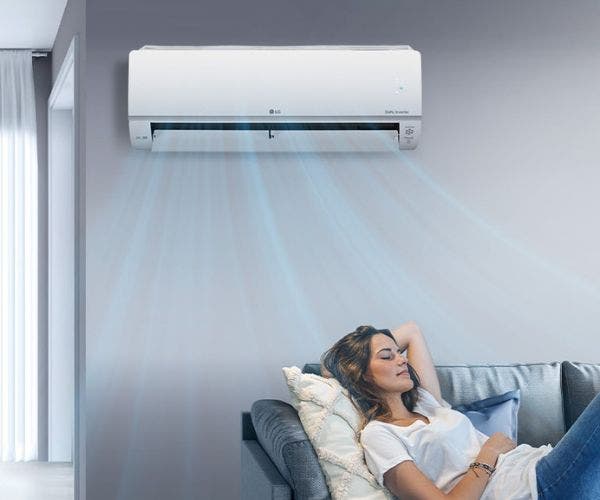 Now it's time to get the features of the usual LG air conditioners. So, let's dig in.
Dual Inverter Compressor™
Some of the LG air conditioners come with a Dual Inverter Compressor that ensures energy efficiency and reliable cooling. The dual inverter compressor adjusts the cooling power according to the temperature levels. And it provides a comfortable and consistent cooling experience. The compressor is also designed to work quietly, making sure you can enjoy a peaceful environment.
Plasmaster™ Ionizer
The Plasmaster™ Ionizer in the LG Air Conditioner helps to eliminate harmful pollutants and bacteria from the air. This ionizer produces over 3 million ions that bond with harmful substances in the air, such as viruses, bacteria, and allergens, neutralizing them and making the air healthier to breathe. The Plasmaster™ Ionizer also helps to remove bad odors and provides a fresh, clean environment.
ThinQ™ (Wi-Fi)
The LG Air Conditioner comes with the ThinQ™ technology. This technology allows you to control your air conditioner from anywhere, at any time. You can easily connect your air conditioner to your smartphone and control the temperature and other settings remotely. With ThinQ™, you can also monitor your energy usage and set schedules for your air conditioner to turn on and off, saving you money on your energy bills.
Jet Cool
Another interesting feature is the Jet Cool system. The Jet Cool feature in the Air Conditioner helps to cool the room quickly. It works by providing instant relief from the heat. With the Jet Cool feature, you can enjoy a comfortable cooling experience, even during the hottest days of the year.
Gold Fin (CU) Condenser
In recent times, most LG air conditioners come with a Gold Fin (CU) Condenser that ensures durability and reliability. The Gold Fin (CU) Condenser is designed to withstand harsh weather conditions and protects against corrosion, extending the life of your air conditioner.
Energy Saving
This is one of the most wanted features people want right now. The Inverter LG air conditioners are energy efficient and can help save up to 70% on your energy bills. With the Dual Inverter Compressor and the Plasmaster™ Ionizer, the air conditioner consumes less energy while providing a comfortable and healthy environment.
Pre-Filter – (Anti Bacterial/Washable)
The Pre-Filter in the LG air conditioner is washable and helps to remove large particles from the air, such as dust and pet hair. It also has an anti-bacterial coating, which helps to eliminate harmful bacteria and viruses. Overall it provides a healthier and cleaner environment.
Hidden LED Display
The Hidden LED Display in the LG air conditioner adds a touch of elegance to your room. The display is hidden when the air conditioner is turned off. It gives a sleek and sophisticated look to your room.
Auto Restart
The Auto Restart feature in the LG air conditioner ensures that your air conditioner restarts automatically after a power outage. This feature ensures that you don't have to manually turn on the air conditioner after a power cut, and it starts functioning as soon as the power is back on.
Sleep mode
Mentioning the last feature, Sleep mode. The Sleep mode feature in LG air conditioners helps to create a comfortable sleeping environment. This mode adjusts the temperature and fan speed according to your sleeping pattern. And it'll ensure that you get a good night's sleep. It also helps to save energy, making sure that your air conditioner doesn't consume too much energy while you're sleeping.
Best LG AC- Choose Accordingly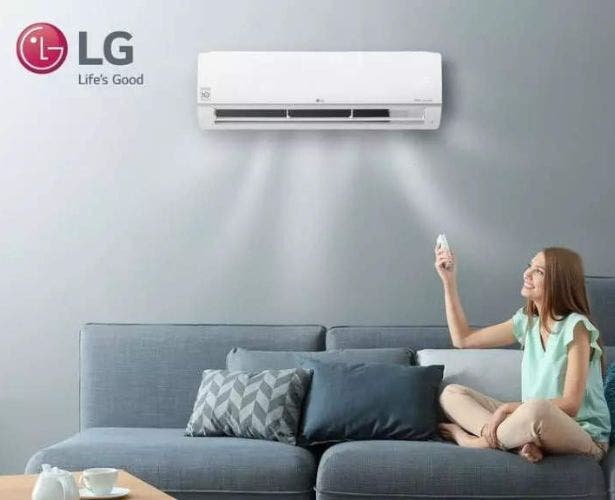 So now you may be thinking what's the best LG air conditioner out there? Well, In this segment, I'll clear your confusion. Here I'll suggest 3 LG inverter air conditioners of different sizes. So, give it a check.
Here are just 3 suggestions but LG has more options for you. Just visit the House of Butterfly and get to know about LG AC prices in Bangladesh. Click here to check Online.
Why Do I Recommend LG Inverter Air Conditioners?
In the previous segment if you notice you should find that I've only suggested inverter air conditioners from LG. Plus the Butterfly group in BD is only selling LG inverter air conditioners. In this part of this article, I will clarify why I am recommending inverter air conditioners.
Energy Efficiency: First of all, LG inverter air conditioners use advanced inverter technology that allows them to adjust the compressor speed according to the cooling demand. This means that they consume less energy compared to traditional air conditioners that operate at a fixed speed.
Comfort: Next, inverter air conditioners offer superior comfort. It's because they maintain a constant temperature and avoid fluctuations that can cause discomfort. Additionally, they operate quietly, ensuring that you have a peaceful environment.
Durability: LG inverter air conditioners are built to last comparatively longer. Plus, the high-quality components of inverter air conditioners are designed to withstand wear and tear. They also require less maintenance compared to traditional air conditioners.
Environmentally Friendly: Finally, inverter air conditioners use eco-friendly refrigerants that have a lower global warming potential and are ozone-friendly. So, it is comparatively safer for the environment.
Overall, LG inverter air conditioners offer several advantages over traditional air conditioners. So, the features make them a better choice for those who are looking for energy-efficient, comfortable, and durable cooling solutions.
Are LG Air Conditioners Worth Purchasing?
Yes, LG air conditioners offer a variety of features including energy-saving mode, LED Display, Wi-Fi system, active energy control, Himalaya Cool/Jet Cool, and more. Aside from them, they are also producing LG dual inverter mosquito away ac.
How Much is an LG Air Conditioner?
The price of the air conditioner mainly depends on the size of the AC. For example, if you want 1 ton LG inverter AC then it should cost between 70000-90000 BDT. Again if you are looking for 1.5 tons then you'll get it between 100000-135000 BDT. And for 2-ton Ac, it'll cost you between 135000-155000 BDT.
To get the exact price of the LG inverter and LG Dual Inverter Price in Bangladesh, visit here.
How often should I Clean my LG AC filters?
Cleaning your LG AC filters regularly is essential to maintain optimal performance and indoor air quality. LG recommends cleaning your AC filters at least once every two weeks. LG also recommends getting your AC serviced by a professional at least once a year to ensure it is in good working condition.
Final Verdict
That's all you need to know about LG Air Conditioners. I've mentioned the types, systems, features, and price ranges and also recommend the prices. Reading out all the features I think you won't have doubt about the quality and advancement of LG air conditioners
Now the decision is yours. There are lots of brands and you can make a comparison between LG and other brands. However, we have crowned LG the best for air conditioners. So, make your decision, order your brand new LG AC today, and make the summer beautiful!