New LG Smart Refrigerator That Responses to Your Knock!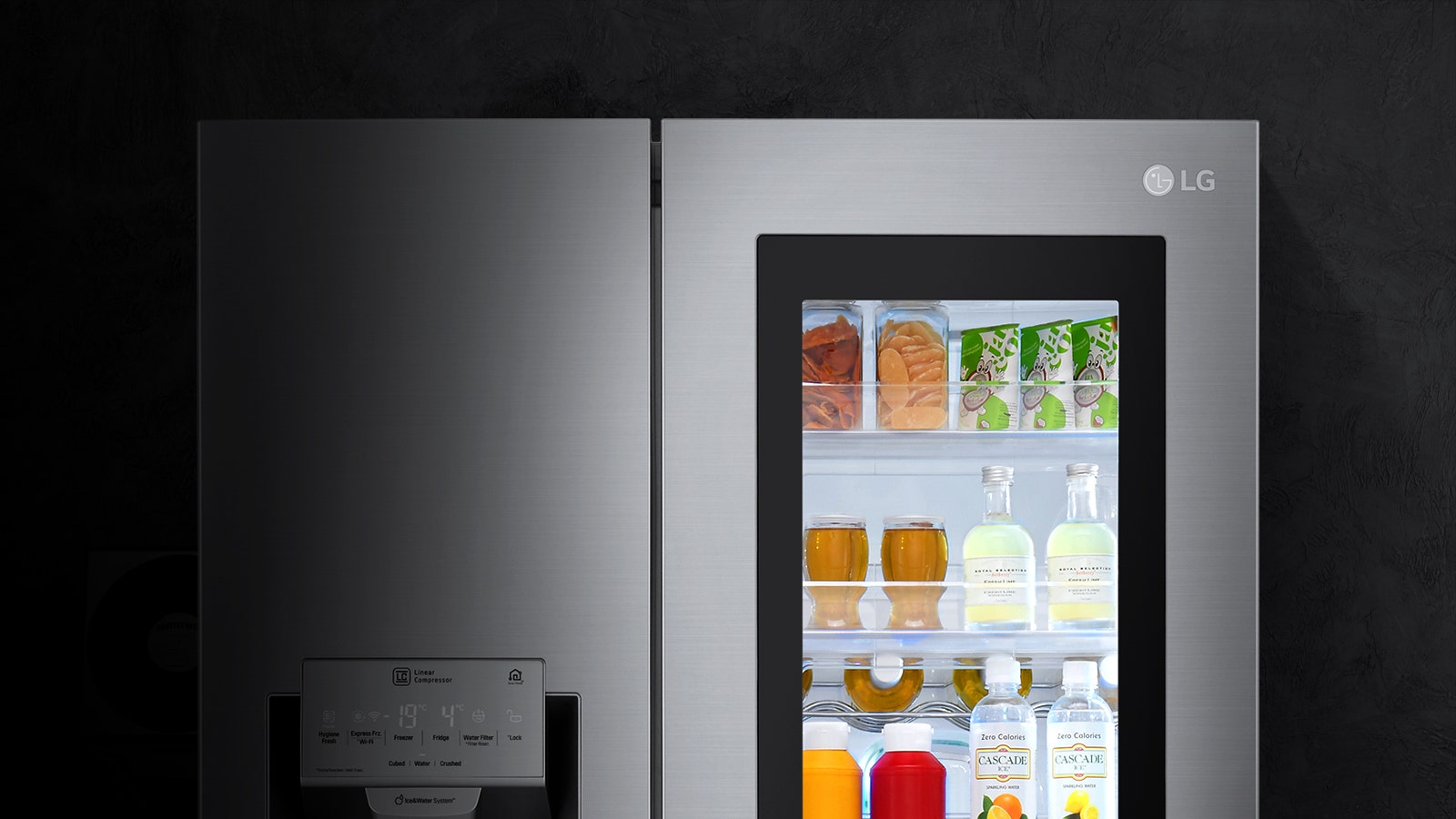 If you have a large refrigerator, then you probably know how difficult it is to find the right item in times of need. Even with excellent organization, opening the door and looking around to find can waste several seconds of your time. And that's something you may want to get rid of.
Luckily for you, we have the solution. The LG InstaView Smart Refrigerator is the new no-frost refrigerator in Bangladesh that's ready to simplify your fridge experience – with a simple knock!
This LG refrigerator is designed for everyone who wants to save time and annoyance. With its beauty and practical design, it fits in any household as well. So, it's undoubtedly a fridge you don't want to overlook. Below you'll find out more about it!
LG InstaView Smart Refrigerator Overview
It's large, efficient, powerful, and super-smart. That's the perfect combination to make your kitchen a lot more enjoyable place.
But these benefits don't come out of anywhere. Here are the main features of this refrigerator that you have to consider:
Knock-Knock Function
Without having to open the fridge, you can look at everything inside, thanks to the knock feature. By tapping on the surface of the LG double-door refrigerator, the interior will light up. You'll have a direct glimpse of the interior, saving you the effort of opening and closing, while preventing air loss.
Maximum Freshness
Everyone wants a fridge to keep their food fresh. But few look for one that minimizes odors and removes bacteria in the process. That's what the HygieneFresh+ air filter does.
With an intelligent system, it works effectively to reduce 99.99% of all impurities inside. It'll keep your food fresher and healthier for longer.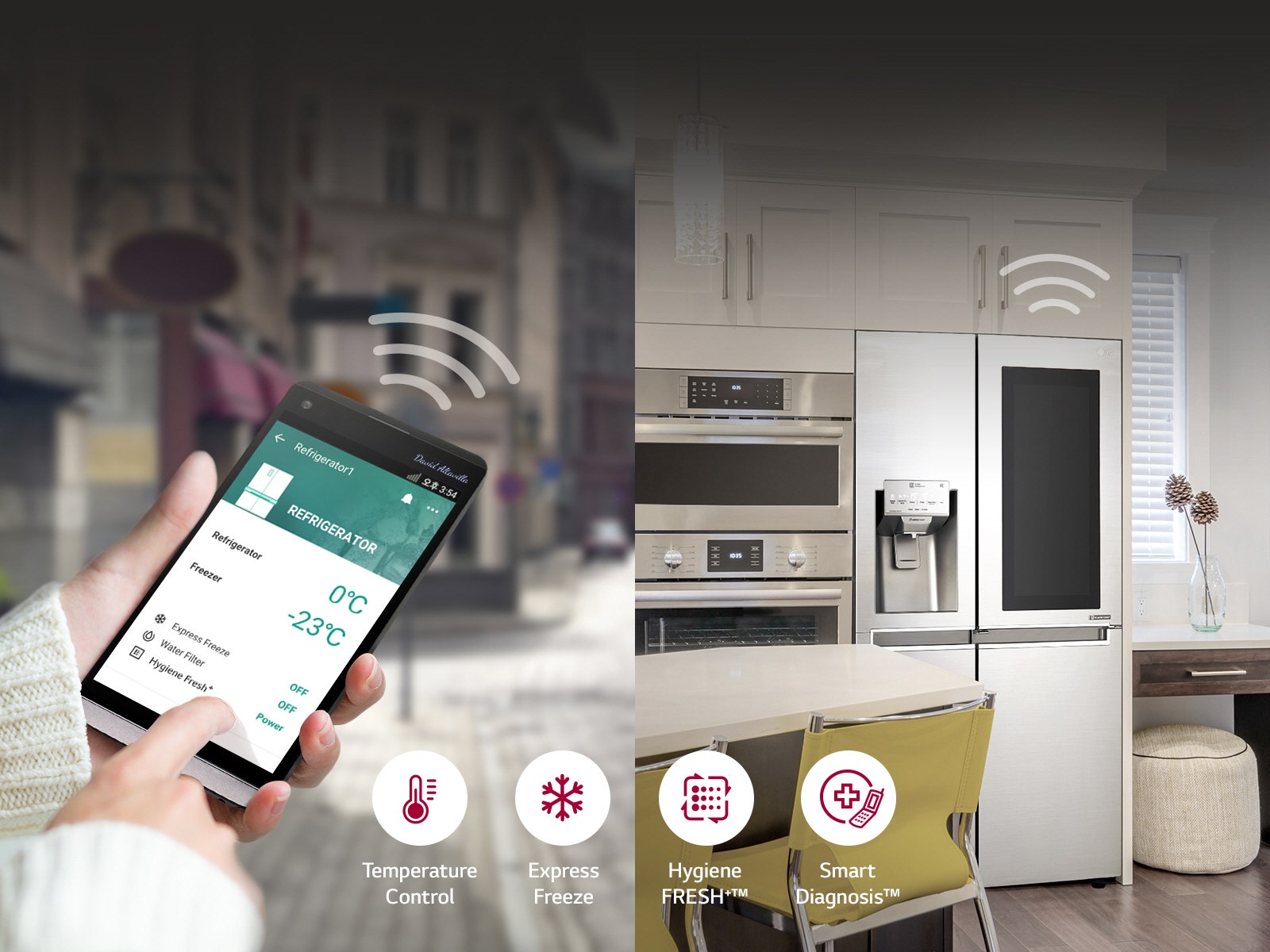 Imagine operating the refrigerator without touching it at all. That's what the LG ThinQ function consists of. Just download the LG app on your phone and control everything from the HygieneFresh+ feature's temperature and more.
The refrigerator controls will be available in the palm of your hand wherever you go as long as it is connected to the internet. This will make even the newest non-smart refrigerator look like a dinosaur.
These features will promote a super-practical and healthier fridge experience. But they're not alone. There's a lot more about this refrigerator to enjoy.
Advantages of the LG Double Door Refrigerator
The InstaView refrigerator from LG offers a wide array of functions that even the most demanding user will appreciate.
When you get this fridge at home, here are some of the things you'll love the most:
Effortless Access
Thanks to the Door-in-Door design, you can have almost seamless access to your food. Combining the two-knocking feature with a small built-in door inside the fridge door, you can quickly grab whatever you want in seconds — no need to open the whole fridge and lose cold air to get something quick.
Smooth Organization
Another feature we couldn't leave behind is how convenient the whole design of this LG refrigerator is. The interior is specifically designed to ensure maximum food allocation while keeping everything fresh for a long.
It starts with a large tempered glass shelf with on the door; then you can find a utility box in the center, a door basket, an egg container, and even a snack corner. Add the wine rack that can hold up to 4 liquor bottles, and you'll know the remarkable capacity this fridge offers.
Keeps Food Fresh
Despite its excellent interior design that ensures maximum space for all kinds of items, you can also enjoy a FRESHBalancer function. With the sole purpose of keeping your fruits and vegetables fresh, this box-like feature manages humidity so you can extend the shelf life of your produce.
You can add the Moist Balancer Crisper cover for extra freshness. It boasts a lattice pattern that helps keep moisture inside even more effectively while preventing bacteria from growing.
Highly Efficient Performance
Coming with so many features to enjoy, you may think the refrigerator will suck away your home's energy thoroughly. But it does not.
Using an Inverter Linear Compressor, this fridge will save tons of energy that even similarly new models can't. This compressor also extends lifespan and ensures accurate temperature control.
Fast Freezing Power
While the fridge's function focuses on conservation and access, you can still expect it to freeze up your foods fast. The addition of an Express Freeze feature will make any food ice-cold in just a few hours.
This function works well with the Ice Maker that releases ice on command. It is conveniently located on the freezer door, so you get extra storage space as well.
Frequently Asked Questions
Even though we explained this refrigerator's most intricate features, there still may be a thing or two you want to know. Here we answer some common questions people ask about it:
1. Are InstaView LG refrigerators any good?
Yes. Not only do they come from LG, one of the most reliable brands in the market, but also because the model itself is one of the best among the newest ones. If you're expecting to maximize your fridge convenience, this fridge works like a charm.
2. How long does an LG refrigerator last?
You can expect this refrigerator to last at least 20 years. With proper care and maintenance, you may get even more years.
3. How to connect an LG Smart Refrigerator to WiFi?
The process of connecting the ThinQ feature can be a bit confusing. Here are some steps you can follow:
1. Start by tapping on the display of the fridge (swipe or tap as necessary)
2. Look for the Settings tab. Navigate using the Left and Right buttons
3. Now go into the WiFi tab. Look for the desired network to connect to and tap on it.
4. Insert the password or data as needed. Then proceed to check whether it connects
5. If it does, you can check the connection by hooking up the smartphone via the app.
You'll be ready to enjoy remote changes and full diagnosis directly from your smartphone after setting it up.
Bottom Line
So, did you like this LG double-door refrigerator? It's designed to meet even the highest standards in food preservation and fridge organization, so it is easily an option you don't want to dismiss.
With its unique features like the Knock-Knock system and the in-view crystal on the door, it will be tons of fun to use. So don't hesitate and get it right now. You won't regret it!