Sanitary
Refresh
TrueSteam™
Remove odor
Gentle Dry
Dehumidify
Instant Purchase Price
৳ 150,000
MRP
৳ 160,000
ADD TO COMPARE
---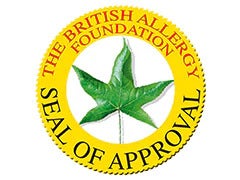 Certified by BAF
Kill 99.9% of house dust mite.
---
Sanitize

Efficiently Reduce Viruses
The healthy way to treat your clothes! TrueSteam™ reduces more than 99.9%* virus, bacteria Easily Sanitize fabrics and items that are difficult or impossible to wash. TrueSteam™ consists of 100% water, with no chemical additives.
---
Refresh Clothes in the Comfort of Your Home
Unpleasant smells, harmful pollutants, dripping wet, wrinkles, seasonal clothes and even difficult to clean items.
Effortlessly remove them quickly and effectively at your home.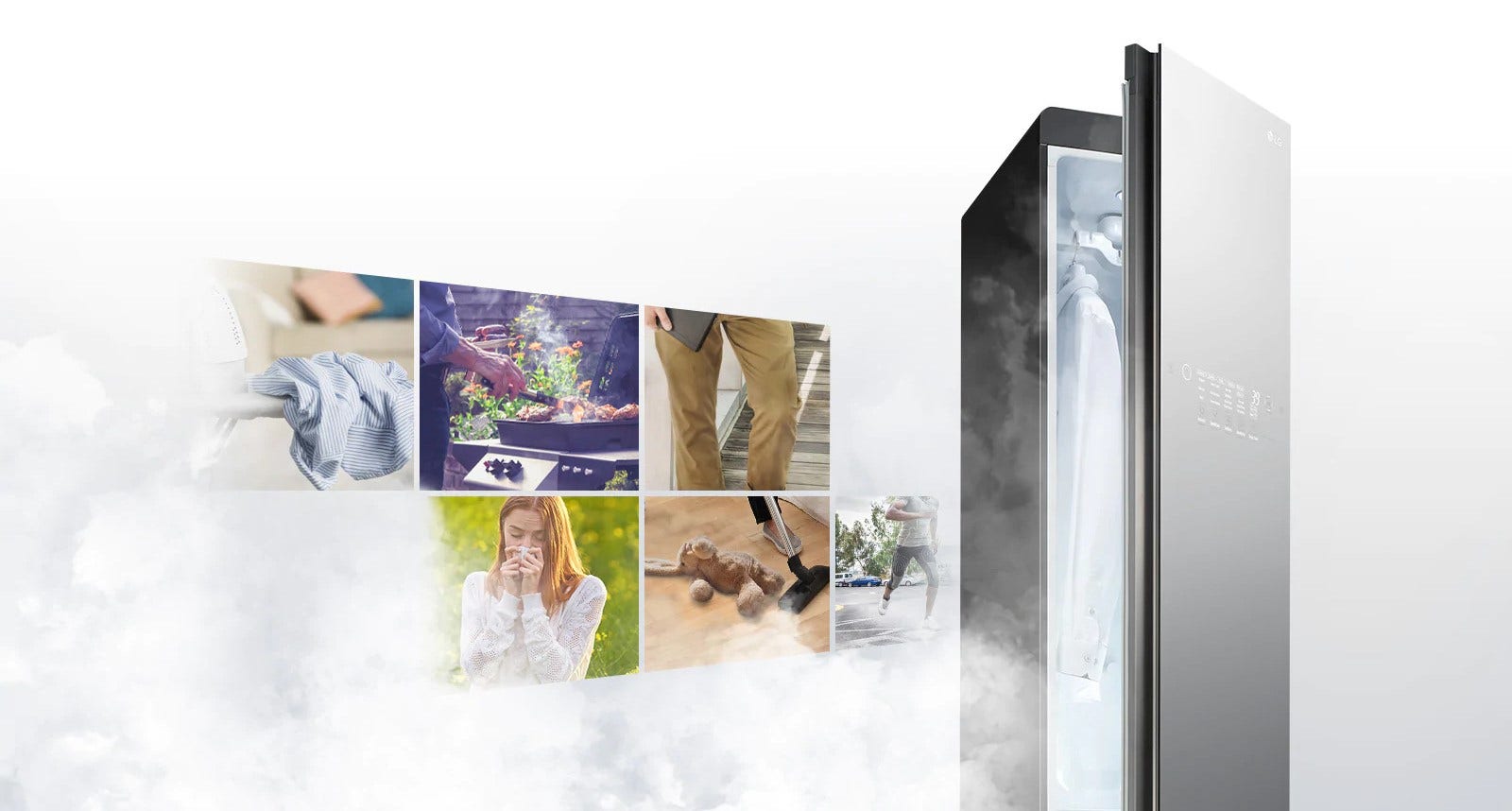 ---
LG Styler's deep-penetrating TrueSteam™ consists of pure water and gently Moving Hanger help reduce allergens, odors and wrinkles in your clothes. Low temperature drying system dries clothing faster than air drying, preventing shrinking and damage caused by heat.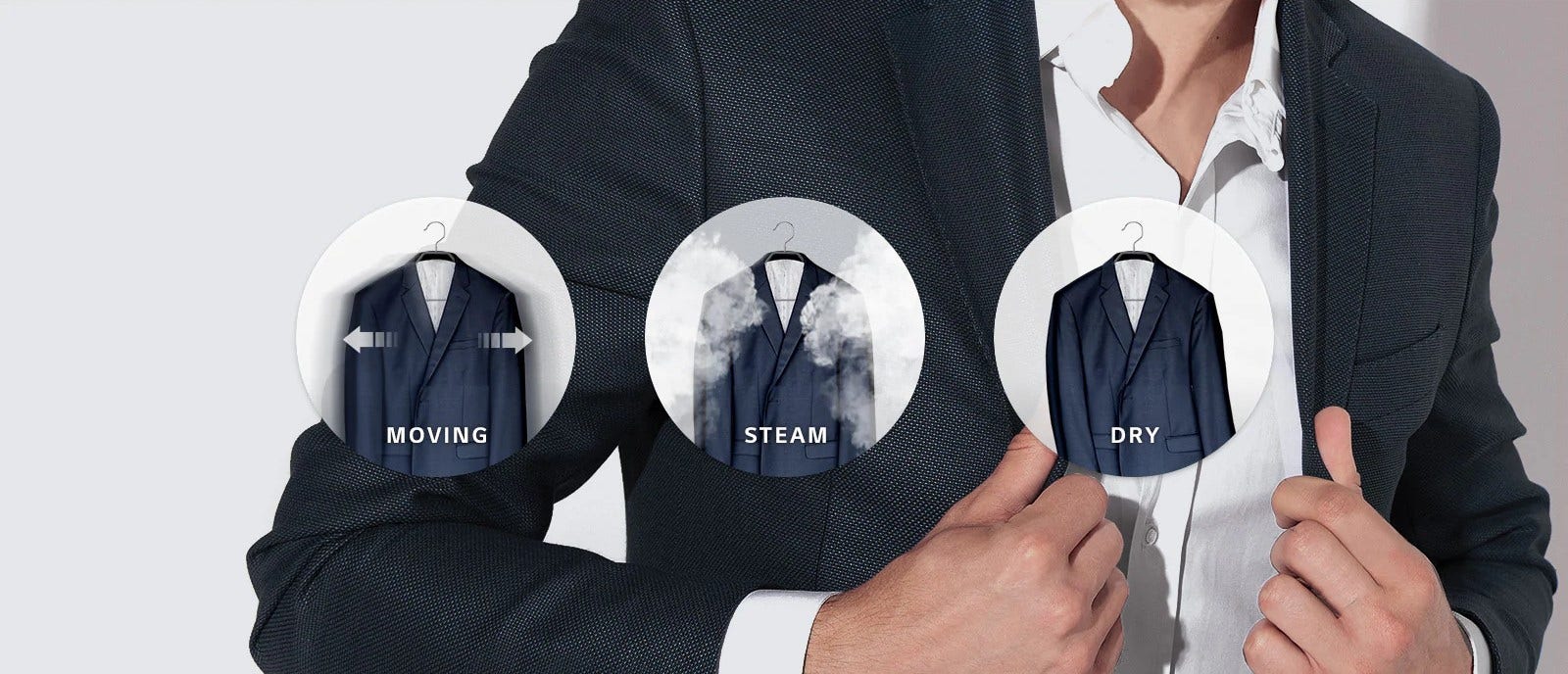 ---
Refresh

Shake off Wrinkles and Odors
Care for suits, dresses, sweaters and more with the touch of a button, so you and your clothes will always
look at your best. Shake off ODORS, leaving your clothes as fresh as a daisy!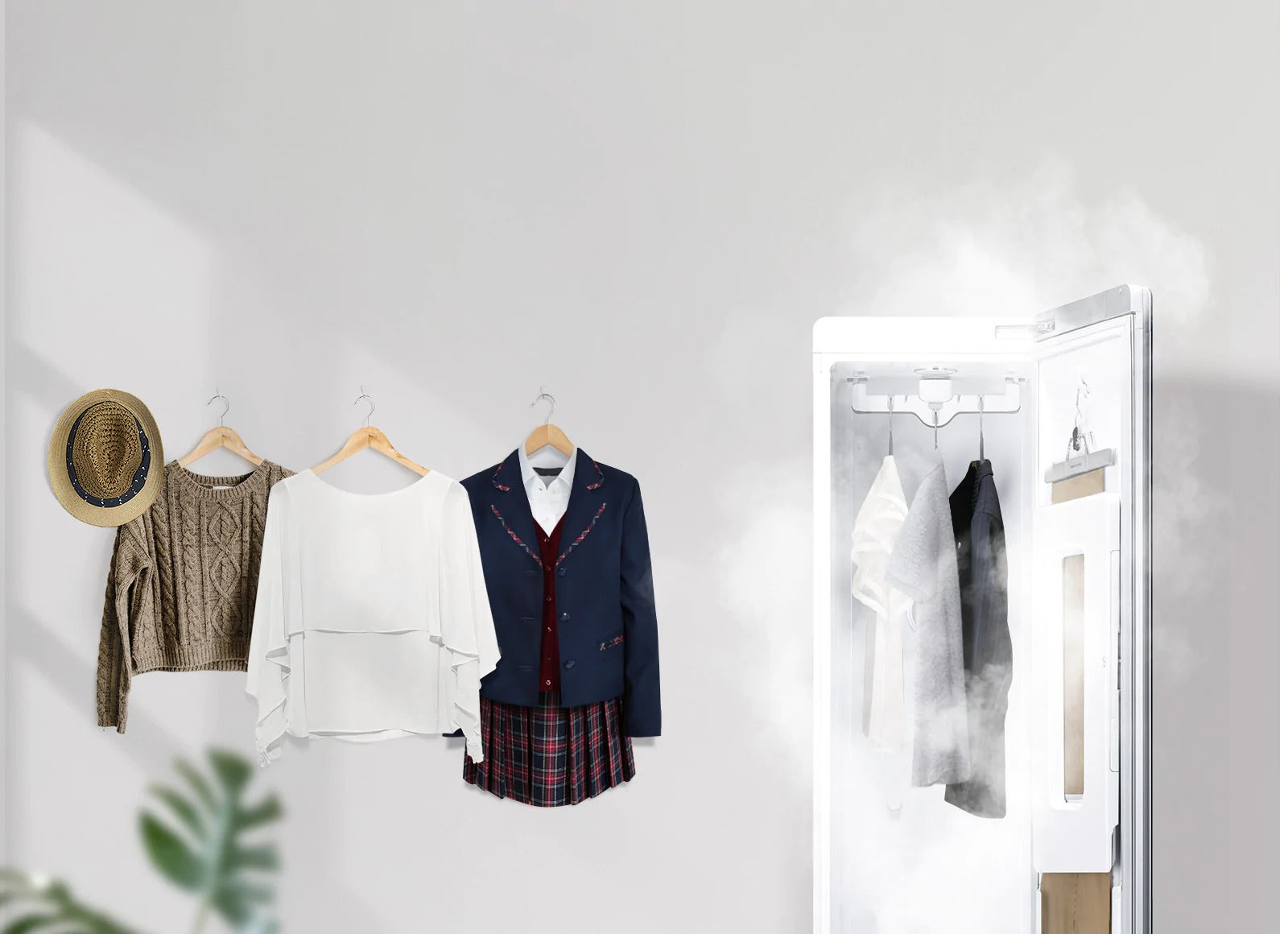 *The product images in the video are for illustrational purposes only and might differ from the real product.
---
Gentle Dry

Prevent Shrinkage and Damage
Gently dry clothes that require special care without worrying about shrinkage or damage. No more dampness or accidental damage - only fresh, clean clothes as they were meant to be!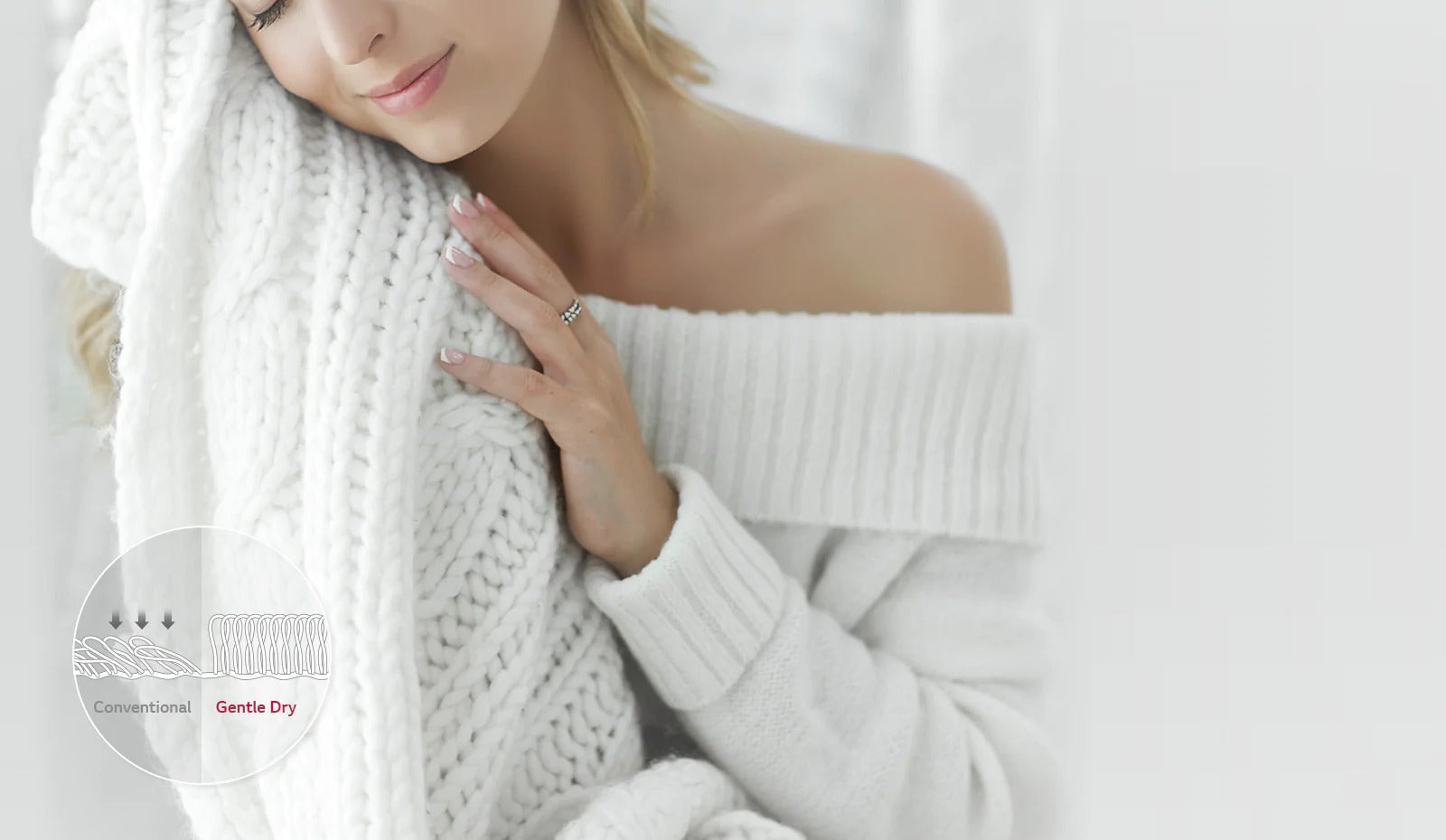 *The product images in the video are for illustrational purposes only and might differ from the real product.
---
Dehumidify

Even Refresh Your Space
Keep your clothes refreshed, as well as your closet and indoor spaces. LG Styler helps to refresh surrounding
clothes and atmosphere.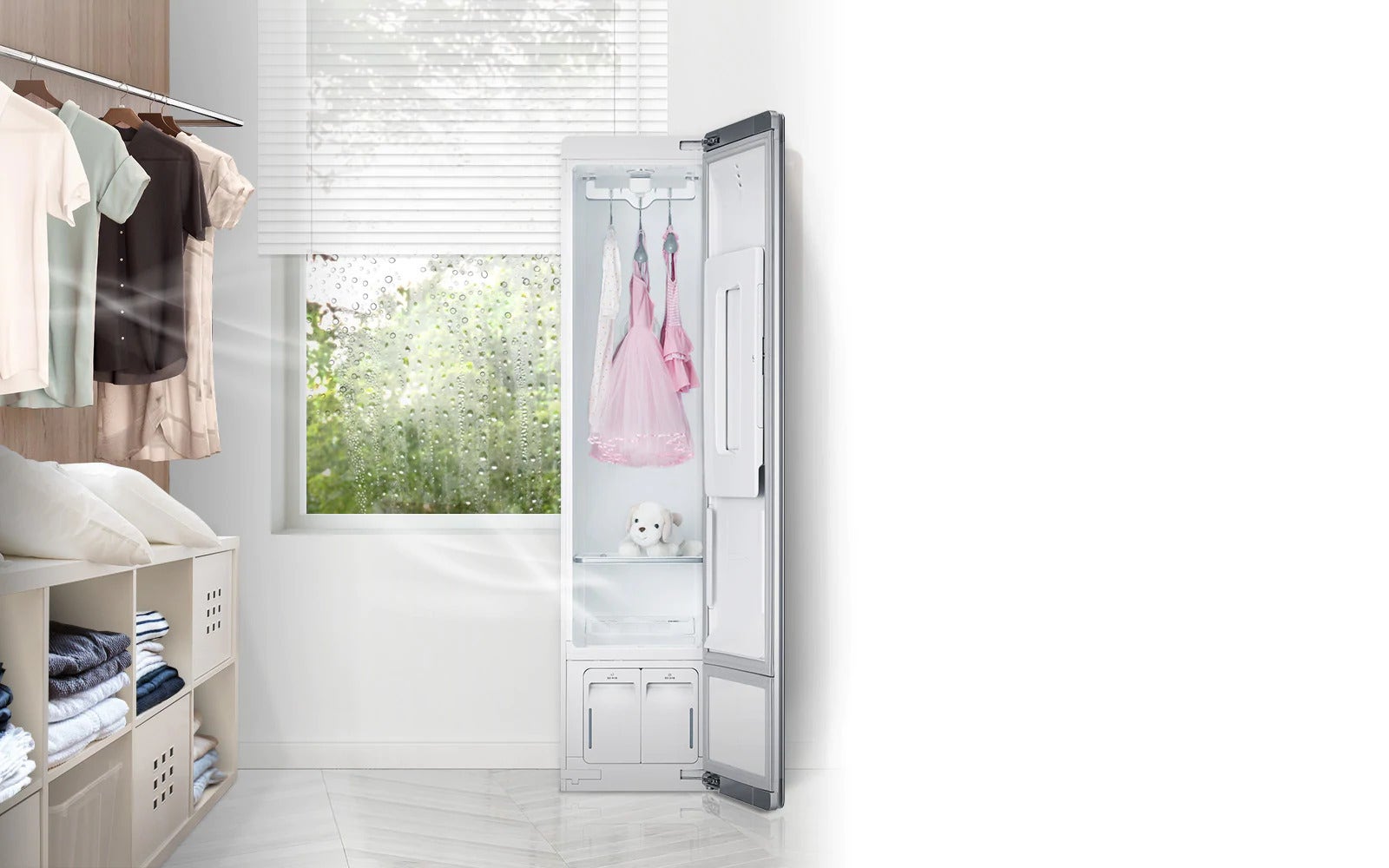 *Use while door is open 45º. If door is closed, the course does not operate.
*Drain tank (1.5 Liters) may be filled before end of Dehumidify cycle depending on the Environment.
*LG test results (May vary ±10 per machine).
*Based on 2hr dehumidification cycle.
---
Mirror Design

Check Your Look Immediately
The fascinating exteriors of LG Styler with Mirror Design can complement the design

of any place in your home.
You can take clothes out and try it out in front of the LG Styler.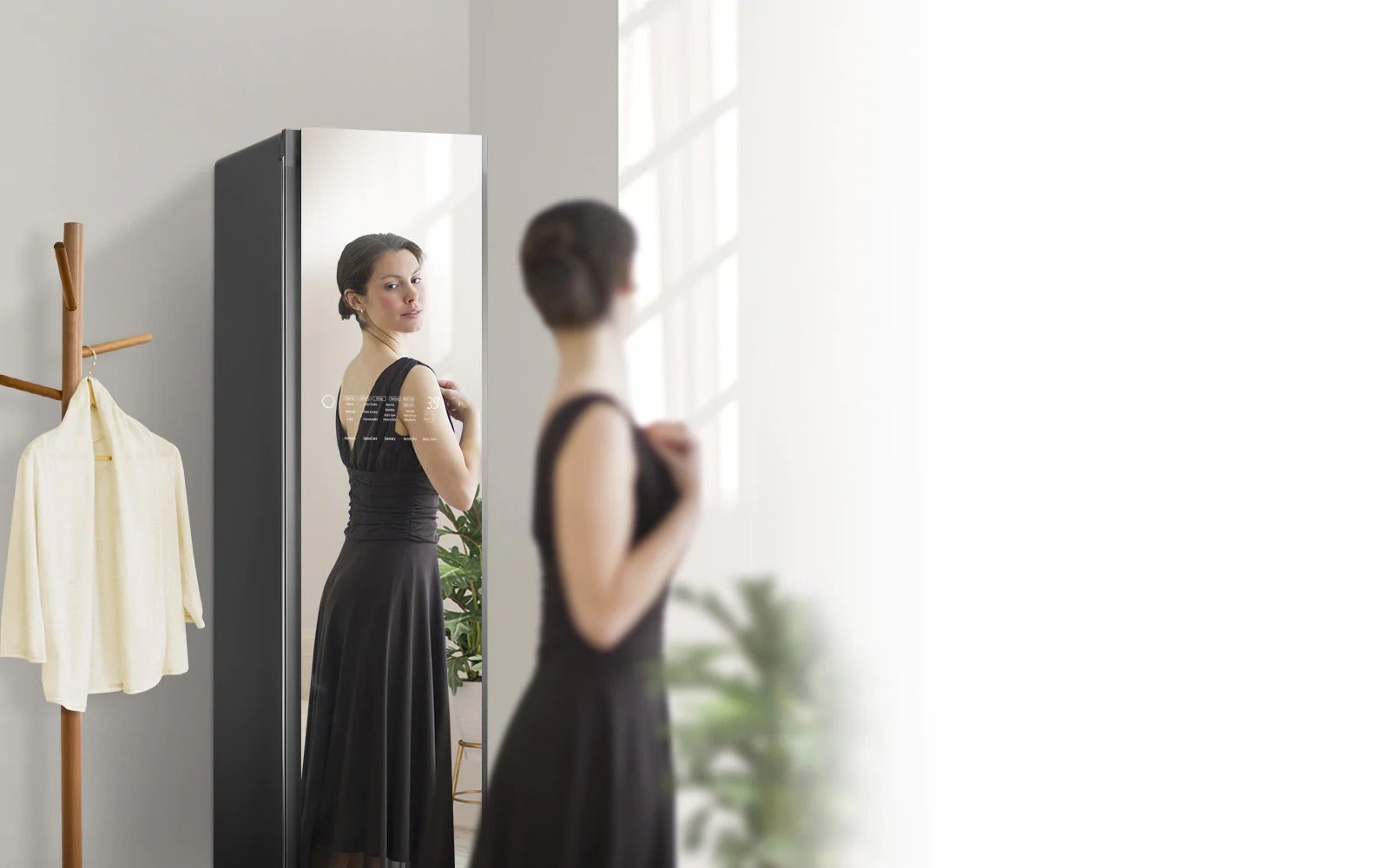 ---
Pants Creases Care
SmartThinQ™
Smart Convenience with WiFi
SmartThinQ™ technology lets you operate or monitor precious garments from anywhere, anytime. You can control track energy consumption or use Cycle Download to add newly developed care cycles.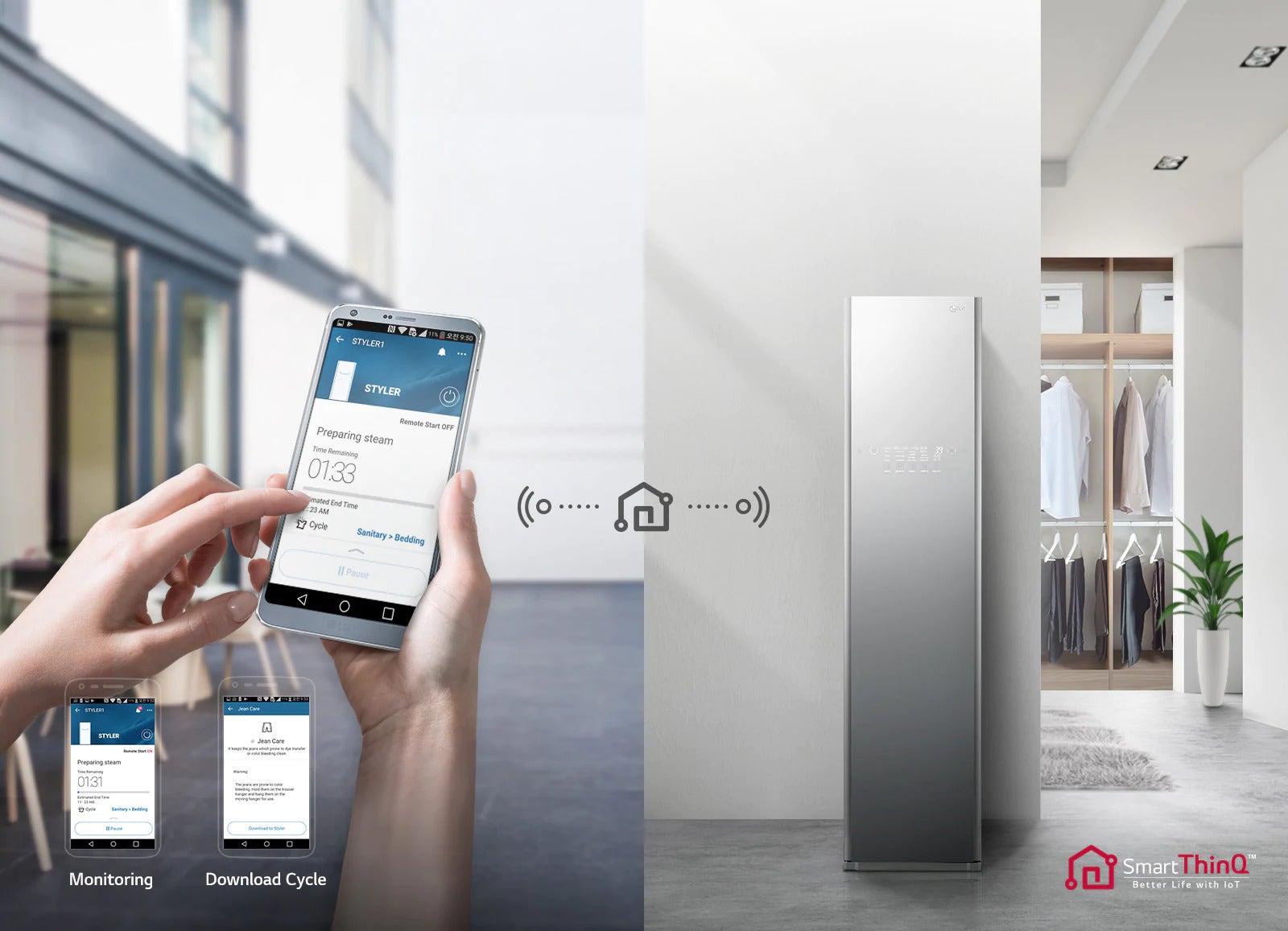 ---
Interior Design
The LG Styler is designed to enhance the look of any room in your home. The sleek and modern styling feels very upscale and the full-length mirror is created to save you space in your dressing or laundry room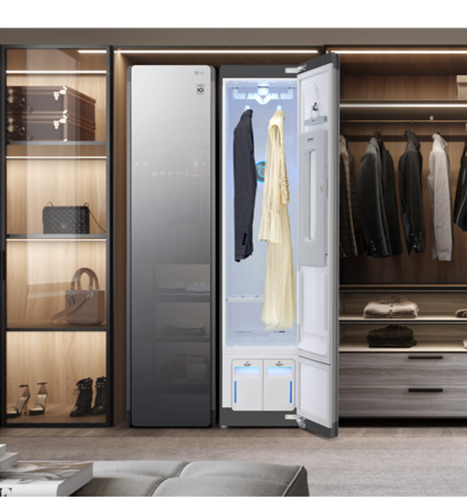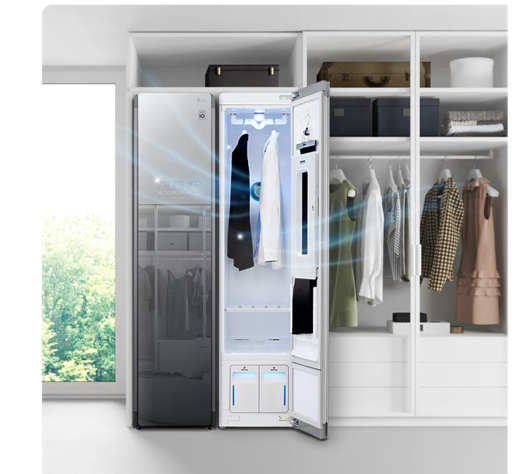 Close
Basic
Capacity(Kg)

Total Place Settings

Display

Noise (dB)

RPM(M/Hanger)

Energy Consumption
Refresh (min.)
Heavy (59)

Normal (39)

Light (20)
Special (min.)
Wools/Knits (27)

Suit/Coats (34)

Sports Wear (54)
Dry (min.)
Normal (120)

Snow/Rain (51)

Dehumidification (120)
Sanitary Management (min.)
Fine Dust (53)

Heavy Duty (123)
Download Cycle
Trouser Wrinkle Care (64)

Fur/Leather (30)

Blanket Warmer (30)

Dress Shirts (112)

Shawls/Neckties (23)

Pants (Default) (64)

Ready to go (10)

Hush Mode (120)

Static Removal (10)

Jeans (98)

Padding wear (59)

Rainy Days (120)

Baby Clothing Sterilization (84)

Doll Sterilization (93)

Suit/Uniform (83)

School Uniform (69)

Refreshing Stored Items (34)
Accessories
Shirts Hanger

Pants Hanger

Pants Press

Tray

Pants Press Manuals
Smart Technology
Remote Control

Energy Monitoring

Black Box

One Touch
Dimensions and Weight
Product Dimension (HxWxD) mm

Cartoon Dimensions (L x W x H)

Product Weight
What People are saying
There is no reviews in this product.