Samsung Television- Excel your Viewing Experience!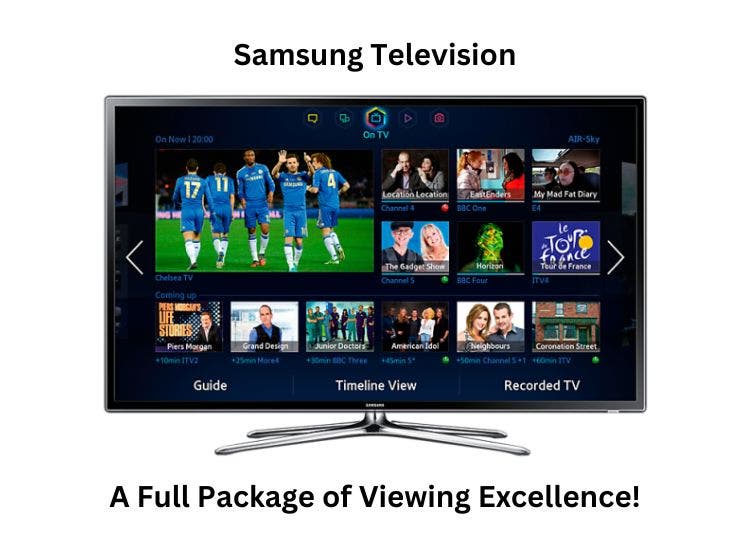 Television is part of people's lifestyles. Movies, news, sports, and talk shows are great sources of entertainment. It is important to invest in a quality television that provides the optimum service. Samsung is a prominent television brand around the world that gives the best viewing experience. Samsung has been manufacturing top-of-the-line televisions for decades. This brand uses the most state-of-the-art TV technology.
crystal-clear pictures, immersive sound, and a user-friendly interface are there to make you feel like you're in the middle of the action on Samsung Television. It has a special feature for the sports fan, a movie buff, or a gamer. Again, The sleek and stylish design, slim bezel, and minimalistic stand of Samsung Televisions add a touch of elegance to any room. Moreover, Samsung believes in sustainability and eco-friendliness. It uses recycling materials and energy-saving modes in its products to reduce carbon emissions. Samsung released from the budget TVs to 4K LED TVs and the premium 8K TVs. If you wish to excel in your TV viewing experience, Samsung Television will exceed your expectations.
Different Types of Samsung Televisions
Samsung releases a wide range of televisions with high-end technology TVs like QLED and neo-QLED. Samsung Neo QLED TVs model uses quantum matrix technology. In QLED TV, backlighting is produced by thousands of LEDs. Samsung 4K and 8K televisions use this technology.
The Samsung Crystal 4K neo models come with Dolby digital plus and adaptive sound technology.
Following are some of the popular Samsung televisions:
1. Samsung QLED Television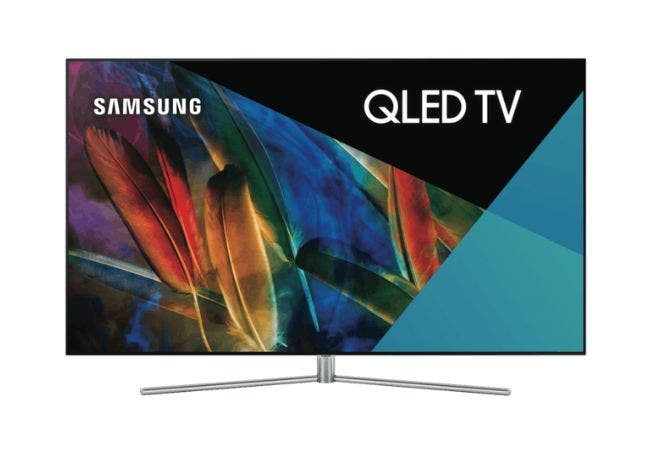 Samsung QLED TV is the most demanded TV according to the market record. QLED is the abbreviation of "quantum dot LED". It is a divergence of LED LCD TVs. A QLED TV is like an LCD TV which relies on its LED backlight. A quantum dot film is placed in the LCD sandwich to build a QLED television.
The quantum dot is a microscopic molecule that emits different light colors when light hits it. The ray from the LED goes through the layers toward the screens. So it is called "transmissive". Samsung started QLED TV manufacturing in 2017. The quantum dot technology improves the color and light of Samsung TVs.
Samsung QLED 8K TVs have wide color enhancer options. It is for more color spectrums on your Samsung TV screen display.
Features Of Samsung QLED TVs:
Samsung QLED supports filmmaker mode. The filmmaker mode is enjoyable for movie lovers. Other popular features of Samsung QLED TVs are:
Quantum Dot Technology: Quantum Dot technology enhances the color accuracy and brightness of the picture. The Quantum dot technology uses a layer of tiny semiconductor crystals to filter light and produce more vivid and natural colors.
HDR Support: High Dynamic Range (HDR) technology increases the brightness and color of Samsung QLED TVs. Samsung QLED TVs support HDR10+ and HLG formats.

4K and 8K Resolution:
Samsung QLED TVs are available in both 4K and 8K resolutions. The 4K models have a resolution of 3840 x 2160 pixels, while the 8K models have a resolution of 7680 x 4320 pixels. The 8K models offer incredibly sharp and detailed images.
Ambient Mode: Samsung QLED TVs come with an Ambient Mode feature. This mode lets you display photos, artwork, or other visual content on the screen when the TV is not in use. It makes the TV a stunning part of your home decor.
The Smart TV Features: Samsung QLED TVs have intelligent features, including voice control, streaming apps, and a built-in web browser. It also has a Smart Hub Interface to navigate your favorite content and apps.
Slim Design: Samsung QLED TVs are slim and smart in design that matches any room. It has a thin bezel with a minimalistic stand to make it look smarter.
Anti-Reflection Technology: Samsung QLED TVs use anti-reflection technology. It reduces glare and reflection due to ambient light sources. It makes it easier to watch TV in bright rooms and sunny environments.
Available Sizes: Samsung QLED TVs are in different sizes to suit various needs and budgets. Here are some of the available sizes for Samsung QLED TVs:
-43 inches

-50 inches

-55 inches

-65 inches

-75 inches

-82 inches

-85 inches
(Note: All Samsung QLED models are not available in all sizes.)
Price Range Of Samsung QLED TVs: The Samsung QLED TV price ranges from 127,501 BDT to 943,950 BDT (Price may change slightly).
Samsung QLED Suits For Whom: Samsung QLED TVs are suitable for a high-quality viewing experience with vibrant colors, excellent brightness, and deep blacks.
Samsung QLED TVs are sensible for watching movies, TV shows, sports, and video games. The TVs have fast response times, low input lag, and support for variable refresh rates for a fast gaming experience.
2. Samsung UHD Television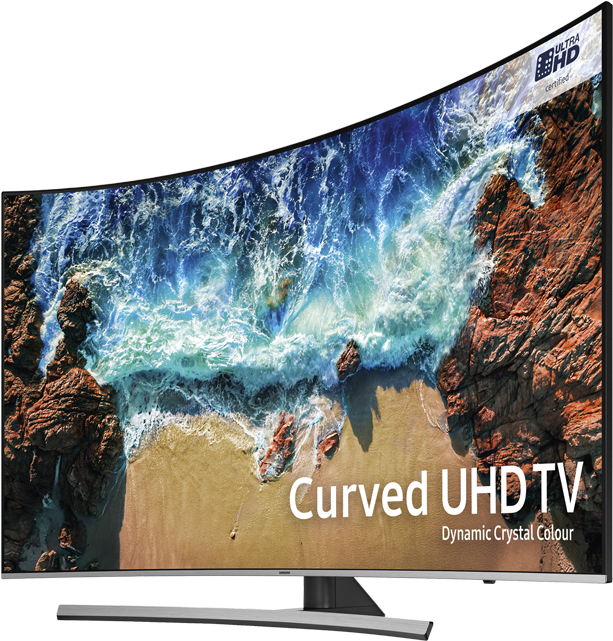 Samsung UHD (Ultra High Definition) Televisions are high-end, premium-quality televisions. It offers a stunning visual display with dynamic crystal color. The TVs deliver crystal-clear picture quality and pigments.
Samsung UHD 4K television has a broader color enhancer to enlarge the color spectrum of the screen.
Features Of Samsung UHD TVs:
The Samsung UHD TVs are AirSlim in design and beautiful in outlook. It has a crystal processor 4K technology to convert every color shade into powerful 4K.
Samsung UHD TVs have tracking sound, contrast enhancers, boundless screens, and adjustable stand options.
Some other features and benefits of Samsung UHD Televisions are:
PurColor Technology: Samsung UHD Televisions have the latest PurColor Technology. It works with a high dynamic range to show a larger color spectrum. This technology provides more detailed, rich color and image fidelity.
Display Resolution: Samsung UHD Televisions have a resolution of 3840 x 2160 pixels. It results in exceptional clarity and sharpness of pictures.
HDR (High Dynamic Range): Samsung UHD Televisions support HDR content. It delivers many colors and contrast levels for a more realistic watching experience.
Advanced Display Technologies: Samsung UHD Televisions released with advanced display technologies like Quantum Dot, Direct Full Array, and Ultra Viewing Angle. This technology offers vibrant colors, deep blacks, and enhanced brightness levels.
Smart Features: Samsung UHD Televisions have Smart options such as voice control, built-in streaming apps, and smart home integration.
Design: Samsung UHD Televisions is a stylish thin design TV, with ultra-thin bezels and a slim profile.
Available Sizes: Samsung offers different sizes of UHD televisions. Some small TVs are suitable for the office or bedroom, and the large TVs are ideal for a living room or home theater.
-43 inches

-50 inches

-55 inches

-65 inches

-75 inches
Price Range Of Samsung UHD TVs: The Samsung UHD TV price range starts from 52200, and the maximum price is 387500 (Price may change slightly).
Samsung UHD Suits For Whom: The Samsung UHD TVs are suitable for high-resolution gaming and movies. The UHD TVs offer extra bright colors and superior picture quality.
3.

Samsung Smart Television: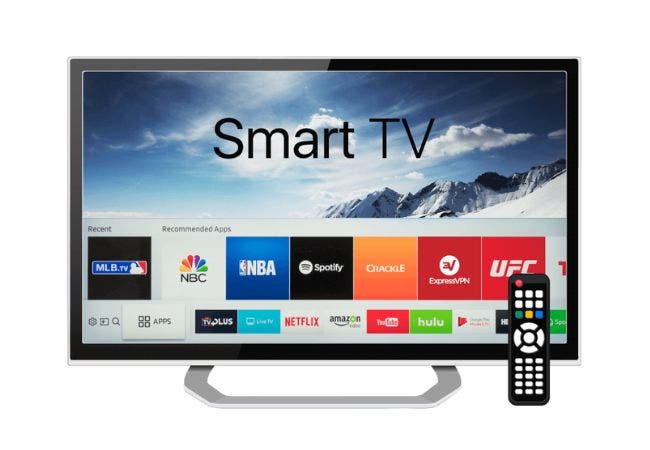 Samsung smart televisions use Samsung's proprietary operating system Tizen. The Tizen operating system supports streaming services such as Netflix, Hulu, Amazon Prime Video, etc.
Samsung has integrated its Bixby virtual assistant into its Smart TVs, letting users control their TV using voice commands. Samsung Smart TVs also support popular voice assistants like Amazon Alexa and Google Assistant.
Features Of Samsung Smart TVs:
Samsung Smart Televisions have some great features. Some of the critical configurations of Samsung Smart Televisions:
Smart Hub: Samsung's Smart Hub is a user interface system. It organizes all of the TV's features and apps in one place. Smart Hub provides quick access to apps like Netflix, Amazon Prime Video, and Hulu. It also offers a universal search feature.
Voice Control: Samsung Smart Televisions releases with built-in voice control capabilities. Users can search for content, change channels, adjust volume, and more using these voice commands.
Screen Mirroring: Screen mirroring is an excellent addition to Samsung Smart Televisions. Users can mirror the screen of their Samsung smartphone or tablet onto their TV using Samsung's Smart View app.
Users can also easily share photos, videos, and other content with others on a larger screen with the Smart View app.
Multiple Inputs: Samsung Smart Televisions support HDMI and USB ports. It permits easy connection in gaming consoles, Blu-ray players, and soundbars.
SmartThings Integration: Samsung Smart Televisions can be integrated with other smart devices in the home through Samsung's SmartThings app. It entitles users to control their TV and other devices with a single app.
Personalization: Samsung Smart Televisions allow the creation of tons of profiles for different family members. Each profile can have its settings, such as favorite channels and viewing preferences.
Picture and Sound Quality: Samsung Smart Televisions are renowned for their high-quality photos and sound. It has some models with 4K Ultra HD resolution, HDR (High Dynamic Range), and advanced sound technology.
Available Sizes: Samsung Smart Televisions' size ranges from 32 to 75 inches. Size tables of Samsung Smart Televisions are-
-32 inches

-43 inches

-50 inches

-55 inches

-65 inches

-75 inches
Price Range Of Samsung Smart TVs: Samsung Smart TVs are available at many prices for different budget purchasers. Its price starts from 32,400 BDT, and the maximum is 77600 BDT (Price may change slightly).
Samsung Smart TVs Suits For Whom: Samsung Smart TVs are suitable for those who want to enjoy high-quality TV features within their budget. It supports all the features from browsing to gaming.
4. Samsung LED Television: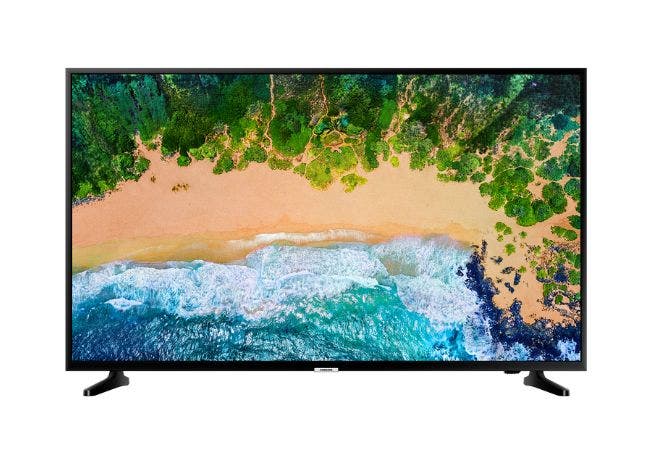 Samsung LED Televisions use Light Emitting Diodes(LEDs) to backlight the screen. LED TVs are thin and lighter than traditional LCD televisions. Some LED TVs have ultra-clean views to experience visual fulfillment.
Features Of Samsung LED TVs
Some of the notable features of the TVs are:
High-Quality Picture: Samsung LED TVs offer excellent picture quality with multiple colors and deep blacks. It has high-resolution 4K or 8K screens.
Smart TV Options: Many Samsung LED TVs support smart TV technology to watch video streaming and browse the internet. You can also control home devices using the Smart TV.
Slim Design: Samsung LED TVs are modern in look and thinner in design.
Energy Efficiency: LED technology is energy efficient. It needs less power than older technologies like plasma or CRT TVs.
Wide Viewing Angles: Samsung LED TVs often offer wider viewing angles, allowing more people to enjoy the same picture quality from different positions in the room.
HDR (High Dynamic Range) Support: Many Samsung LED TVs to support HDR technology. It enhances the contrast and color of the picture.
Multiple Connectivity Options: Samsung LED TVs usually have multiple connectivity alternatives like HDMI and USB ports. Users can connect various devices(like gaming consoles) to their TV easily with the ports.
Available Sizes: Samsung LED TVs are available in various sizes in the market:
-32 inches

-40 inches

-43 inches

-50 inches

-55 inches

-65 inches

-75 inches

-85 inches
Price Range Of Samsung LED TVs: Samsung LED TVs' price ranges from 23000 BDT to above.
Samsung LED Suits For Whom: Samsung LED TVs are budget-friendly televisions with some excellent features and picture quality.
FAQs
Some frequently asked questions to clear the concepts more on the Samsung television.
What are the good things about Samsung TVs?
Answer:
Samsung TVs have much better picture quality than the other competitive LED-backlit or LCD TVs. Samsung Televisions are brighter in contrast. Samsung high-end televisions are some of the best TVs of the age.
They excel in many categories of TV properties and offer better performance for multiple uses. Samsung QLED TVs with VA panels and high contrast perform excellently in dark and bright conditions. Samsung televisions have great gaming features to play games on the big screen.
What makes a Samsung TV Smart?
Answer:
Smart TV means the TV has internet connectivity, operates on any operating system, and releases with some application services.
Smart TVs have similarities to your smartphone. Smart TV can stream entertainment directly from the internet connection.
So,
Smart TV = TV+ internet+apps
All recent Samsung televisions support the above features. So the Samsung TVs are smart.
Are Samsung TVs LCD or LED?
Answer:
Most Samsung TVs are now with LED displays and Smart.
Samsung televisions start with LED TVs ( Light Emitting Diode Backlights), which have many advantages over the conventional LCD( Liquid Crystal Display).
In reality, LED TVs have much higher features and benefits than LCD TV sets, so Samsung terminated the traditional LCD TVs.
Do Samsung TVs have Bluetooth?
Answer:
Yes, most of the latest Samsung televisions support Bluetooth. You can enjoy audio from your smart TV to any speaker, headphones, or soundbar without using any connecting cable.
Which screen type is best for TV?
Answer:
OLED is the best pick for your TV screen because it has the highest grade of TV display technology. The important thing is that OLED technology uses organic elements like carbon. This carbon generates light when electricity directly falls upon it.
Does Samsung TV have WIFI?
Answer:
Yes, Samsung Smart TVs have Wifi. Follow the directional pad given with your TV remote to set up the Wifi network.
To do so, select settings-general-network options. Then go to the network settings, and choose the name of your own Wi-Fi network. Finally, enter the password of your Wi-Fi, then prompt to select done, and ok.
Why is my Samsung TV offline?
Answer:
You might find your Samsung TV is not detecting the Wi-Fi network, or it loses the network connection. The first thing that might happen is that your TV is not connected accurately to the available wireless network.
What is the ratio of Samsung TVs?
Answer:
Samsung TVs have a 16:9 aspect ratio. For example, Samsung UHD TV has (a 1920x1080) standard resolution(ps) with a 16:9 aspect ratio.
Does Samsung TV have internal storage or GB?
Answer:
The straight answer is yes, Samsung TVs have internal storage. Though the storage capacity is lower, it will be enough to use different streaming apps.
The latest and updated Samsung televisions only have 8GB internal storage.
Conclusion
Samsung Television is one of the highest preference and most popular brands among people. Samsung Television is widely used in home entertainment and office. The House of Butterfly offers different Samsung TV models at justified prices for their consumers.
The responsible support team always stands with their customers to select their perfect Samsung TV models in the showrooms. This place can be very convenient to purchase your required Television from a wide range of variety.