Sports Mode - A Dimension of Television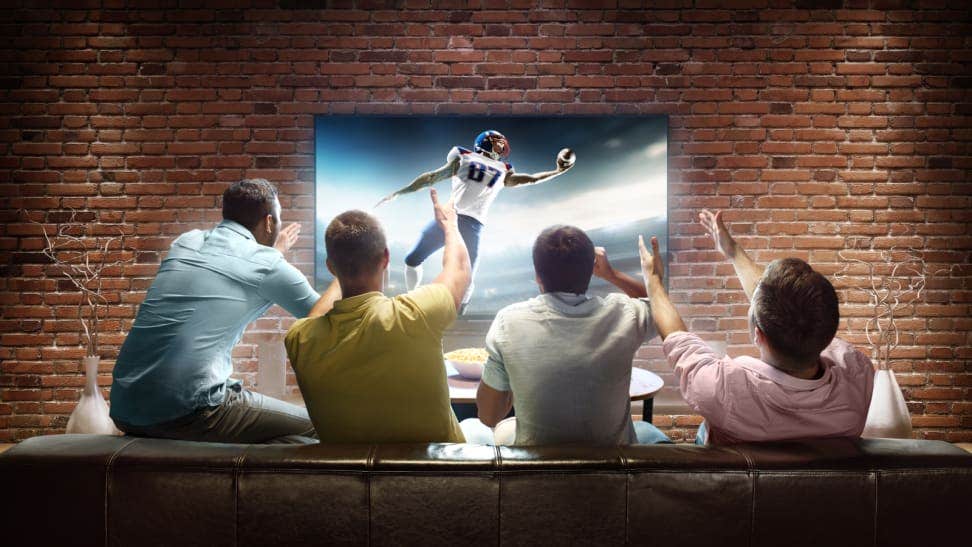 Television and sports always go hand in hand. Sports is undoubtedly one of the most watched TV segments all over the world. To make your viewing experience better, multiple TV brands have added a feature called sports mode.
Nowadays, smart televisions come with multiple template settings optimized for different content. They include different brightness settings, color settings, audio settings, etc. Having these modes can increase your overall experience of specific content.
Sports mode is one such setting made especially for watching sports. The best part is it only takes one click of a button to activate it!
To make it easier for you, we've discussed the sports mode in detail. We have also talked about what TV brands have the best sports mode.
What Is Sports Mode?
Viewership in the sports category has only gotten bigger over time. Recently we had FIFA World Cup break all the records and reach 5.5 billion cumulative views.
And that's just football alone. There are so many other sports that are regularly viewed by fans all over the world. The Olympics, NBA, and Cricket are some of the best examples.
Of course, as a viewer, you want to watch sports in the highest quality possible. That's where the sports mode comes in as a smart feature.
At first, you may think why do TVs have a sports mode in the first place?
It's because sports content doesn't always get benefits from your usual TV settings. That's why you often have to tweak the brightness, contrast, and audio settings. But doing that all the time by yourself can be very annoying and time-consuming. On top of that, you'll have to remember the numbers or levels in all the settings which can be bothersome.
Another downside is that you'll have to revert the settings afterward. Because that specific setting might not be good for watching movies or a Netflix series. In fact, sports settings can be incompatible and hurt your viewing experience when watching movies.
To solve this problem, a sports mode is added by almost all reputable TV brands. LG and Samsung come with a built-in sports mode that can be activated or deactivated at any time. Make sure to get a smart TV with sports mode to enjoy this feature. Most modern TV models do come with modes by default. But you should still double-check to make sure you get it.
Certain TV models like Samsung 4K smart TV can cancel motion blur during sports mode. This way those TVs can increase visibility and add extra smoothness.
How Does Sports Mode Work?
So far we've only discussed why sports mode is added as a feature. But you may be curious and want to know how it functions. In that case, we've got your back!
Even if it sounds really advanced, sports mode is actually a very simplistic feature. But it can be a little confusing if you don't know what exactly is being changed. The difference between a usual TV and a smart TV is that smart TV can do advanced tasks or store additional data. In other words, you can store different settings as templates.
When browsing through your TV menu, you may come across multiple templates. Sports mode is usually found there along with other popular settings like movies, reading, or vivid mode. Sports mode is technically a picture setting that works like a template. This setting is pre-tweaked by the manufacturer itself and can be used right out of the box. This template is permanently saved in your TV's memory. You simply use your remote and go to the picture templates setting. From there, you can locate the setting and click it to activate the sports mode. When clicked, the template forces the TV to change all the necessary settings at once. Your TV will instantly set everything according to the preset.
What Extra Features Does Sports Mode Add?
Sports mode isn't always just about tweaking the color preset. Most users will simply increase the brightness and call it a day. But sports mode tries to achieve more than that.
Let's have a look at what other changes you can expect by selecting sports mode.
Motion Smoothing
What really sets sports mode apart from other modes is the number of tweaks. Motion smoothing is one of them. Motion smoothing eliminates the motion blur effect that you usually have in general settings. Enabling sports mode activates it which reduces the jerkiness effect when the camera moves at high speed. Different TV brands do this in different ways. For example, advanced Samsung smart TVs have a technology called Motion Xcelerator. When activated, it completely removes the motion blur; making the image crystal clear.
Dynamic Crystal Color
While the motions appear smoother, sports mode also activates a certain color setting beneficial for sports.
Samsung TVs can activate Dynamic Crystal Color; their best color solution for sports-related segments.
Audio Enhancement
A sports mode doesn't always have to be limited to picture tweaking. Sports mode in advanced televisions can also apply a specific audio setting that goes best with sports.
In high-end TVs, sports mode can automatically activate audio settings like Dolby Digital instantly.
3 TV Brands That Come With A Sports Mode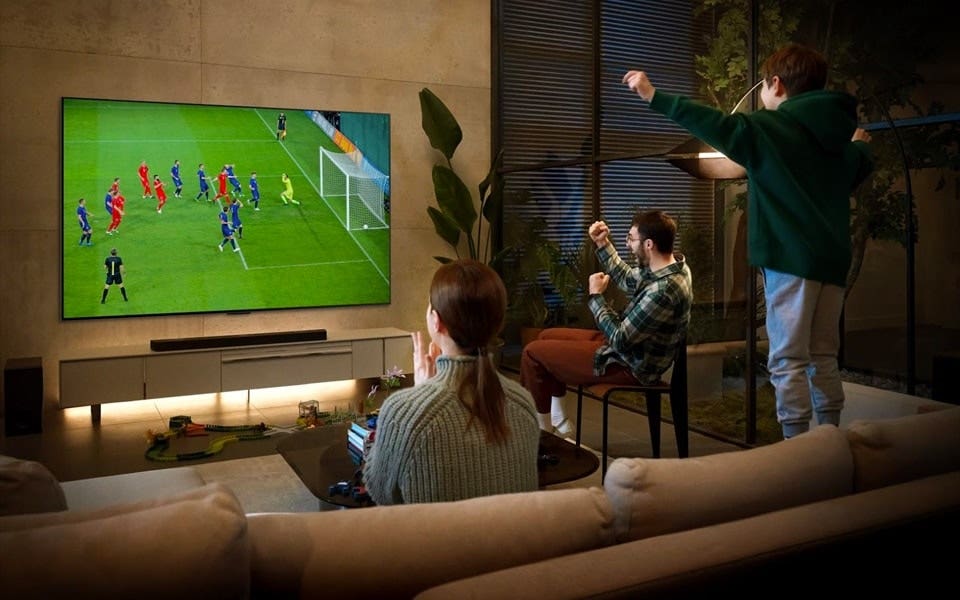 As we've mentioned earlier, sports mode is usually implemented by the manufacturer themselves. Because of that reason, the sports mode tends to have different effects in different TV models.
High-end TV models achieve better results compared to lower-end models. It's mainly due to superior color settings and additional features being enabled. But not all televisions have sports modes in them. In that case, you may want to learn a bit about the TV brands that offer the best sports mode right out of the box!
LG
LG is a reputed company when it comes to electronic utilities. But when it comes to TVs, LG TVs are on another level.
You can't imagine the TV market without LG TVs being everywhere. They have multiple products in all budget categories. If you're buying an LG smart TV, then you can expect a sports mode without any doubt. But depending on the TV's capability, the end result might be different.
For example, LG's OLED TVs will produce a significantly better result in the sports mode. Most of the credit goes to the panel itself.
Other than that, audio tweaking might depend on the hardware quality. LG TVs with higher audio hardware may achieve a finer finish in sports mode. If you're not getting an OLED TV, that's also fine. LG TVs with mini-LED panels will also provide a good result in sports mode. The usual LED TVs may have backlight problems due to having traditional backlight technology. For buyers under budget, LED TVs will suffice. But that's not everything. LG TVs come with a unique sports alert feature. LG sports alert allows you to get the latest notifications about your favorite team! It's a small but cheeky feature that many fans would love to have.
Samsung
The biggest rival of LG in the TV market is Samsung. Both companies have been pushing themselves to achieve supremacy in television technology. Samsung's end result is going to be slightly different than its LG counterparts. It's because Samsung uses QLED technology. In their premium models, Samsung uses Neo Quantum Processor 8K or Neo QLED in short. Samsung's QLED panels don't have an infinite contrast ratio like LG's OLED panels. But they have more brightness and quantum dot technology which achieves almost perfect black.
Samsung's sports mode in Neo QLED allows you to enjoy a greater depth enhancer. This allows you to experience higher-definition objects more vividly. Having this technology in sports mode helps you watch sports in the highest detail! But don't worry if you're a buyer under budget. Samsung's mini-LED TVs also have sports mode which helps you get the best features with one click. Samsung's QLED and mini-LED panels can achieve a significantly higher brightness compared to LG's OLED panels. Because of this reason, sports mode in Samsung will be super crispy to watch.
Other than that, Samsung LED TVs also contain the sports mode option. But the end result achieved is quite different than QLED or mini-LED panels. This is because of the backlight technology present in the LED TV.
But for most users, the sports mode will be more than enough and enjoyable. House of Butterfly offers Samsung LED TVs at the best price in Bangladesh.
Toshiba
If you want to go for a budget-friendly and value-for-money product, you can always go with Toshiba. Toshiba is a reputable Japanese brand that has been in the electronics business for decades. Toshiba TVs also come with sports mode and it also has a specific "Football Mode" as well. Combined with AI upscaling, Toshiba ensures a quality experience in sports mode. Toshiba also has one more feature that can help with sports mode. That's called the Super Contrast Booster. This feature increases contrast to produce a brighter white and darker black.
Unlike Samsung or LG, Toshiba TVs are considerably cheaper. Toshiba offers a lot of benefits within a sound budget range. This makes Toshiba a really great pick for customers under a tight budget. That doesn't mean Toshiba doesn't have TVs in the high-range categories. Toshiba has plenty of TVs in the market which gives you a variety of choices to choose from.
Like Samsung and LG, Toshiba also has Dolby Atmos support which heightens your audio experience.
Are Sports Mode Good For Movies?
This is a very common question that many users often wonder. After all, if you could apply one mode that supported everything, you wouldn't change it.
Unfortunately, that's not the reality. Because sports and movies don't benefit from the same type of brightness and contrast. They're also not the same type of picture which is one of the biggest reasons.
Sports are an action-paced segment where a lot is happening at the same time. Sports mode simply helps it appear smooth. It increases the brightness and contrast which helps the sports segments and sports segments only.
But that's not what movies require to have a good viewing experience. Because movies are slow-paced where details and picture quality are very important.
Besides, the color palette in movies doesn't always get benefitted from increased brightness and contrast. As a result, using sports mode in movies produces an "Opera" effect that completely ruins the movie experience.
To watch movies, you should always rely on your Vivid settings or movie settings if your TV has any.
Are Sports Mode Good For General Use?
Like before, this is also a common question often asked by many users. The reason is also the same as before.
Although sports mode might be really good for watching sports, it's not great for general use. It's because usual content like news or other standard TV channels doesn't always need extra brightness and contrast.
Enabling sports mode activates motion smoothing which we have discussed earlier. It can often conflict with daily TV segments and degrade the quality.
FAQs
Question: Why is OLED better for sports?
Answer: Sports content benefits from darker black and brighter white. Since OLED achieves the perfect black, it has an infinite contrast ratio which elevates the viewing experience.
Question: What size TV is best for sports?
Answer: A TV screen of 55 inches or more is the best option for watching sports. Since sports are best watched with family and friends, a big screen always helps. A screen with a high refresh rate is also recommended for a smoother experience.
Question: Is 60Hz TV good for sports?
Answer: Yes, a 60Hz TV is really good for sports. Thanks to technology always advancing, 60Hz TVs have become cheaper and more affordable. If you want a better experience, go with a 120Hz screen.
Conclusion
Sports mode has been a revolutionary achievement in TV technology. It optimizes the sports content in just one click. If you love sports, remember to buy TVs with sports mode. House of Butterfly offers TVs at the best price in Bangladesh.