The Ultimate TV Buying Guide: How To Choose the Best TV for Home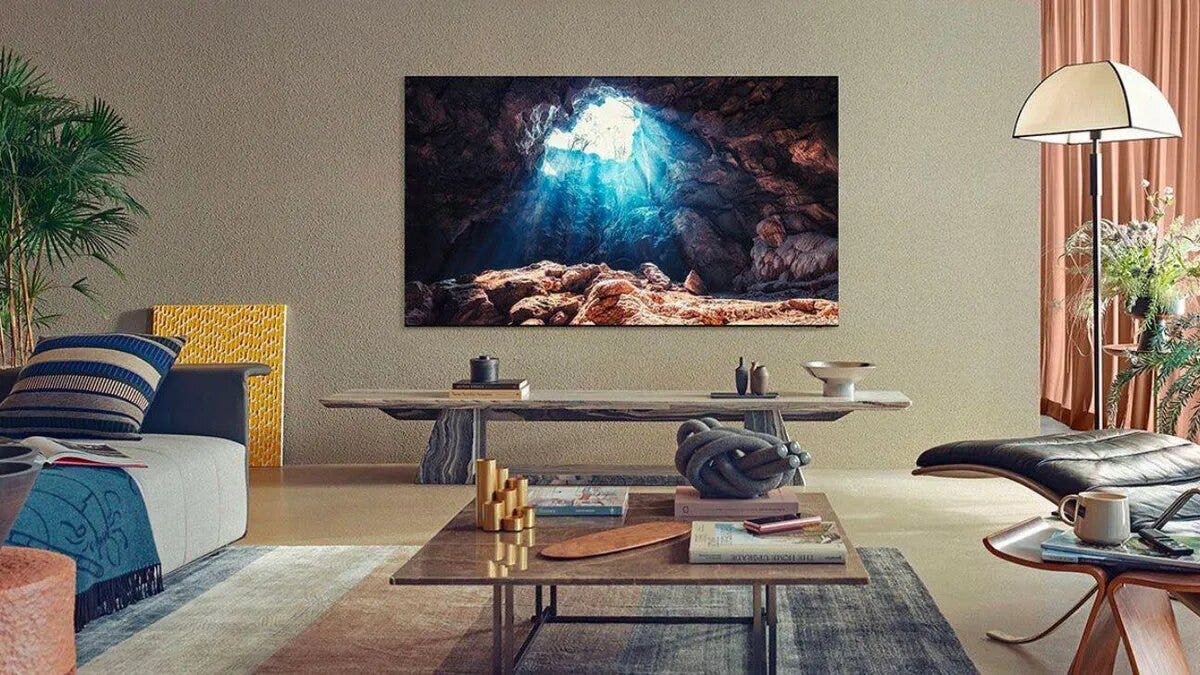 Television is an integral part of our daily life. After a busy day, you want to pick up your recent Netflix series where you left off, Or maybe boot up the TV and watch some news or sports to relax a little.
A TV is also your family's best friend to spend some quality time with. That's why you want the best TV that's perfect for viewing, high-quality, and budget-friendly.
But buying a TV for home isn't so easy because there's a lot you have to consider. That's why we've discussed multiple television features as well as price ranges to make it easier. But rest assured. Because House of Butterfly provides the best TVs with premium performance within affordable price ranges in Bangladesh.
---
4 Things to Consider When Buying a TV For Home
When choosing a TV, you'll have to think about the size, resolution, brightness, panel quality, and many more. It can seem a little overwhelming at first, but it gets easier once you know what to look for.
Stay with us till the end and you'll be deciding in no time!
Price Range
When buying a TV, the first thing that comes to your mind is the price range. That's why we've discussed it before everything else.
Depending on your budget, there will be some advantages and drawbacks. For example, getting an FHD TV is quite cheap nowadays. But getting an FHD TV with a bigger screen is going to cost you more.
Likewise, buying a 4K LED TV is going to cost you significantly more money. There's also a 4K OLED option which is considered premium and it's super expensive.
To make it easier, we've made you a small but informative chart-
| | | | |
| --- | --- | --- | --- |
| Price Range | TV Screen | Notable Features | Best Brands |
| Entry ($99 - $199) | 24 Inch - 32 Inch | LED, FHD, Non-Smart, 60Hz | Hisense, ECO+, Samsung, LG |
| Medium ($249 - $499) | 42 Inch - 65 Inch | LED, 4K, UHD, 60Hz | Samsung, LG, Toshiba |
| High ($499 - $749) | 48 Inch - 80 Inch | ULED, 4K, UHD, HDR, 60Hz, 120Hz | Samsung, LG, Sony |
| Very High ($749 - $999) | 42 Inch - 80 Inch | QLED, 4K, UHD, HDR, 60Hz, 120Hz | Samsung, LG, Sony |
| Premium ($999 - $1299) | 42 Inch - 80 Inch | OLED, 4K, UHD, HDR, 120Hz | Samsung, LG, Sony |
| Ultra Premium ($1299+) | 75 Inch - 100 Inch | OLED, Neo QLED, 4K, 8K, HDR, 120Hz | Samsung, LG, Sony |
As you can see there are a lot of options regarding your preferred budget range. You can easily find some of the best smart TVs within the entry budget range.
32-inch TV prices can be as low as $150 if you get them in FHD resolution. But you can always increase the budget a little more to get 4K TVs.
Average homeowners usually stay under $500 or $750. Because it's more than adequate to get all the best features and a bigger screen.
But that doesn't mean you gain gradually fewer features the higher you go. Premium TVs come with a higher resolution, better panel, and higher refresh rate which is also excellent for console gaming!
Screen Size & Resolution
If you've made up your mind about a specific budget, it's time to select the TV screen. The size of a tv screen and its resolution largely depends on the budget.
But you can easily manage 32 inches or more at a reasonable price.
You can always pick the TV which you like the most. But you can also get a TV according to your room size or viewing distance.
Placing a big TV in a small room can ruin the overall look. Other than that, sitting too close to a big screen can cause eye strain. Also, don't forget that pixels are visible if you're too close. So, a big TV screen isn't always a good idea!
This small chart can clear your confusion regarding what screen you should get-

| | | |
| --- | --- | --- |
| Screen Size | Resolution | Viewing Distance |
| 32 Inch | 1080p FHD | 4-5 ft |
| 48 Inch | 4K UHD | 8 ft |
| 60 Inch | 4K UHD | 10 ft |
| 75 Inch | 4K or 8K UHD | 12.5 ft |
| 88 Inch | 4K or 8K UHD | 15 ft |
If you don't have a big enough room where you can maintain a 10ft distance, then 60 inch TVs are too big. Instead, you should opt for 42 or 48-inch TVs.
In the same way, you should simply get a 32-inch TV with FHD resolution if your room is small. For crowded rooms, 40+ screens are usually a good idea.
Brightness & Contrast
Brightness and contrast are the biggest components when it comes to picture quality. It can differ from TV to TV and panel to panel.
Brightness represents how bright your TV can get. This is very helpful in bright rooms at day time. Contrast is the measurement of the brightness difference between black and white.
A good TV has a high brightness and a good contrast ratio at the same time. But this is heavily dependent on the panel quality.
When it comes to contrast, OLED panels are the best. But they are extremely expensive. There are also mini-LED panels that create clearer pictures.
Here's a difference you may want to see-
[insert comparison photo that I added]
See the black levels in the OLED panel. LG smart TVs with OLED panels create extremely clear images. It's all thanks to LG's amazing OLED technology which turns black pixels off completely.
But mini-LED is also quite good and sufficient for many users. Most importantly, it's budget-friendly which makes them affordable.
Brightness is measured by nits or candela per square meter. Any TV that has more than 400 Nits will produce good bright images.
Black Levels
Black levels determine how darker the black images can get. If the black levels are poor, you'll see local dimming.
A higher contrast ratio can produce greater black levels. But higher brightness can also work against it; resulting in poor black levels.
Black levels are usually affected by backlighting which is used to make pixels black. Only OLED panels are immune to backlighting and have the highest black levels.
---
4K LED vs 4K QLED vs 4K OLED: Which Option To Pick?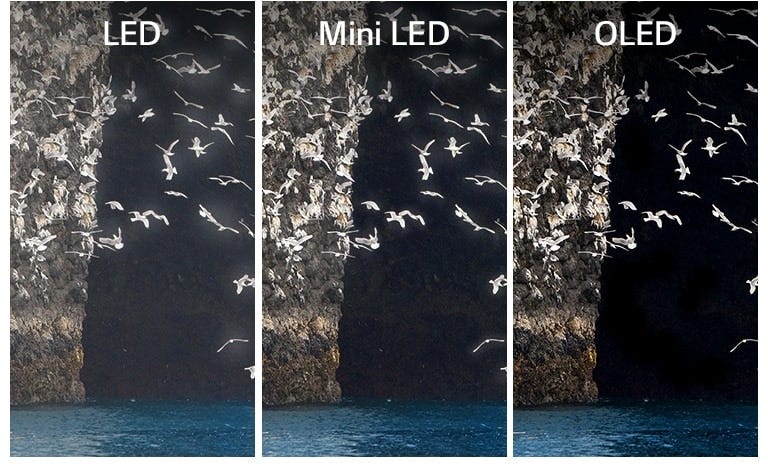 If you're looking forward to getting a premium 4K TV, then your priority must be panel quality. Of course, the budget will also play a big role here.
Since 4K is the standard for a high-quality viewing experience you don't really want any weaknesses. You're spending a big deal of money after all.
Here's a small table to give you a quick glance at the differences-
| | | | |
| --- | --- | --- | --- |
| Attributes | 4K LED | 4K QLED | 4K OLED |
| Picture Quality | Decent | Higher | Highest |
| Backlighting | Decent | Better | No |
| Brightness | High | Higher | Lower |
| Contrast Ratio | Decent | Higher | Infinite |
| Black Levels | Decent | Deeper | Deepest/Perfect |
| Burn-In Issues | Low Risk | Low Risk | Decent Risk |
4K LED
4K LED is the traditional LED TV that produces decent images. The backlight technology is old compared to QLED and OLED but enough. Because of that reason, 4K LED TVs are the cheapest in the 4K category.
In the LED TVs, pixels are turned black by blocking the light. Because of this reason, LEDs fail to produce perfect blacks as there's always some sort of dimming. But it's also easy to produce and thus super affordable.
4K LED TVs have two different backlighting technology; edge-lit and full array. Edge-lit LEDs produce a poorer contrast due to LEDs being placed at the side.
But full-array LED TVs are considerably better and have better black levels. It results in better picture quality with higher brightness.
4K QLED
The QLED TVs use the same backlighting technology as the traditional LED TVs. However, QLED or Quantum LED produces better blackness due to the new quantum dot filter.
Unlike LED's usual white backlight, QLED has a blue backlight. This interacts with the filter's red and blue dots. Because of these dots, QLED can achieve precision in light control.
As a result, pictures have clearer darker blacks and brighter whites. QLED panels deliver the highest brightness.
4K OLED
4K OLED TVs are the most expensive out of all categories. This is simply because OLED panels are unaffected by backlighting.
Each pixel in the OLED panel is individually lit. This means that OLED simply turns a pixel off when there's no signal to pass. This allows OLED to produce the perfect black levels.
But there's a downside to it. Since all pixels light up individually, OLED panels can't achieve high brightness. They're always limited to 400 to 600 nits.
That's why OLED panels can be a little underwhelming in daylight. But it gives you a magical experience at the night.
---
5 Notable TV Brands That You Should Consider
So far we've discussed important TV features and their relevance to overall performance. We have also talked about differences in TV panels.
However, if you're not sure which brand to choose, we've got your back.
LG TV-
When it comes to TVs, LG is considered an industry giant. LG has one of the best track records for high-quality TVs.
LG panels are also considered top-of-the-line and because of that reason, they are very expensive. LG produces TVs in all budget ranges; giving you a ton of choices. Also, LG TVs gradually become cheaper after a year. On sale, LG TVs are some of the most attractive products in the market.
LG Smart TV price in Bangladesh varies depending on the model and the screen. You can get LG TVs from House of Butterfly at the best price deal in Bangladesh.
Samsung TV-

Samsung is also another electronics brand that always circulates around the internet all the time. Like LG TVs, Samsung also produces some of the best TVs on the market.
Samsung competes with LG on an international level and their rivalry has been a blessing for customers. Like LG, Samsung also has come up with great panels and features.
Their QLED panels have made the premium 4K viewing experience more affordable. House of Butterfly gives the best Samsung TV price in Bangladesh.
ECO+ TV-
ECO+ may not be an international giant in electronics but don't let that stop you. ECO+ competes in an entry to medium price range and provides more budget-friendly options.
Other than that, they also provide tempting warranty offers that you can't simply ignore. You can get the best deals on ECO+ TV prices in Bangladesh from House of Butterfly!
Hisense TVs-
Hisense smart TVs can be very alluring due to their comparatively low price point. Hisense TVs are also quite famous for their excellent quality.
If you're looking for multiple TV features or higher resolutions at a lower price, Hisense can provide that for you. House of Butterfly offers great Hisense TV prices in Bangladesh that are affordable for anyone!
Toshiba TV-

Toshiba is a trusted Japanese brand that has been making highly durable electronics since its rise. Their TV category isn't an exception to that either.
Toshiba may not be super pricy but it can cost a bit more than other budget-friendly options. Regardless, the quality you get makes the slightly higher price negligent.
You can find the best Toshiba TV price in Bangladesh from the House of Butterfly group.
---
FAQs
Question: Is 4K better than Full HD?
Answer: Yes, 4K is better than the usual 1080p or FHD resolution. The 4K has 4 times more pixels than 1080p; making it extremely detailed. The 4K is a clear-cut winner in all aspects. But it's also more expensive.
Question: Is OLED TV harmful to the eyes?
Answer: OLED TVs aren't harmful to your eyes because they produce natural light. OLED TVs are also darker than mini-LED TVs which can be less punishing. However, in daylight, OLED panels may seem too dark.
Question: Is LG better than Samsung?
Answer: LG competes with Samsung in every budget range. Their OLED panels are significantly better than Samsung's QLED panels in contrast ratio. LG panels have superior black levels as well.
---
Conclusion
Televisions have come a long way since the CRT TV days. Today we have countless options with numerous features in all price ranges. You can get the best TVs from the House of Butterfly at the best possible price in Bangladesh.