Washing Machine Encyclopedia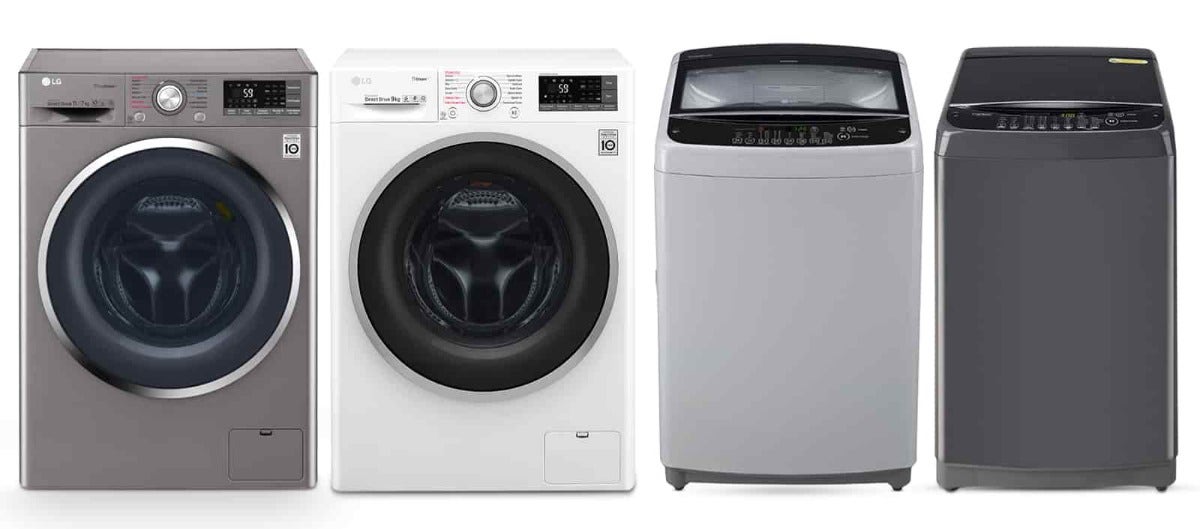 ---
This is a smart era we are going through, and we want everything to be smart around us. Advanced technology has changed our way of life and made it easier with the smarter solutions to many household chores.
One of the most difficult tasks at home is washing clothes every day. This activity takes a good amount of time and effort from our daily life. If your family is a big one, it will cost a lot of time and will damage your hand as well.
Besides, the way we usually wash clothes is by the housemaid who uses the washroom's floor which is not hygienic. And now we are going through such a time where we should not make other people do our work to avoid physical touch.
And if it's a rainy or winter season, another hassle is drying up these clothes. The washing machine is the superior idea to make this difficult work done easily with the solution of all the problems mentioned above.
There are many types of washing machines, and getting to select a washing machine will depend on your ability to analyze some factors and things to consider before you make your purchase.
---
Differentiating Factors of a Washing Machine
Washing machines come in a variety of sizes and technologies. There are similarities among all the types.
Washing Machine Loading Type
Washing machines are of two types in terms of loading types:
1. Top Loading Washing Machine/ Washers

Agitators have been used in the top loading washing machines since a long time ago. The function of an agitator is simple — it's a whirlpool shaped stick that sits in the middle of the wash basket and rotates in the other direction of the basket.
The two-way movement from both the basket and agitator makes a whirling movement for the clothes, which helps the detergent to mix with the water properly and penetrate through the fabric easily. But if the basket is overloaded, it won't work. In this way the washing machine washes quicker.
Overfilling the basket will block the agitator from working at its full speed, and it won't be able to spin at its regular speed. This problem can be avoided now using an impeller-based washer. The impeller can work well even with overloads and use less water. The impellers are also known as high-efficient top-load washing machines.
The functions are very simple in the Top Loading Washing Machine. As a result, they are easier to operate and repair.

You can add or remove items after the cycle has started as loading and unloading is done from top.

Top loaders are generally budget-friendly and have only a few simple functions.

Since both the loading and unloading is done from the top, using it is easy for people with back pain, no need to bend.

As the controls and the access of the washing machine is on top, its difficult for the children to turn the functions on/off or open the washing machine.

The wash cycles are faster.

Because of its light weight, it's easier to move
The advantages of Top Loader:
Might not be good for all cloth types.

Not all options for special fabrics are available in a cheap top loader machine
2. Front Loading Washing Machine

Front Loading washing machine like it's name, loaded and unloaded from the front side. Though these costs are higher than a top loading washer, getting one will be much more cost-saving in the long run.
Generally, front-loading machines come in 2 sub-varieties — only washer and both washer and dryer combo.
Besides the difference between the loading type, there are many differences in functionality as well between. Instead of using agitators or impellers, front loader washing machines use gravity and tumbling action to wash. The tumbling action is the frequent picking up and dropping clothes into soapy water. But the whole process acts gently toward the loaded clothes. Front loading washing machines also use less water compared to Top loading washing machines.
The advantages of Front Loader:
The Front Loaders perform better in washing clothes.

More gentle towards clothes

Front loader washing machines have more energy and water efficiency.

There are more options for temperature and washing in the Front washing machines.

Front loader washing machine's spin speed is higher for which drying time gets shorter.
The disadvantages of Front Loader:
Wash times can't be controlled with fully auto washers

Tub drying and cleaning is little more time consuming than of a top loader
Depending on the amount of manual labor and number of functions, there are two types of washing machines:
1. Semi Auto Washing Machine
Semi automatic washing machines are only available in top loading form. As the name says, these machines aren't going to be fully automatic. Filling up the tub, setting up the timer, and soak times are generally done manually with this washer type.
This washer type is the cheapest among top loader washers. There are not many functions and moving parts included in a semi automatic washing machine, but the price is low, and this attracted many budget-conscious buyers into this category.
The advantages of Semi Auto Washing Machine:
Entry level pricing

Manual control allows for a more water usage control

Customizable to any washing needs
The disadvantages of Semi Auto Washing Machine:
Less automation means more time tinkering with the machine for too long

Risk of electrocution is higher, if you are not careful enough

Not as effective as a fully automatic washer. Especially with some clothes
2. Full Auto Washing Machine
Fully automatic washing machines have all the manual steps from a semi-automatic washing machine programmed as functions. If you choose a specific function, the rest will be done by the washer. This single functionality has contributed the most in making these fully auto washers popular in the market.
These, unlike semi auto washers, will cost a very high amount of price. But if you consider the time-saving and automation benefits, the value will surely be well over the price paid.
The advantages of Full Auto Washing Machine:
Saves a lot of time.

Safe for kids as there isn't much manual labor and less electrical risk involved.

Can do the complex washing in a single button press.

Water Saving
The disadvantages of Full Auto Washing Machine:
High initial cost. These washers are expensive. Though the usage cost is less.

More automation = Less customization. You'll basically have to follow washer macros (step by step functions).
---
Washing Machine Function Type
There has been some innovation in washing machine technology. Big brands are coming up with ideas for innovative and eco-friendly washing machines.
One example of such technology is using steam cleaning while washing. This technology uses high-pressure steam to clean fabric in a short time without damaging it.
Another technology uses forced water and air to create microbubbles that penetrate through the fabrics from the bottom. The fabrics are mixed with detergent faster in this way than they would be with regular tap water.
Following this modern trend, LG has brought many smart features in the washing machines to make our life easy; such as Intelligent Care with 15% More Fabric Protection, TurboWash for Fast and Clean Wash, Steam Away 99.9% of Allergens, Less Vibration and Less Noise.
# Capacity
Both the top loaders as well as the front loaders have enough available options to cater to your washer capacity needs. You can't be wrong with choosing any of these, but if you want to consider long lastingness and efficiency, a front loader might be the best option.
# Top Loading Washing Machine vs Front Loading Washing Machine
Top loaders in the past used to be less effective as well as took big space. But in the recent few years, top loader washer technology has improved, and the producers started making efficient and less power-consuming washers.
One problem with front-loading washers is that you cannot add more clothes once a cycle has started. This is not the same with top loader washers, since there's no risk of water spilling from the top, you can easily add more clothes or detergent if you need to.
Because the washer basket in a top loader washer has vibration dampening pistons, the movement and noise from the machine are less, and the intense movement allows the spin cycles to be much shorter than a front loader.
Front loading washers are much more compact than top loaders of a similar capacity. They don't take much room space and can be stacked as multiple washers or a washer and a drier. Some even come with a washer & dryer combo.
Front loading washers, though a recent invention, have become insanely popular worldwide. They offer much more options than regular top loaders. Options such as full auto, washer macro, and fabric-based washing are especially possible with these.
The price of front loader washers is higher than top loaders because of the higher quality and range of functions offered. But the cost gets even with more usage. These machines are efficient and save a lot of money in the long run.
# Considerations
It's very hard to choose the one you really need when there are so many options available in the market. In that case, there are few things you need to keep in mind before buying a Washing Machine.
# Type of Drum or Tub
Top loaders have vertical tubs. Impellers are quite a new technology and work better than agitators. On the other hand, front loaders use a horizontal drum.
# Wash Setting
Top loaders have fewer wash settings and function macros. If you have special fabric cleaning needs, getting a front loader with a range of wash settings might be a good idea.
# Self-Cleaning
Fully automatic washing machines can do self-cleaning with a single button press. However, self-cleaning washers are quite expensive.
# Capacity, Cost Savings, and Efficiency
The higher the cloth capacity, the larger the wash basket of your washer should be. Especially if you decide to get a front loader, you should check how much capacity you need. Otherwise, multiple wash times will be very time-consuming.
# Spin Cycle
Spin cycle controls how many times the basket is filled with fresh water to rinse and re-wash the clothes. Not all washers can do an effective spin cycle, so if this is important to you, check the functions well.
# Temperature Control
Temperature control will allow the water to be in a specific temperature range, depending on your choice. This is helpful in winter times when the water is cold. Some fabrics have specific temperature needs, this feature is quite helpful in those cases.
# Time Delay
If you like to soak clothes in a washing machine, then look for a time delay feature before you purchase. The time delay will allow the clothes and detergent to first mix for some time before the washing starts.
---
Do's and Don'ts while using washing machines
Do's
Do check the pockets of your empty items or small coins or objects that will ruin your machine;s motor.

Do put delicate fabrics using a smash bag.

Do separate your laundry according to light and dark color to aoid color transfer
Don'ts
Don't use detergent too much. It has to be the specific amount according to the loaded clothes inside.

Don't leave the wet clothes inside the machine for more than 2 hours.
Final Words
There are many different washer types available on the market, and choosing one seems like a hard job, but all of these have one single goal — clean clothes well. Some of these work better with some specific fabrics, and whatever you choose, you'll be fine with that