Bottom Mount Refrigerator in Bangladesh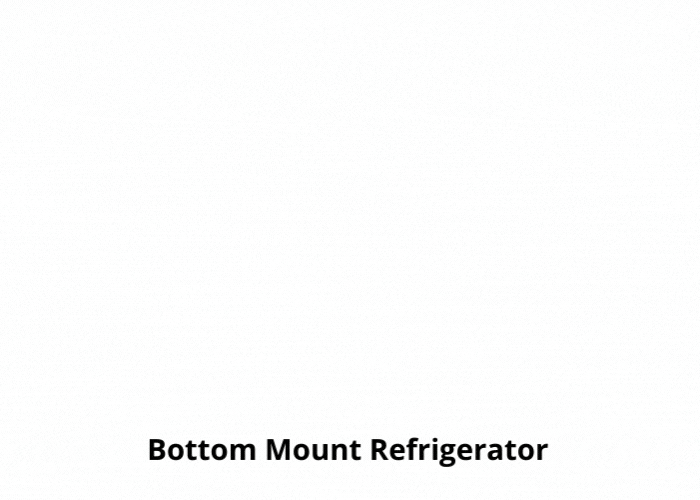 We are all unique individuals, as are our choices and preferences. It also influences our product's needs, demands, and desires. In the end, it has an impact on the product's appearance, size of features, and so on. we become picky in terms of purchasing electrical gadgets. When it comes to refrigerators, they are a must-have item in any kitchen. The optimal refrigerator for your home is the one that best meets your needs.
Refrigerators come in a variety of shapes and sizes. Recently Bottom-mount refrigerators have come on the first list to be recognized by users. It has become one of the most popular refrigerator designs and options. In the purchasing stores, you may have spotted a fridge with a massive freezer at the bottom. It has its fresh food compartment at the top. However, in the market, there is an identical opposite style known as a top mount refrigerator. Because of the advantages, many customers prefer to put the freezer at the bottom of the refrigerator, such as the bottom mount refrigerator. Top mount and bottom mount refrigerators are both popular alternatives nowadays, each with its own set of benefits. It's challenging to find the most cost-effective and appropriate home appliance, but House of butterfly can be a wise option to look for.
---
What is Bottom Mount Refrigerator
Bottom mount refrigerators also called bottom freezer refrigerators, have a fresh food section on top and a freezer chamber on the bottom. These units, when compared to top-mount ones, provide considerably better access to fresh foods and beverages, which are likely the products you use the most. Another significant advantage of these units is their big freezers, which are often larger than those found in top freezer units. Bottom mount refrigerators, like other types of refrigerators, are available in both freestanding and built-in designs, allowing you to select the best fit for your kitchen decor.
---
Why Bottom Mount Refrigerators are in Hype
In Bangladesh, in most bottom mount refrigerators, the freezer portion is bigger and the refrigerator compartment portion is smaller. People who prefer economics and a balanced refrigerator with a freezer and food compartment prefer Bottom Mount. If you do not have an extra freezer in your kitchen you will like to have a big freezer like Bottom Mount. It helps you to utilize the refrigerator more. This is the majority case in Bangladesh and one of the major reasons this product goes hyped.
In the long term, choosing the proper freezer position will make utilizing the refrigerator more convenient. In addition, if you use the food compartment more, a bottom mount refrigerator will be a better choice for you.
There are two significant advantages of Bottom Mount Refrigerators
Less strain (if you use your refrigerator more than your freezer): If you use your refrigerator more than your freezer, a bottom freezer might be the best option for you. Most of your usual food items will be easily situated at eye level and within easy reach in this manner. If you want to get a frozen item out of your freezer, you'll have to stoop down. That shouldn't be a problem, though, because it doesn't happen very often. This is the reason bottom mount refrigerators are becoming popular. People who can not afford an extra freezer can easily balance with the bottom mount. Also, it looks more stylish and less boring than the Top Mount refrigerator's outlook.
More Freezer Space: Many users buy frozen food for a week's worth of consumption and store it in the freezer. If you do this as well, you will almost certainly require more freezer space. Bottom freezers offer an advantage over top-mount freezers in this situation. For optimal storage space and easy access, most bottom freezers include pull-out shelves and lift-out baskets. Also, the bottom mount is a good choice for you if you like to balance frozen food and regular food. In real life, we need both the freezer and the food compartment for various reasons. The bottom mounts perfectly justice to both of the needs.
---
Which group of people prefers bottom mount and why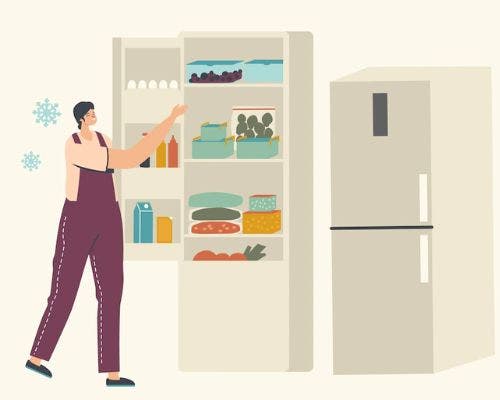 It is noticed that the bottom mount is preferable in every group of people. But specifically, the older group of people enjoys bottom mount refrigerators because they do feel back pain while bending down to open the fridge compartment. But people who do not have back pain and belong from a younger age, do not bother with top mount.
In daily kitchen work, we usually use the fridge compartment where we store eggs, milk, vegetables, fruits, etc. In comparison to the freezer, we frequently use the fridge compartment which is below the freezer in the top mount refrigerator. This is why some users think bottom mounts are more rational to choose as a perfect refrigerator. If you use a top mount refrigerator you'll have to bend down regularly to get to food items to eat or cook. Many homeowners, especially those with back problems, will find this bending to be less than ideal.
Although many people prefer bottom-mount refrigerators and they are well-known, they do have certain disadvantages. A little explanation will aid you in comprehending and relating to the point. These devices are generally more expensive than their top-mount counterparts. You may not want to give more money just because in the bottom mount the freezer is more spacious than the Top mount. Balancing the food compartment and the freezer does not justify charging the extra amount of money.
---
LG Bottom Mount Refrigerators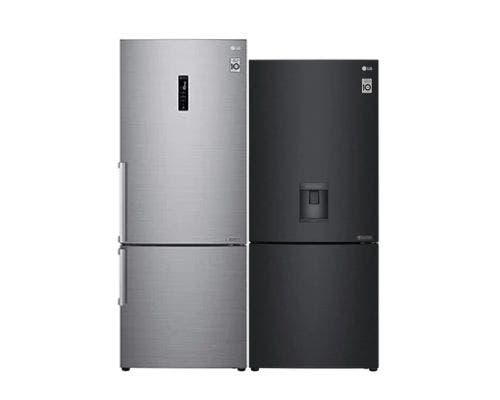 When it comes to refrigerators and other electrical goods, LG is a household name in Bangladesh. LG has a wide range of refrigerator models to suit a wide range of consumers' needs. It's all there, whether it's a small one for keeping drinks, a huge one for storing food, or even a giant one that makes ice. It may be difficult to pick from the many models available, but having more options will allow you to make a more informed decision. LG Bottom Mount No-Frost refrigerators are one of the most well-known refrigerators. In the LG No-Frost Bottom Mount Refrigerator, you'll find Smart Inverter, Door Cooling, Multi Air Flow, Moist Balance Crisper, Humidity Controller, Wide Voltage Range, and Everything.
A powerful fan, a multi-air flow system, a multi-step filtering system, and natural potent chemicals on the filters keep the refrigerator clean and fresh at all times. LG Door Cooling evens out the inside temperature and cools 35 percent faster than a typical cooling system.
Features of LG Bottom Mount Refrigerator
Hygiene Fresh technology (99.99% Fresh Air) : The refrigerator's intelligent air filter can remove 99.999 percent of bacteria while also reducing odors. Furthermore, you can keep your food fresher in a cleaner environment.
Even Cooling Feature: LG DoorCooling keeps the interior temperature stable and cools 35 percent faster than a typical air conditioner. It Reduces the temperature difference between the interior half of the compartment and the door side of the compartment by a significant amount. Cool air is distributed and circulated throughout the refrigerator via many cooling air vents, ensuring that all food products are properly cooled.
Moving Ice Maker: LG's top freezer refrigerator includes a detachable and moving ice maker that can be easily removed and relocated if additional freezer space is needed.
Budgets: The price range is between 35k-47k
---
ECO+ Bottom Mount Refrigerators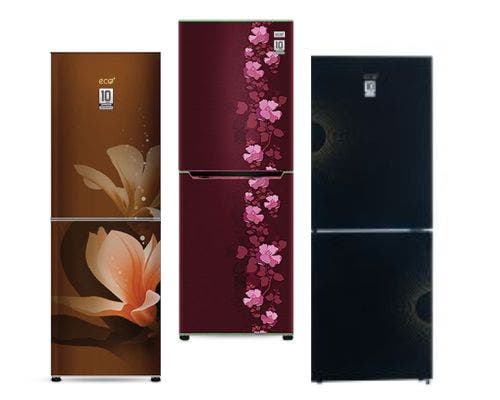 ECO+ also offers top-mount refrigerators, which give the best cooling inside the fridge compartment. ECO+ makes an effort to supply its customers with a refrigerator at a reasonable price. There are several different types of refrigerators available.
Features of eco+ Bottom mount refrigerator
R600 Cooling System: eco+ top mount refrigerators include an R600 cooling system to provide the greatest cooling experience for its users at a reasonable price.
Door Lock: Users of ECO+ Top Mount Refrigerators have access to a Door Lock system.
Internal LED Lighting: Internal LED lighting improves the visibility of items and allows for easier use of the refrigerator section.
Easy EMI and Kisti Facilities: Last but not least, ECO+ top mount refrigerators provide easy EMI with cards as well as kisti without cards.
Budgets- 26k- 35k
---
Choose the Appropriate Refrigerator
Choosing the appropriate refrigerator may appear to be a simple task, but it is not. You must have a clear concept of your preferences, as well as a budget and other considerations. Furthermore, because refrigerators come in a variety of shapes, sizes, styles, and finishes, there are several options. Top Mount and Bottom Mount battle for a user's favor at the same time. One of the most important options is whether to go with a top mount or bottom mount freezer. This is important because each option has its own set of advantages and disadvantages. It all depends on your lifestyle, how often you use your refrigerator, what kinds of food you buy, which advantages are most important to you, etc.
---
Refrigerators aren't considered high-end items any longer. In every home, it's a must-have kitchen appliance. The bottom mount is the most popular and well-known among the public, as well as the most popularly used. Due to their big storage capacity and easy accessibility, bottom mount refrigerators are a popular choice for many kitchens. There are different brands, varieties, sizes, and features to pick from on the market. What counts is that you know what you want, what you need, what you can afford, and how much you know about the refrigerators on the market. To make an informed purchase, you must have access to reliable information. The most suitable refrigerator for you is one that satisfies and fulfills your needs, whether it's a Top Mount, Bottom Mount, Side-by-Side Refrigerator, or Freezer.