Top Mount Refrigerators in Bangladesh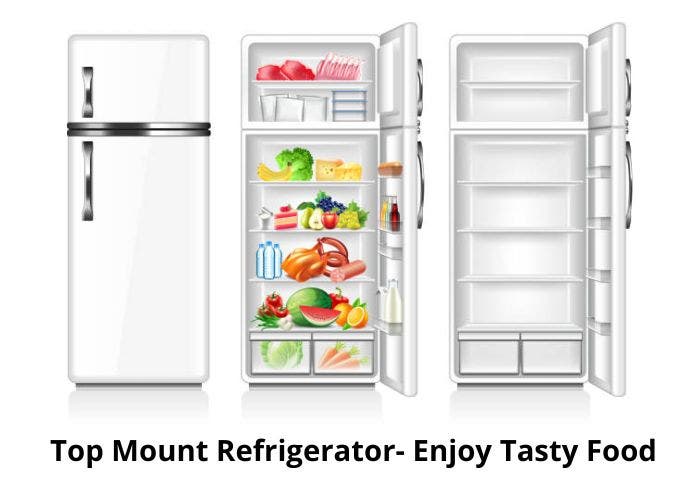 We all are different from one another so do our choices and preferences are. It shapes our needs, demands, and wants in a product as well. Ultimately it impacts product outlook, features sizes, etc. If you think about a refrigerator, It is a must-have thing in any kitchen. Whichever refrigerator best suits your demands is the ideal refrigerator for your home.
There are different types and sizes of refrigerators. Top mount refrigerator comes first to be acknowledged by the users. It is the most common and very first design in a refrigerator. Maybe you are used to seeing a large food compartment below a small freezer in almost every house. But there is exactly the opposite design available on the market which is called Bottom Mount Refrigerator. Many users like to have the freezer at the bottom, unlike the top mount refrigerator. Nowadays, Both top mount and bottom mount refrigerators are popular choices, each with its own set of advantages. Finding the most cost-effective and appropriate home appliance is a difficult challenge.
---
What are Top Mount Refrigerators and their Usability?
Refrigerators with a top mount design are also known as top-freezer refrigerators. It has a huge fresh food section beneath a smaller freezer compartment, which provides the perfect amount of storage capacity for many households. Top-mount refrigerators are usually 30 to 33 inches wide, with larger doors and interior storage areas than other models. Furthermore, because these refrigerators are so typical, they come in a wide variety of sizes, styles, and designs for your kitchen. Consider a freestanding top mount system if you want a more adaptable option. A built-in top-mount refrigerator will give your kitchen a more contemporary feel.
---
Choosing the Right Refrigerator
Choosing the right refrigerator seems an easy task but in reality, it is not that easy. You have to have a clear idea about your preference, need a budget, and some other factors to consider. Also, there are numerous choices to be made because refrigerators come in a range of forms, sizes, styles, and finishes. House of Butterfly provides all types of refrigerators with a wide range of Brands, Features, Sizes, prices, and all.
Top Mount and Bottom Mount compete in the same phase to fulfill the preference of a user. Choosing between a top mount and a bottom mount freezer is one of the crucial decisions. This is critical because each option has its own set of pros and downsides. It all depends on your lifestyle, how frequently you use your refrigerator, the types of food you buy, and the perks you value the most.
In Bangladesh, in most of the Top Mount Refrigerators, the freezer portion is smaller and the refrigerator compartment portion is bigger. If you have an extra freezer in your kitchen you will not bother to have a small freezer in Top mount. You will prefer Top Mount as you need more place for a refrigerator. This is the majority case in Bangladesh. But if you do not have a freezer in your kitchen, the bottom mount will give you a proper balance as the bottom mount offers a bigger freezer than the Top Mount.
---
Benefits of Top Mount Refrigerators
Energy Efficiency: Top-mount freezers are generally more energy-efficient than freezers at the bottom of refrigerators. This is related to the compressor having just underneath the refrigerator, which helps the refrigerator and freezer maintain a cool temperature and tends to heat up. As a result of being farther away from the hot compressor, a top-mount freezer requires less energy to maintain its optimal temperature. You might be wondering and thinking about how much you can save energy if you choose a top mount refrigerator. The answer is - Top-mount freezers use around 10% to 25% less electricity than bottom-mount freezers.
Less Straining: A top mount freezer may be the ideal option for you if you find yourself reaching for food items in your freezer more often than food items in your refrigerator, and you tend to store heavy food items in your freezer. Keep in mind that the position of your freezer should be determined by your lifestyle. As someone who frequently gets food items from the freezer, a top-mount freezer is handier because it is conveniently positioned at eye level. When you need anything from the freezer, you don't have to squat. Lifting a 30-pound turkey from a top-mount freezer is also less exhausting than lifting one from a bottom freezer.
---
Which group of people prefers Top Mount and why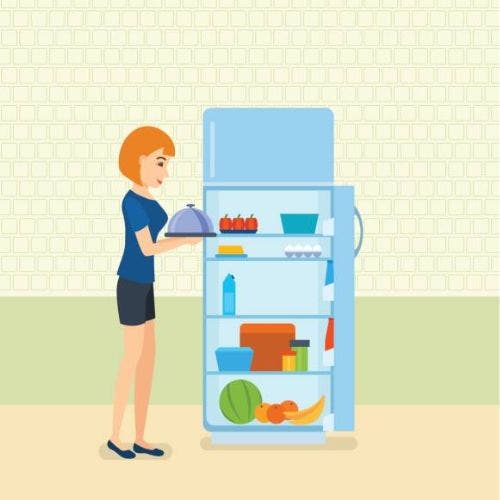 It is noticed that Top mount is preferable in young groups of people. Normally, a young group of people enjoys top mount refrigerators because they do not feel back pain while bending down to open the fridge compartment. But people who have back pain and belong to the older age group of people do not prefer top mount. Instead, they prefer a bottom mount refrigerator.
Though Many people prefer top-mount refrigerators and top-mount refrigerators are famous, it has some drawbacks. A bit of explanation will help you to understand and relate the point. In daily kitchen work, we usually use the fridge compartment where we store eggs, milk, vegetables, fruits, etc. In comparison to the freezer, we frequently use the fridge compartment which is below the freezer in the top mount refrigerator. This is why some users think bottom mounts are more rational to choose as a perfect refrigerator. If you use a top mount refrigerator you'll have to bend down regularly to get to food items to eat or cook. Many homeowners, especially those with back problems, will find this bending to be less than ideal.
---
LG and ECO+ Refrigerators
LG is a household name in Bangladesh when it comes to refrigerators and other electronic goods. LG offers a wide range of refrigerator models to meet the needs of a wide range of customers. It's all accessible, whether it's a tiny one for holding beverages, a large one for storing food, or even an ice-producing giant option. It may be difficult to choose between the numerous models, but with more options, you will be able to make a better-informed choice. LG Top Mount No-Frost refrigerators are one of the most famous refrigerators amongst people. You will find Smart Inverter, Door Cooling, Multi Air Flow, Moist Balance Crisper, Humidity Controller, Wide Voltage Range, and Everything in LG No-Frost Top Mount Refrigerator.
The refrigerator is always clean and fresh by a powerful fan, a multi-air flow system, a multi-step filtering system, and natural potent substances on the filters. It also boasts LG Door Cooling, which evens out the inside temperature and cools 35 percent faster than a standard cooling system.
Also, ECO+ has top-mount refrigerators, which provide the optimum cooling inside the refrigerator compartment. ECO+ tries to provide a refrigerator to its customer at a reasonable price. It has other types of refrigerators as well.
---
Features of LG Top Mount Refrigerator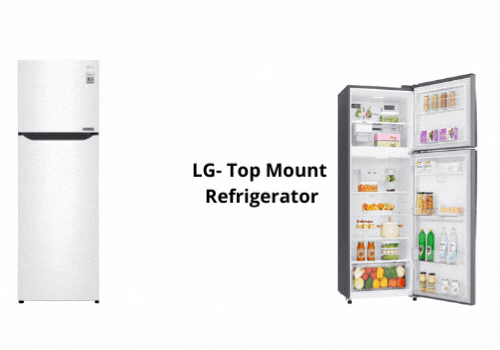 Hygiene Fresh Technology (99.999 percent Fresh Air): LG Top Mount Refrigerator features innovative features to provide optimum service. The refrigerator's intelligent air filter can not only remove 99.999 percent of bacteria but also reduce undesirable odors. Furthermore, in a cleaner environment, you can keep your food items fresher.
Even Cooling Feature: LG DoorCooling maintains a consistent interior temperature and cools 35 percent faster than a traditional cooling system.
Reduce the temperature difference between the compartment's inside half and the door side by a significant amount.
Multiple cooling air vents distribute and circulate cool air to every part of the refrigerator, ensuring that all food items are appropriately cooled.
Moving Ice Maker: LG's top freezer refrigerator incorporates a detachable and moving ice maker that can be easily removed and moved if more freezer room is required.
Features of ECO+ Top Mount Refrigerator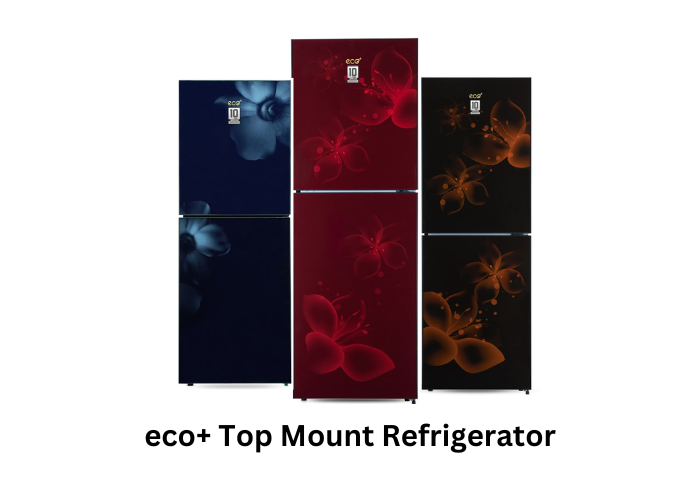 R600a cooling system: ECO+ Top Mount Refrigerators have an R600 cooling system to give the best cooling experience at a reasonable price to its users.
Door Lock- ECO+ Top mount refrigerators give a Door Lock system to their users.
Internal LED Lighting: Internal LED lighting gives a better sight experience to see foods and use the fridge compartment.
Easy EMI and Kisti Facilities: Last but not the list, ECO+ top mount refrigerators offer easy EMI facilities with cards and kisti facilities without cards.
---
Refrigerators are no longer considered high-end items. It's a must-have kitchen appliance in each household. The top mount is the most often utilized and recognized by the public, as well as the most widely used. In the market, there are numerous brands, varieties, sizes, and features to choose from. What matters is that you understand your desire, need, budget, and adequate knowledge about the refrigerators available on the market. It is vital to have access to accurate information to make an informed purchase. Whether it's a top mount, bottom mount, side by side, or freezer, the most ideal refrigerator for you is the one that satisfies and fulfills your needs.