Keep Your Oven Bacteria Free with Easy Clean Coating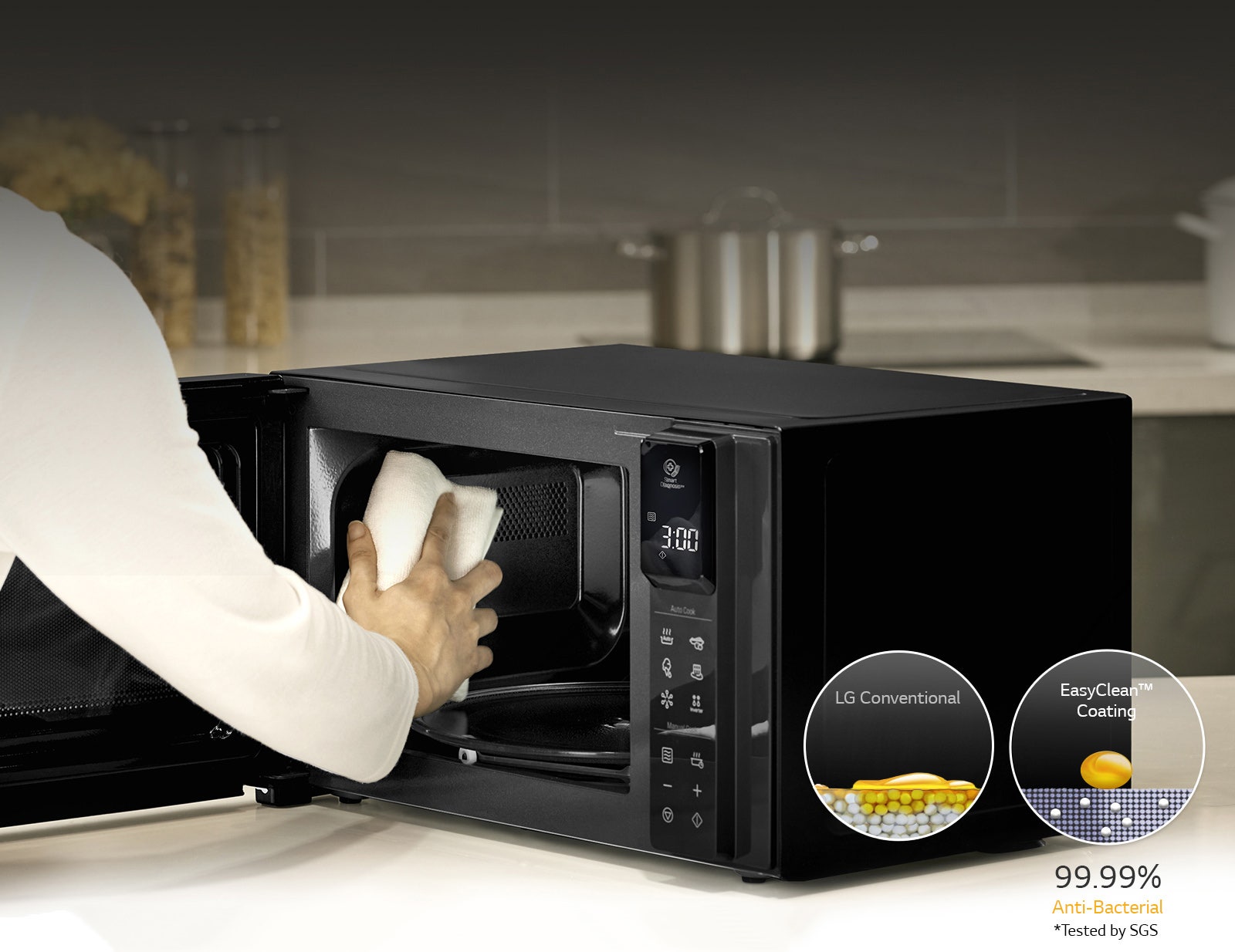 Cooking on the microwave oven is super-fun and practical until it's time to clean it up. Here, even the tidiest people will find some resistance as cleaning microwaves is nothing but lackluster.
It doesn't have to be that way, though. You can start cleaning your oven quickly while ensuring there's not a single pinch of bacteria behind. How can you do that? Simple, you only need to use the LG NeoChef microwave from LG.
Here in butterflygroupbd.com, we want to explain how this microwave can reduce the amount of time you spend cleaning while keeping it free of harmful impurities. So, without much further ado, please take a look below and learn more about it!
LG Smart Inverter Microwave Overview
A microwave that cooks up all your food effectively while getting rid of impurities that grow inside. That's what this LG NeoChef oven offers.
The ability to make that happen comes from three major features, as follow:
Keep-It-Neat with EasyClean
Probably the most exciting advantage of getting this microwave: you get to enjoy the Anti-Bacterial EasyClean coating. It's completely different from the standard oven coating, as it doesn't let any food stick to the surface.
But what's more important, it gets rid of over 99% of all the harmful impurities so that you can cook any food safely and healthily every time.
Precise Smart Inverter
It doesn't matter whether you're cooking meats, vegetables, or reheating pizza; the Smart Inverter technology makes it possible to heat everything precisely. You can pick the right mode as necessary, and the microwave will automatically choose the ideal temperature to prevent unwanted results.
Fast & Potent Cooking
Cooking with proper heat is essential, and sometimes you need a lot of it. That's why this microwave manages to offer 1,200 watts of total power. With that much, you can cook everything from meat to chicken and defrost any food in a couple of minutes. That's extraordinary power few microwaves offer.
As you can see, the LG Smart Inverter microwave is not an appliance you want to leave behind. But there's still a lot more to it than that.
Advantages of the LG Convection Microwave Oven
We wanted you to understand every single factor that makes this microwave a go-to option, so we disclosed all of its features and brought them to you in an easy-to-digest list.
If you're looking to learn what sets this convection microwave oven apart, then read up:
Multi-Purpose Operation
Thanks to its unique combination of cooking features, this microwave lets you defrost food that's been freezing for weeks, warm up your food on the fridge, or even ferment yogurt and prepare other desserts. There's nothing like this microwave to get the whole package of cooking opportunities.
Ultra-Even Heating
This microwave's heating system delivers an extremely even wave covering everything you put inside from top to bottom. The days of unevenly cooked food in your microwave will be in the past with this appliance.
A No-Brainer to Use
Whether you want to cook, defrost, or warm something up – you'll have a blast using this microwave. The intuitive controls on the touch panel won't be a hassle to adjust as necessary. Along with the rounded handle on the door, operating the appliance will be a pleasant and effortless experience.
Small but Spacious
Get rid of your large microwave oven that doesn't leave enough space for other appliances. Instead, you use the NeoChef microwave oven, a compact model with a lot of interior capacity thanks to its super-thin walls. You can set it up on any kitchen while fitting a whole chicken inside.
Hugely Practical Interior
Boasting a hexagonal ring with six support points, you can expect the microwave not to let even the most unstable of food container from tipping to the side. And with the addition of a LED lamp that illuminates everything as bright as you can imagine, using this microwave will be delightful.
Gorgeous Design
There's nothing like a good-looking microwave to highlight your kitchen's style. A trim-free tempered glass with no parting line makes it looks modern and elegant. This pairs up well with the gloss and matte coating on the metal, adding up the extra touch of style to boost your kitchen appeal.
Reliable Operation
Taking it a step further when it comes to reliability, the NeoChef microwave from LG also comes with an adaptable power supply. Whether you live in low-voltage areas or places where electricity is just not reliable, this microwave will ensure you can cook and warm up food safely.
Frequently Asked Questions
After reading through our little explanation of why this microwave is such an excellent appliance, you may have a few questions roaming in your head. This section may answer some of these questions:
1. What can I cook in a Smart Inverter LG microwave?
You can cook almost everything in one of these microwaves. Thanks to its oven-like performance and 1,200 watts of power, you can prepare meats, vegetables, and even highly elaborate dishes. It will cook everything to the ideal point while keeping the interior clean.
2. How long does an LG microwave last?
These appliances are heavily exposed to the damage of heat because of their internal waves. This produces heavy strain on several parts, making the appliance last 10 years. With proper care and little usage, you can make one last 15 to 20 years with luck.
3. Are 1,000 watts enough for the LG Neochef microwave?
No, that's why this NeoCheft can reach total power of 1,200 watts. That should be enough to cook anything swiftly and evenly, even if it is a heavily dense type of food.
Conclusion
What do you think about this microwave oven then? There's almost nothing to hate about it – that's how good we think it is.
From the ability to cook evenly to the fantastic EasyClean feature that saves tons of time while making the microwave healthy – there's way too much to consider about it. So investing a little in it wouldn't be a bad idea.