Kitchen Appliances- Necessary or Luxury?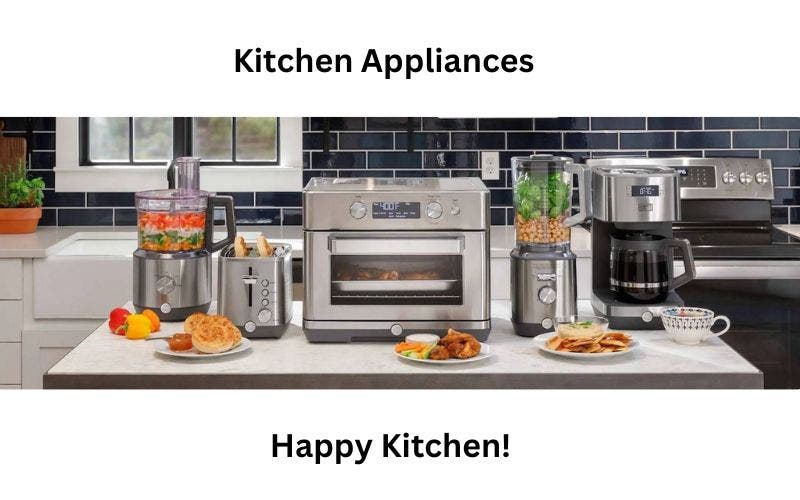 Kitchen chores are a must to survive because we need food no matter what. Heavy cooking, light cooking, or just simple baking, we need to spend some time kitchen. Kitchen Appliances works as a super friendly helper in cooking. So, Investing in kitchen appliances makes cooking and kitchen chores easier and more organized. Some may think, investing in kitchen appliances is unnecessary, but it depends on the objective. Different people have different cooking patterns and food preferences. On that basis, some kitchen appliance is suitable for someone and unnecessary for someone.
There are different types of kitchens, you can invest in some according to your need and requirement. A modern home with a modern kitchen always pleases people's lives. It also attracts buyers and provides an excellent return for those who want to sell it.
What is a Kitchen Appliance?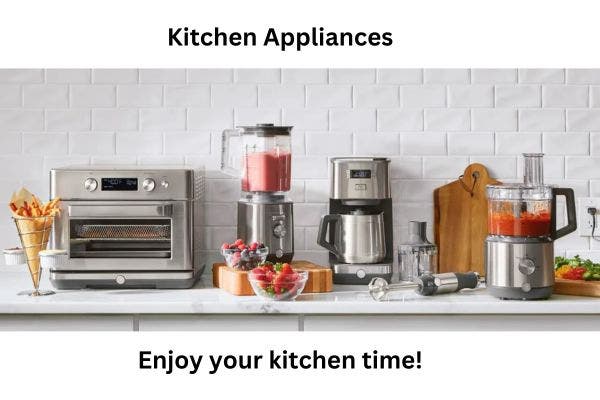 Kitchen Appliances refer to the more essential items used in the kitchen for cooking/baking/reserving purposes. The accessories need to deal with bulk preparation in the food preparation process. Microwaves, freezers, blenders, water purifiers, induction cookers, juicers, mixer grinders, toasters, sandwich makers, etc. fall under kitchen appliances to be mentioned. Items like spoons, spatulas, knives, and peelers are excluded. They belong in the group of kitchen tools.
Moreover, the Kitchen appliances differ from Kitchenware, including dishes, pans, and bowls. There are many other classifications if anyone wants to be more technical. People generally mention everything used in a kitchen as kitchen equipment.
What is a Home Appliance?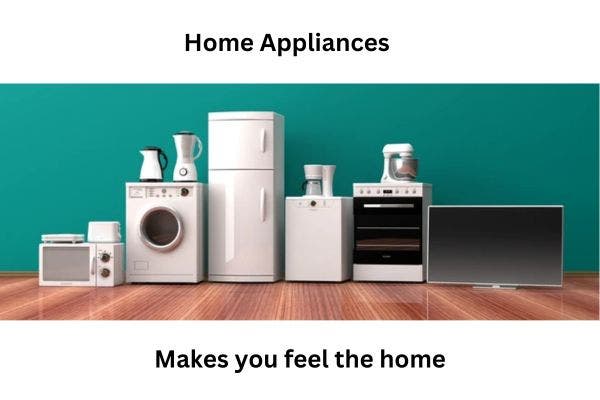 For better understanding, let's glimpse at Home Appliance. A home appliance is an electrical or mechanical device designed for use in the home to perform various tasks such as cooking, cleaning, and maintenance. These appliances are intended to make household chores more manageable, efficient, and convenient. They come in different shapes and sizes and can be portable or fixed.
Some familiar home appliances include refrigerators, washing machines, dryers, dishwashers, ovens, stoves, microwaves, air conditioners, heaters, vacuum cleaners, and garbage disposals. These appliances are essential to our daily lives and help keep homes clean, organized, and comfortable.
Refrigerators keep our food fresh and prevent it from spoiling. Washing machines and dryers allow us to clean our clothes without visiting a laundromat. Dishwashers make cleaning dishes effortless, while ovens and stoves help us prepare meals quickly and easily. Air conditioners and heaters help us regulate the temperature in our homes, and vacuum cleaners make it easy to keep our floors clean.
Home appliances are an essential part of modern living. Without them, we would have to rely on manual labor which consumes more time and effort performing household tasks.
Difference Between Kitchen Appliances and Home Appliances
Kitchen appliances are a home appliance specifically designed for use in the kitchen. While all kitchen appliances are considered home appliances, not all home appliances are kitchen appliances.
The main difference between kitchen appliances and other home appliances is their intended use. Kitchen appliances are designed to help with food preparation, cooking, and storage. Some common examples of kitchen appliances include refrigerators, ovens, stoves, microwaves, dishwashers, blenders, and toasters.
On the other hand, home appliances not considered kitchen appliances are designed for other purposes, such as cleaning, maintenance, and entertainment. Examples of home appliances include vacuum cleaners, washing machines, dryers, air conditioners, heaters, and televisions.
Therefore, all kitchen appliances are home appliances, but not all home appliances are designed for use in the kitchen.
Is the Kitchen Appliance- Necessary or Luxury?
Kitchen appliances convert a standard kitchen room into an advanced one. Though all kitchen accessories are not essential for every kitchen, again it depends on the food preference and cooking style. It is true some premium kitchen appliances add extensive value and simplify food preparation. But not every kitchen needs those necessarily. But rice cookers, blenders, mixer grinders, and toasters are not that pricy but still useful at their optimum level. These small kitchen appliances ease life and improve cooking efficiency. It is very rare that a simple kitchen does not have a blender, so some kitchen appliances are not luxury, some are.
Those who can afford modern kitchens, do not hesitate to invest in some. Modern kitchen appliances are aesthetically beautiful and upgrade the quality of life. In this part of the article, let's dive into why modern kitchen appliances are preferred by many households.
Why Modern Kitchen is Preferred?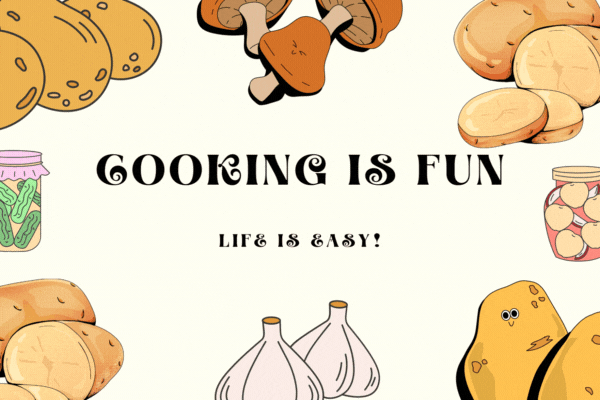 One of the essential responsibilities of daily life is cooking. Living standards are changing quickly in this modern, tech-savvy way of life. People are now prioritizing comfort over tedium. Kitchen Appliances make cooking fun and easy.
However, traditional cooking requires more work, which is unwanted. Modern kitchen appliances have a variety of innovative functions that prevent you from oil burn and save you time. It makes culinary life easy for everyone. Kitchen appliances are getting popular all over the world for this reason.
The following are some essential benefits of kitchen appliances:
Quality of Life: Modern kitchen appliances will upgrade your living standards and bring versatility to daily life. Its multitasking features made cooking more fun and simple. It improves the quality of your life by bringing pleasure and charm to your kitchen. Modern kitchen equipment is user-friendly and less complicated than any conventional kitchen tools.
Safety and Maintenance: Cooking is always a risky task, especially with conventional cooking appliances. Oil splash and splattering is a widespread incident in any deep frying. Modern enclosed cooking systems have no chance of accidental hot oil touching. Additionally, these appliances' maintenance is straightforward, systematic, and accessible.
Healthier Cooking: Modern cooking appliances are a healthier choice because they do not require a lot of fat to fry food like the frying pan. Modern kitchen accessories manufacturers developed a healthier way of cooking food that needs less oil. Using the appliances; you can enjoy the same flavour and taste while maintaining health issues. You can even fry food without oil and reduce extra calories using the air fryer. It reduces the chance of health deterioration with a balanced diet.
Efficiency: Modern kitchen appliances are efficient. It ensures better cuisine results with minimum effort. They provide fast cooking facilities with premium quality and taste.
Better Control: Only the proper control of cooking can make sure the taste of your food. Modern cooking appliances will ensure the exact cooking temperature and reduce the chance of being overcooked and undercooked. The devices appropriately manage the actual food-making process with a few clicks.
Some Most Necessary Kitchen Appliances
Uses of multiple versatile kitchen appliances made the modern culinary safe, charming, and accessible. Some of the most necessary devices are:
1. Blender: The blender is the most used kitchen appliance in Bangladesh. A blender is also known as a mixer and liquidizer. It is used to blend, mix, and puree food and liquids. It has a motor that rotates sharp blades, creating a smooth consistency. The typical blender price in Bangladesh varies from around 800 to above 5000.
Uses: Blender is handy for making smoothies, sauces, and soups.
Benefits and Importance of a Blender: The benefits of a blender include saving time and effort in food preparation, making healthy and nutritious drinks, and achieving a smooth texture in food.
2. Grinder: A grinder is a kitchen appliance used to grind and chop food into small pieces. Usually, the torpedo is perfect for grinding and crushing complex cooking spices. The mechanism of a grinder machine is the same as the blender, except it is more powerful. It can turn any hard herbs into powder within a minute. The mixer grinder price in Bangladesh ranges from 1000 to 7000 BDT.
Uses: Grinders are perfect for grinding coffee beans, spices, ice, and meat.
Benefits and Importance of a Grinder: A grinder is an essential part of any modern kitchen. Its usefulness includes saving time and effort in food preparation, achieving consistent results, and preserving the flavor and aroma of spices.
3. Sandwich Maker: Modern tech-savvy people like having quick snacks and breakfasts. The Sandwich maker makes the snacks more accessible and faster. A sandwich maker can make toasted sandwiches within a few minutes. It consists of two heated plates that clamp together, toasting the bread and melting the filling. The sandwich maker price in Bangladesh starts from 1040 BDT to above.
Uses: Sandwich makers make grilled cheese sandwiches, paninis, and breakfast sandwiches.
Benefits and Importance: It saves time and effort in preparing a crispy and melted sandwich and customizing the filling according to personal preferences.
4. Electric Kettle: Electric kettle is another prevalent modern kitchen appliance. It can boil water within a short time with just a click. It has a heating element that heats the water quickly and efficiently. Different electric kettle prices in Bangladesh can vary with brands from around 1000 BDT to above.
Uses: Electric kettles help make tea, coffee, and instant noodles.
Benefits and Importance: It has several benefits, including saving time and effort in boiling water, using less energy than a stove-top kettle, and having a built-in automatic shut-off for safety.
5. Induction Cooker: An induction cooker is a magical kitchen appliance to cook food with magnetic induction. It has a coil of copper wire that creates a magnetic field, which heats the cooking vessel directly. It is an efficient device that doesn't waste heat and can turn on and off quickly. The induction cooker price in Bangladesh starts from around 2000 and varies based on the quality.
Uses: Induction cookers are used for frying, sauté, and boiling food.
Benefits and Importance: It saves time and energy in cooking, has precise temperature control, and is safer than a gas stove.
6. Toaster: A toaster is a handy small-sized electric appliance. A toaster is to toast bread easily using radiant heat. It has heating elements that brown the bread slices evenly. The toaster is also used to heat and toast crumpets, teacakes, potato waffles, toaster pastry, etc. The toaster price in Bangladesh is around 1000 BDT.
FAQ
Some of the most important and frequently asked questions on kitchen appliances are as follows:
1. What makes an appliance luxury?
Answer: Luxury appliances have exceptional performance, quality, and design. Luxury appliances have high-end features and are typically made of top-of-the-line materials to ensure durability and longevity. The devices have intelligent technology, excellent design, highest performance, and energy efficiency. All these parameters made an appliance luxury than the standard models.
2. Is it worth buying high-end appliances?
Answer: People always target high-end appliances for their daily life. Luxury devices have elegant designs and fine finishing that can facelift your kitchen. High-end devices are always worth their price for the following reasons:
High-end appliances perform better.

They last longer.

These appliances are hassle-free.

They are greener.

High-end devices add value to your home.
3. Why are kitchen appliances essential?
Answer: Kitchen Appliances are essential to make food cooking and kitchen work more accessible, efficient, and enjoyable. They help to maintain the proper taste, nutrition, and quality of food. High-end kitchen appliances always boost the flavor of homemade food with minimum effort.
4. Are kitchen appliances a good investment?
Answer: Kitchen appliances add extra value to any house. A consumer report shows that a newly designed kitchen with new appliances, flooring, and countertops can raise your home sale price by up to 7%. Besides, it always makes cooking enjoyable and easy for you. So investing in the kitchen is constantly considered a promising investment.
5. What appliances does a kitchen need?
Answer: A kitchen needs a variety of different appliances. Most necessary kitchen appliances are:
Cooker

Stove

Kettle

Refrigerator

Freezer

Microwave

Food processor

Blender

Mixer

Toaster

Slow cooker

Oven

Dishwasher

Air Fryer

Rice cooker

Coffee maker

etc.
6. What is most important in a kitchen?
Answer: Everybody likes to eat. Before we can eat, we need to find food and prepare it in the kitchen. Even ready-made food also needs to be heated or some preparation before eating. So a kitchen in any house is a must.
But selecting one thing as an important one is much more difficult because the kitchen needs many things to cook. Overall the sink is the most essential thing in your kitchen. You may not think it but think of cooking food without a sink. For water supply, dishwashing, and food washing, you can't consider it without a sink.
7. What is the most used kitchen appliance?
Answer: The most used appliance in any kitchen is the faucet center or sink. You might not know that a sink and its complementary elements are used 10 to 30 times a day on average.
8. Do more expensive appliances last longer?
Answer: High-end kitchen appliances are durable, look more sociable, and function better. So they are costlier than ordinary appliances. They always increase the beauty and usefulness of your kitchen. Investment in kitchen accessories gives a significant return when selling a house.
Bottom Line
Modern kitchen appliances are a great result of technological development. Kitchen appliances such as blenders, grinders, sandwich makers, electric kettles, induction cookers, and toasters are essential for every kitchen. Whether you're a professional chef or a home cook, having these appliances in your kitchen can significantly enhance your cooking experience and lead to delicious and satisfying meals. The great matter is that you will get all these appliances in the House of Butterfly.
So, visit any of our houses to purchase your necessary kitchen accessories and enjoy your culinary life. Our customer support teams are waiting to help you regarding any issues. Happy cooking.