The Ultimate Air Conditioner Buying Guide (+ Experts Review on AC Brands)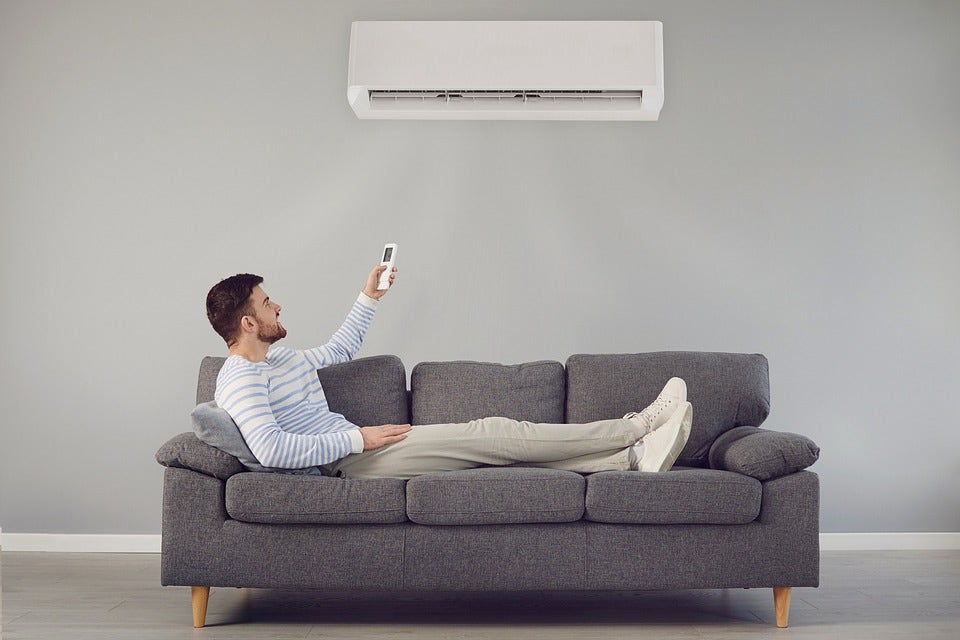 Summer increases the demand for air conditioners, even though they are no longer considered luxury items. The climate makes Air conditioners a necessity.
If you are planning to buy a new air conditioner soon, then you might be overwhelmed since there are so many options on the market. It will be hard to pick the right one for either your home or office. Remember, an air conditioner is a significant investment. You want to invest in the right one that will keep you comfortable, save you money on electricity bills, and last for many years.
To help you make an informed decision, we have put together this air conditioner buying guide. From understanding different types of air conditioners to considering various factors before buying one, we will walk you through everything you ever need to know to select the right air conditioner.
So, let's get started…
Things to Consider When Buying an Air Conditioner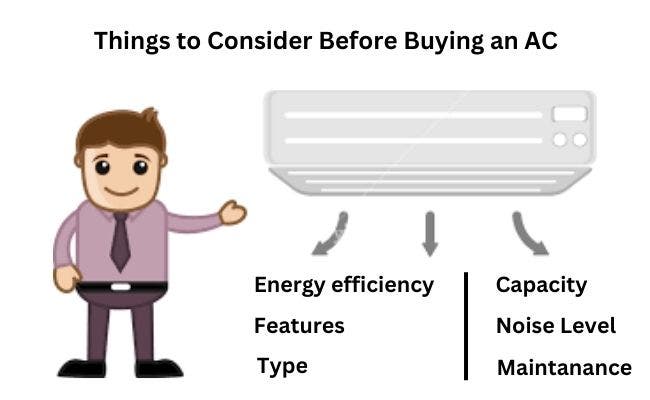 If you think buying an air conditioner is a daunting task, then you are either wrong or don't know what to consider while buying one. Depending on your requirements and room environment, there are a few things to consider. We believe the following are the general considerations, despite any requirements:
1. Size and Capacity:

The most important factor to take into account while buying an AC is its size and capacity. This depends on the room or space you want to cool. If the AC is too small, it won't cool a large room effectively. In contrast, a bigger unit compared to the room size will consume more energy than required.

2. Energy Efficiency:

Another important fact in buying an AC is its energy efficiency. You need to look for air conditioners with a high SEER (

Seasonal Energy Efficiency Ratio

) or EER (

Energy Efficiency Ratio

) rating. The higher the rating. The more energy efficient the air conditioning unit will be. It means lower utility bills for you.

3. Type of Air Conditioner:

There are various types of air conditioners in the market. Window AC, Split AC, Geothermal AC, Through the Wall AC, Inverter AC, and Central AC are a few popular types of air conditioners that you can find in the market. However, their purposes are different and each of these types operates differently. So, buying the right type of air conditioner is very important.

4. Noise Level:

You don't want to be bothered by the noise generated from your AC, right? It will not only disturb you but also disturb the ones near you. With that said, some air conditioners can be noisy, especially window units. Therefore, look for models with a

low decibel

(dB) rating to ensure a quieter operation.

5. Maintenance:

It can be frustrating to repair or service your air conditioner again and again. Although proper maintenance is necessary for the longevity and performance of the AC, it isn't a good sign if it needs frequent maintenance. Pick models that come with easy-to-clean filters and better radiators. Additionally, consider scheduling regular maintenance to keep the unit running smoothly.

6. Additional Features:

Apart from the above considerations, you may want to look for additional features in your AC. These include a programmable thermostat, smart remote, air purifying filters, smart LED display, and even voice control.
When is the Best Time to Buy an Air Conditioner?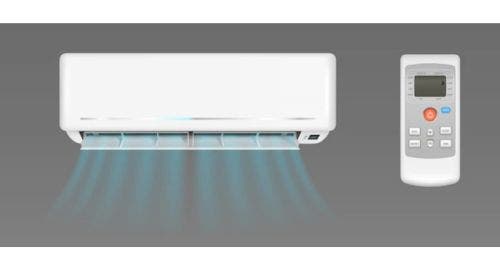 There is no definite time to buy an air conditioner. It depends on various factors, such as your location, budget, and personal preferences. However, there are some general guidelines to know the right time to purchase an air conditioner.
For instance, if you live in a region with a hot climate, the best time to buy an air conditioner will be during the off-season. Typically, the time will be during either the fall or winter months. Both the price and demand for air conditioners drop during this time. As a result, the retailers will try to clear out the inventory by offering discounts.
Moreover, you may want to consider buying an air conditioner during major sales events like Black Friday, Cyber Monday, or Eid to get the best deal. The House of Butterfly often provides lucrative discounts and gifts on purchasing air conditioners at such events. So, you will be able to save a significant amount of money or get attractive prizes during these events.
On the other hand, you may want to buy a small window unit or portable air conditioner if you are on a tight budget. These air conditioners tend to be cheaper than high-end inverter ACs or central air conditioning units. That is because they only cool the room where they are placed. Additionally, these ACs are more cost-effective in the long run than other types.
Ultimately, the timing of buying an air conditioner will depend on your necessity. Don't wait until the heat of summer sets in because then prices may increase and availability may be limited. Instead, plan ahead, do your research, compare the prices of various ACs, and start shopping to find the best air conditioner within your budget.
The Decision-Making Criteria for Buying an Air Conditioner
Before finally deciding on buying an AC, there must be a few questions on your mind, especially if it is your first time buying one. Here are a few criteria that may pop into your mind while buying an AC:
1. Tonnage: If you are not sure about the tonnage of an AC, then don't worry, we will let you know. It is the term that determines the capability of an air conditioner or HVAC unit to remove heat from a space within an hour.
The tonnage of an AC is usually determined by the size of the room. For instance,
1 ton AC Room Size = 120 square feet
1.5 ton AC Room Size = 180 square feet
2. Energy Efficiency: As we have said earlier, buy an AC with a higher EER (Energy Efficiency Ratio) so that you can save money on your utility bills in the long run. This character will very much depend on whether it is an inverter or a non-inverter AC, which leads us to the next point.
Inverter vs. Non-Inverter AC: As we have discussed in the previous point, energy-efficient air conditioners are more energy-efficient than non-inverter ones. Although inverter ACs are more expensive when you are going to buy them, they can save you money in the long run.
3. Brand: The last thing that may come to your mind is the brand of the AC. You might be wondering, "Which brand should I go for when buying an air conditioner?" or "Which brand of AC offers good service at a cheap price?"
We would suggest always buying an air conditioner from a reputable brand because they offer good after-sales service and valid warranties. Popular air conditioner brands in Bangladesh are LG, Samsung, Haier, Eco+, and so on. You can find such branded ACs in the House of Butterfly.
How Does Room Size Depend on the AC Tonnage? How They are Related?
The tonnage of an air conditioner refers to its cooling capacity. It is measured in British Thermal Units (BTUs) per hour. Generally, the larger the room, the higher the air conditioner tonnage should be. Otherwise, it can result in inefficient cooling or energy waste. Therefore, it is essential to know the relationship between room size and AC tonnage.
In a nutshell, the tonnage of the AC is directly related to the room size. An air conditioner may not be able to cool the room effectively if the room size is larger than the recommended size for a specific tonnage. Perhaps, you can take a look at these general suggestions to choose the right AC tonnage for your room size:
-Usually, 1 ton AC will be sufficient for rooms up to 150 square feet.

-A 1.5-ton AC is required to cool a 150 to 250-size room.

-A 2-ton AC is necessary for rooms between 250 and 400 square feet.

-A 3-ton AC may be needed to cool rooms between 400 and 600 square feet.

-A 4-ton AC will do great for rooms between 600 and 800 square feet.
You should keep in mind that the above suggestions are based on what people generally need. Other factors like the height of the ceiling, the number of windows, and the amount of insulation in the room can also affect the desired cooling capacity. As a result, you should measure the right AC tonnage by researching or getting help from online AC tonnage calculators. The best approach would be to consult an HVAC professional.
Popular Air Conditioner Brands in Bangladesh
People in Bangladesh are familiar with brands like Samsung, LG, Haier, and Eco+ when it comes to air conditioners. These are popular AC brands in Bangladesh, and they offer a wide range of air conditioners. These include inverter and non-inverter models, with various tonnage options to suit different room sizes.
Air conditioners are essential to keeping homes and businesses cool and comfortable in a country with a hot and humid climate like Bangladesh. If you want to buy an AC anytime soon, then you can take a look at the following brands, which are all available at House of Butterfly:
LG
A popular and reliable brand for air conditioners is LG. LG air conditioners are known for energy efficiency, durability, and sleek design. LG is particularly renowned for offering quality split ACs. However, the company
manufactures a wide range of other types of air conditioners, including portable and window units.
Standout Features:
-SmartThinQ technology

-Low electricity consumption

-Can save up to 70% of energy

-Dual Inverter Compressor

-Jet Cool technology

-Smart LED display

-Equipped with Gold Fin (CU) Condenser

Popular Models That You Can Buy Right Now:

Models like LG S4UQ24K22PD IN, LG S4UQ24K227D MA, LG S4UQ24K23AD, LG S4UQ18KL27B MA, or LG S4UQ18KL2PE IN can be a great addition to your house. Check out more here.
Samsung
Samsung is well-known not only for its smartphones but also for its world-class air conditioners. Some advanced features, like Wi-Fi control, voice control, smart sensors, and so on, are available in these ACs. Additionally, Samsung has a good reputation for its home appliances along with air conditioners.
Standout Features:
Digital inverter boost technology

Condenser is coated with anti-corrosion Durafin

Easy Filter Plus feature

Twin tube muffler
Popular Models That You Can Buy Right Now:
You can find models like the SS AR18TVHYDWKUFE, SS AR12TVHYDWKUFE, or SS AR24TVHYDWKUFE at reasonable prices at House of Butterfly.
Haier
Although Haier is mainly a Chinese brand, it has gained a reputation all around the world for supplying reliable and affordable air conditioners. Haier ACs are particularly great for easy installation, low noise, and energy efficiency. These air conditioners are also demanding in terms of evaporating moisture and removing dirt from a room.
Standout Features:
Can save up to 65% of energy

Self-cleaning feature

Condenser is coated with grooved copper

Hidden LED display

Blue Fin coated coils
Popular Models That You Can Buy Right Now:
There are popular models on the market that are within your budget, such as the HA HSU24AC-QD, HA HSU18AC-QD, HA HSU12AC-NS, HA HSU18WC-QC, or HA HSU12WC-NR.
Eco+
If you are looking for more budget-friendly options, then you can purchase an AC from Eco+. Eco+ is a reputed local brand in Bangladesh that quickly gained demand and popularity for offering affordable and durable air conditioners. People buy these ACs for their energy efficiency and eco-friendliness. These ACs can save up to 50% of energy, and they often contain gold Fin condensers.
Standout Features:
Can save up to 50% of energy

Smart refrigerant leakage detection feature

Hidden LED display

Features long-distance cooling

Condenser is coated with Gold Fin

Allows sleep mode
Popular Models That You Can Buy Right Now:
Some of the popular models from Eco+ are Eco+RAC -24CRN1, Eco+RAC-24F3FZ, Eco+RAC-24C1FP, Eco+RAC-18E1FZ, and Eco+RAC-12B4FP. Click here to learn more.
Aside from the above brands, some other brands offer great air conditioners in Bangladesh. These include Gree, Sharp, Panasonic, and Walton. You may also find ACs from those brands at House of Butterfly, just make sure to consider your specific needs.
FAQ
What size air conditioner should I buy for my room?
It will depend on the square footage of your room. Generally, you will need to measure the length and width of your room. Then, multiply those numbers to get the square footage. After that, find help through online air conditioner tonnage calculators or a sizing chart. Keep in mind that factors like ceiling height, insulation, and sun exposure can affect the size of the AC you need.
What is the difference between a window air conditioner and a portable air conditioner?
Usually, a window air conditioner is mounted inside a window hole and vented outside the house. On the contrary, a portable air conditioner can be moved from one room to another. These ACs are vented through a flexible hose that is typically installed in a window. Generally, window ACs are more efficient and powerful than portable units. However, they can be hard to install, and some buildings may not allow them.
What are the best brands for manufacturing ACs for homes?
Brands like LG, Samsung, Heir, Eco+, Hitachi, Gree, Daikin, Panasonic, General, etc. are popular for manufacturing ACs that are best suited for residential homes and office buildings. These air conditioners work rather well, are reliable, and last a long time. You will not disappoint buying an air conditioner from any of these brands.
Bottom Line
To conclude this article, we will remind you again that investing in an air conditioner is not cheap, especially in a country like Bangladesh. In fact, it is rather a luxury here. So, you should consider the aforementioned factors very carefully while buying an air conditioner.
Get the best air conditioners in Bangladesh at affordable prices only at House of Butterfly. We believe you can make an informed decision and stay cool and comfortable during hot summer days with the perfect AC.