To Invest or not to Invest in an LG InstaView Side by Side Refrigerator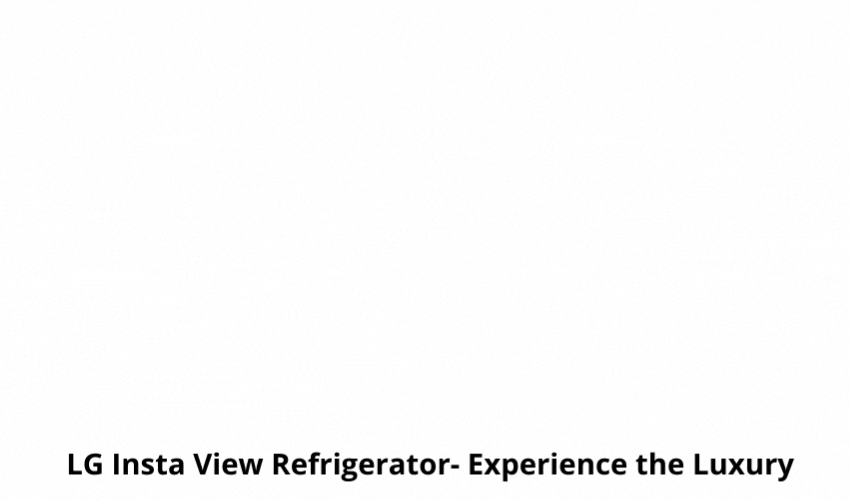 Investing in a new refrigerator can be quite a hefty task, due to the countless variants available on the market. Based on demographic consumer behavior, personal preferences, individual and/or family needs, and most importantly the budget, the wide array of options can be easily narrowed down.
Now, if you are someone looking for a refrigerator with a larger space, innovative features, and a sleek design for your home, then LG might have the best solution for you! The modern LG InstaView Side by Side Refrigerator offers you state-of-the-art technology and smart design. But why spend a little extra on a home appliance, whose core function is the same i.e. keeping your food cold?
That is why today we are going to take you through why LG InstaView might be your next game-changing choice. House of Butterfly provides such innovative Home appliances at the best price in Bangladesh.
---
LG InstaView Refrigerator
While looking for the best fit, customers ideally, and mostly look for the design, configuration and feature sets available. Let's look at how LG Side by Side Refrigerators stand on these considerations.
LG InstaView Side by Side refrigerator brings the most stylish and innovative designs on the plate. Let's take a look at how they stand out.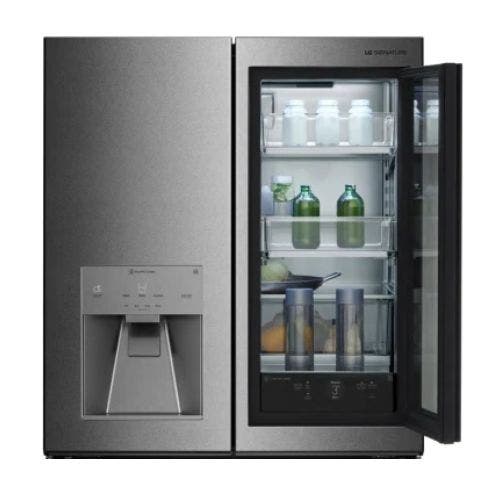 This new door-in-door feature allows the users to see what's inside the cooling department without opening the entire door. The front section of the fridge that is mostly used to store juices, milk, spreads, etc. can be viewed easily from the outside. With just two knocks on the door, the panel illuminates, and the inside is visible. With another two knocks, or if left unopened in the next few seconds, the panel again turns opaque.
Now, this feature is extremely useful for a quick view of the contents of the refrigerator without having to open the entire door. Moreover, the transparent back of the front compartment not only allows a clear view of the inside but also helps to avoid opening the entire refrigerating compartment while grabbing the more regular items, without disrupting the flow of air inside.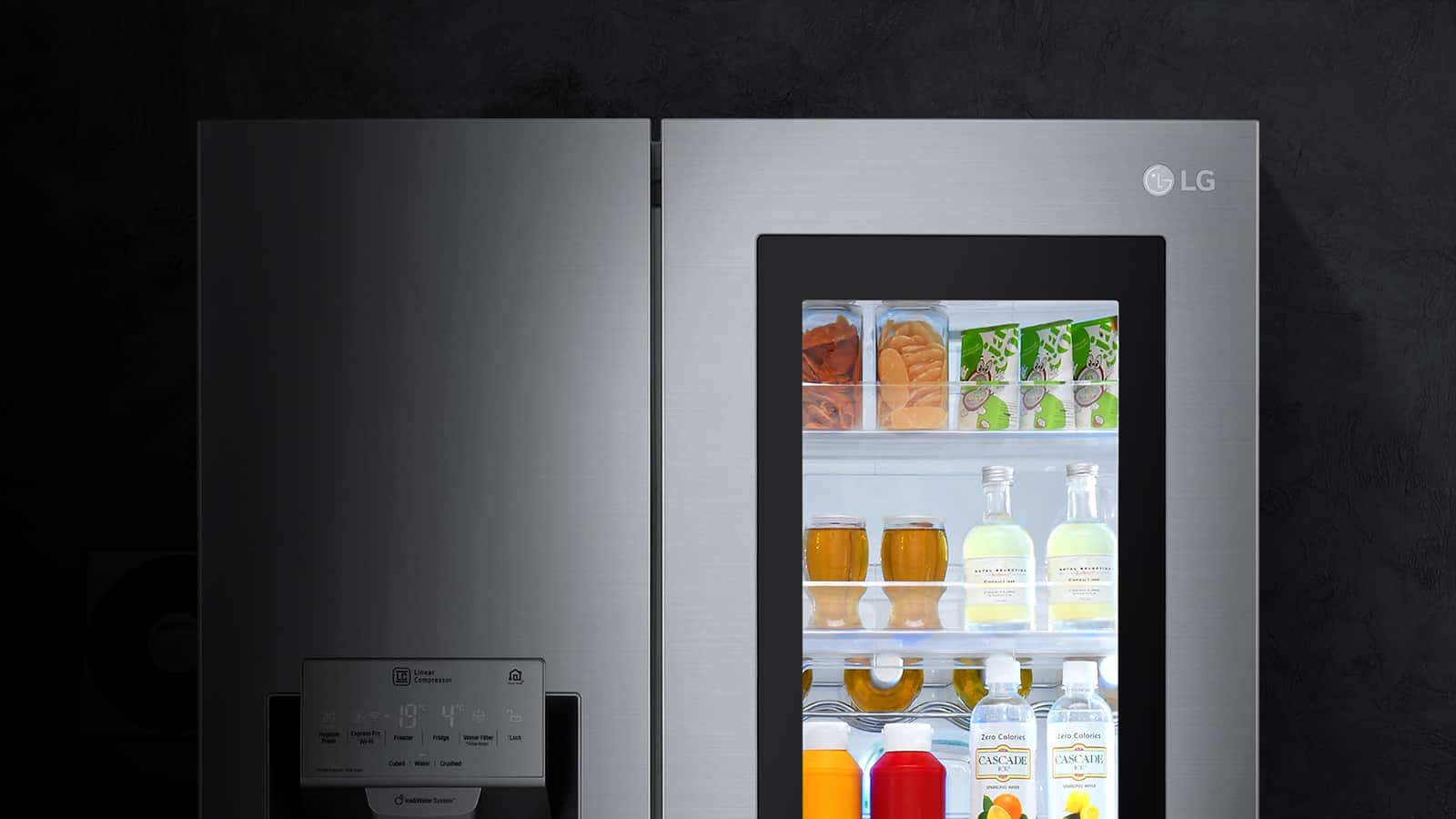 We have already discussed the illuminating sleek mirrored glass panel in our Side by Side refrigerators. And aside from coming in three spectacular chic colors, the matte finish in their bodies is a real crowd favorite. The exterior also guarantees no fingerprint as this is a family fridge and might be handled by multiple people throughout the day.
The LG refrigerator's interior design and compartments have always been appreciated by consumers. In this new model, we have even more smart designs that not only save space but will allow efficient organization of a lot of items at the same time. The compact ice maker and handy shelves create more space inside the fridge. According to the item size you want to store in, you can also adjust the shelves for proper accommodation. You also do not need to go hunting to get your regular use items like cheese, and butter as there are extra space compartments for them. The drawers in the freeze also come in handy sizes to store groceries and non-vegetarian items of multiple sizes. For the smaller and more commonly used items, there is a Utility Box, to keep them at the proper temperature.
---
Technological Features of LG InstaView Refrigerator
Leta Talk about the advanced technological features of the LG InstaView Side-by-Side refrigerator. As we all know LG is always advanced in Technological features and gives us the most innovative products. This refrigerator is one of the best products of LG.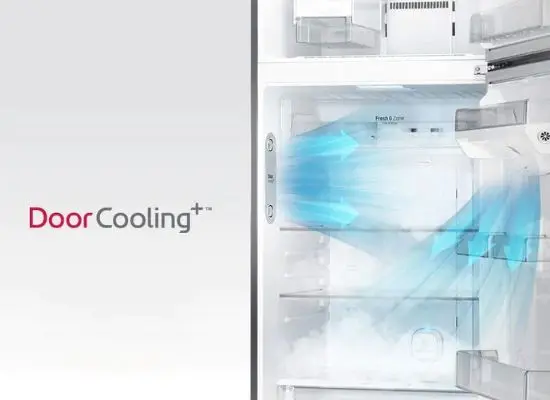 This new feature allows even faster cooling throughout the refrigerator. This design enables a more well-balanced cooling all around the compartments providing equal flow to both the inner sides, and the door side, while the traditional cooling systems often lack provide.
Inverter Linear Compressor
The new inverter linear compressor used in LG Side by Side refrigerators is noiseless and drastically more efficient. This technology helps to save 32% more energy consumption, making it not only eco-friendly but also wallet-friendly in the long run.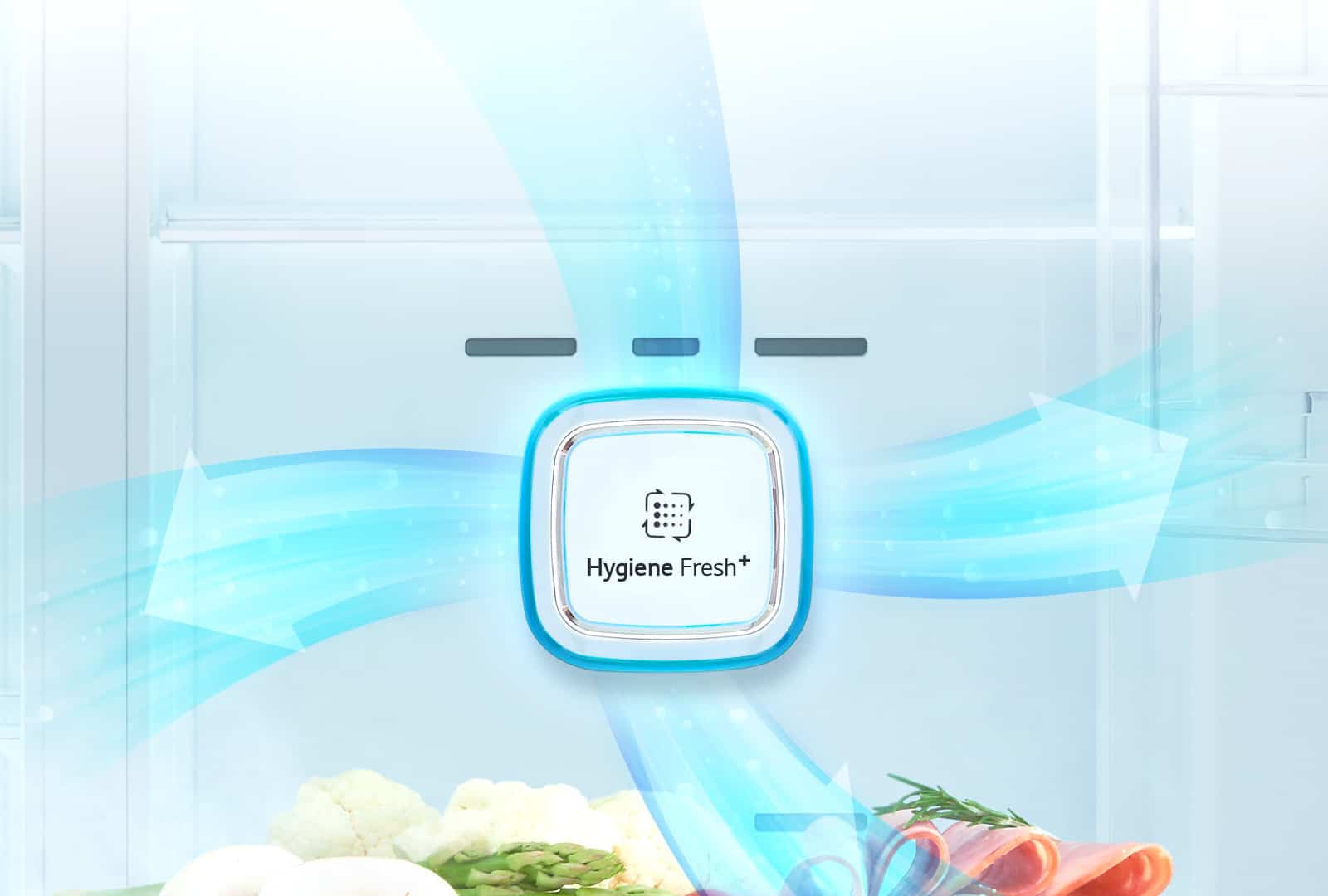 Hygiene FRESH⁺™ technology uses intelligent air filters in the refrigerators, that does not only ensure continuous clean airflow throughout but have many other additional perks. This smart filter also removes bacteria within the fridge and helps to minimize the creation of malodor. Ensuring 99.99% fresh air, now you can store your food items in a fresher state for a longer time.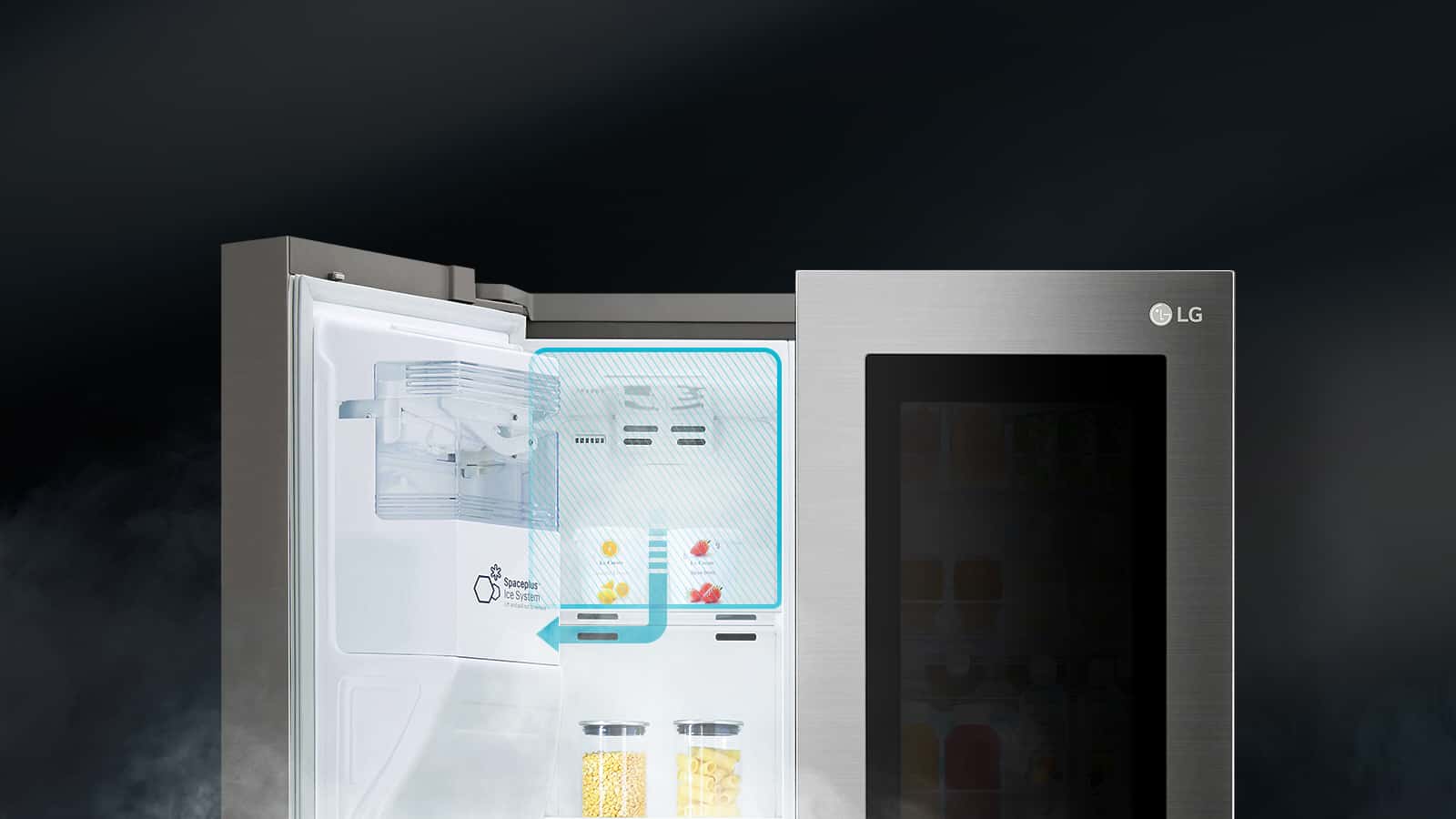 This new door-mounted ice system is more efficient in catering to cold water or ice needs. This also saves sufficient internal storage space in the freezer portion.
FRESHBalancer™ is a new feature with a built-in switch that allows you to customize the right amount of humidity in order to store fresh produce. Now you can store your fresh fruits and vegetable in an optimal condition in any season easily.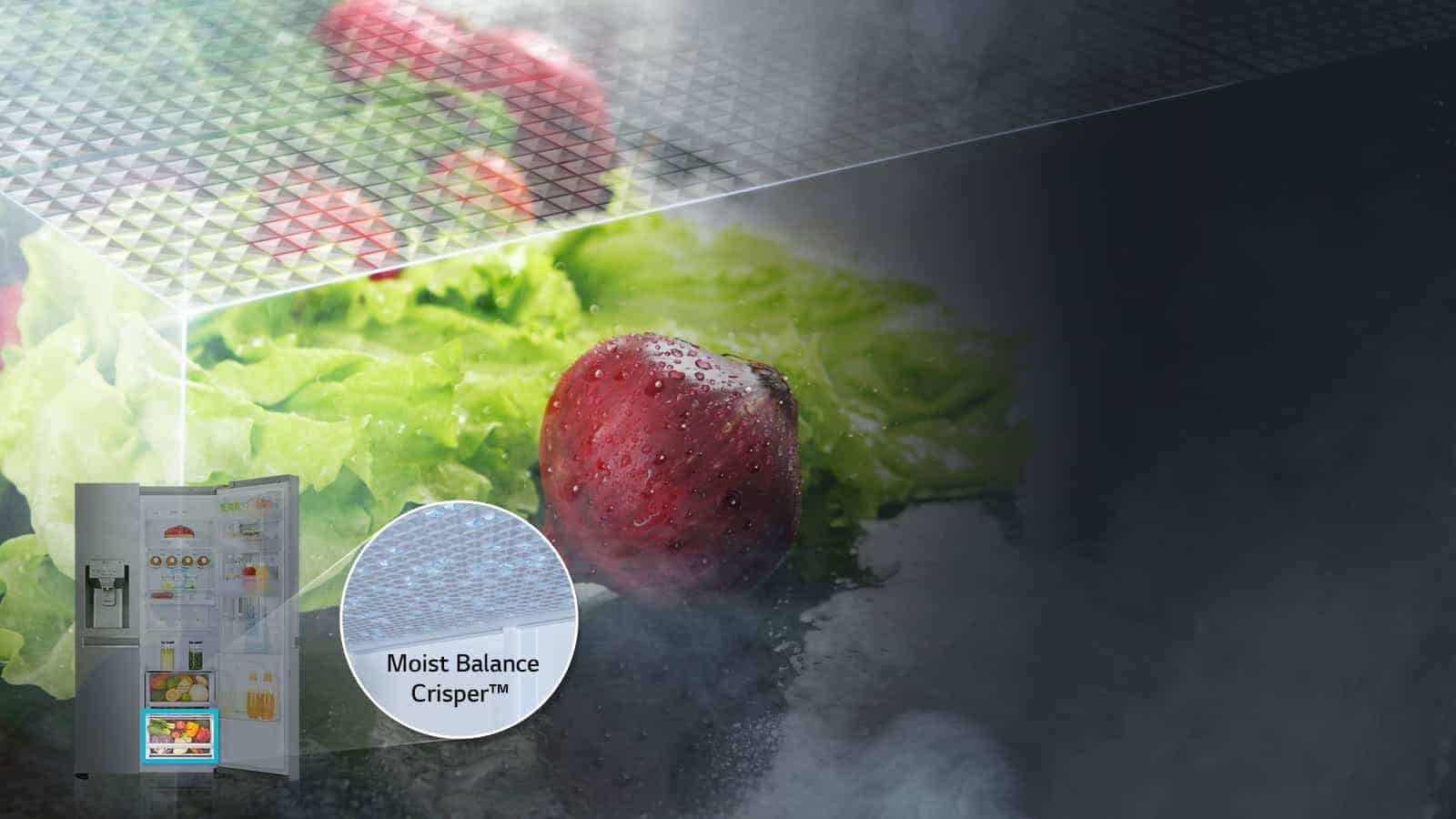 With your humidity needs taken care of, LG Side by Side refrigerators also brings you the option to store specific items at their perfect moisture level in the compartment. The compartment has a lattice-patterned box cover locking in the moisture at the optimal level.
Since we have already broken down both the visible and invisible features, after analyzing I have been able to assign a few attributes to LG InstaView Side by Side Refrigerators that will help you make your choice as a customer.
✓ Reliability: The efficient storage design allows you more space and easy organization of food items. With innovative technologies to keep the freshness intact, and additional humidity and moisture control, these fridges are now more versatile than ever and can adapt to any sort of requirement, in any season. With smart design, LG continues to provide you with even smarter solutions for what seems to be a core function of a refrigerator – keeping food items fresh.
✓ Energy Efficient: The linear compressor inverter technology doesn't only ensure a continuous smart flow of cool air throughout the appliance, but also contributes to saving resources, by cutting electricity consumption. The door-in-door viewing facility also helps to avoid opening the entire compartment each time, while losing some of the cool air from inside.
✓ Wallet-Friendly: For a larger family, this refrigerator is definitely a good investment due to spacious storage opportunities and an additional modern ice system. Moreover, the amount of electrical consumption reduced, also saved your wallet from a dent in the long run.
✓ Futuristic: The state-of-the-art design and finishing on the refrigerators are definitely swoon-worthy. But the interior design and planning are also applaudable. With sturdy, yet extremely flexible and smooth-to-use drawers and compartments, LG InstaView is a treat to the eye both internally and externally.
---
Why Choose LG InstaView Side by Side Refrigerator?
But let us cut to the chase and look at what you will be getting from this fridge as a customer.
▪ The two-knock facility is just revolutionary in the refrigerator industry. The convenience and modern look that it brings to the table are definitely one of the winning factors.
▪ For a bigger family, of course, the primary perk would be the vast and flexible size and storage options.
▪ Moreover, the no fingerprint finish on the exterior also helps to maintain its sophisticated look even if the appliance is handled by multiple people at multiple times a day, even with children!
▪ 99.99% guaranteed fresh foods can be another steal in this regard. Now you can more easily store your favorite items in customized temperature, moisture, and humidity for longer periods. Moreover, InstaView allows you to fine-tune the temperature adjustments in each section of the refrigerator.
LG's InstaView Side by Side range currently offers three distinct models in Bangladesh.
LG InstaView 668 Liter Side by Side Refrigerator Matt Black
LG InstaView Side by Side Refrigerator 675 Liter Noble Steel
LG InstaView Side by Side Refrigerator 668 Liter Noble Steel
These three refrigerators have more or less similar features, with a few distinctive attributes. Here, these are jotted down for a quick comparison.
Features

LG 668 Liter

Refrigerator Matt Black

LG InstaView

Refrigerator 675 Liter Noble Steel

LG InstaView

Refrigerator 668 Liter Noble Steel

Dimensions

1790 mm, 912 mm, 738 mm

1790 mm, 912 mm, 738 mm

1790 mm, 912 mm, 738 mm

Color

Matte Black

Noble Steel

Noble Steele

Door-in-Door

Yes

Yes

Yes

Illuminating

Mirrored Glass

Panel

Yes

Yes

Yes

DoorCooling⁺™

Yes

-

-

Inverter Linear

Compressor

Yes

Yes

Yes

Hygiene FRESH⁺™

Yes

Yes

Yes

FRESHBalancer™

Yes

Yes

Yes

Moist Balance

Crisper™

Yes

Yes

Yes

SpacePlus™ Ice

System

Yes

Yes

Yes

Price

৳ 261,340

৳ 213,290

৳ 227,375
---
Investing an extra amount of money will bring you innovative and user-friendly features and gives you the optimum level of satisfaction with the viewing experience. So, it is a wise decision to go for LG InstaView Refrigerator for your kitchen.